Infiltrating lithium into carbon cloth decorated with zinc oxide arrays for dendrite-free lithium metal anode
Abstract
Lithium metal anode for batteries has attracted extensive attentions, but its application is restricted by the hazardous dendritic Li growth and dead Li formation. To address these issues, a novel Li anode is developed by infiltrating molten Li metal into conductive carbon cloth decorated with zinc oxide arrays. In carbonate-based electrolyte, the symmetric cell shows no short circuit over 1,500 h at 1 mA·cm−2, and stable voltage profiles at 3 mA·cm−2 for ∼ 300 h cycling. A low overpotential of ∼ 243 mV over 350 cycles at a high current density of 10 mA·cm−2 is achieved, compared to the seriously fluctuated voltage and fast short circuit in the cell using bare Li metal. Meanwhile, the asymmetric cell withstands 1,000 cycles at 10 C (1 C = 167 mAh·g−1) compared to the 210 cycles for the cell using bare Li anode. The excellent performance is attributed to the well-regulated Li plating/stripping driven from the formation of LiZn alloy on the wavy carbon fibers, resulting in the suppression of dendrite growth and pulverization of the Li electrode during cycling.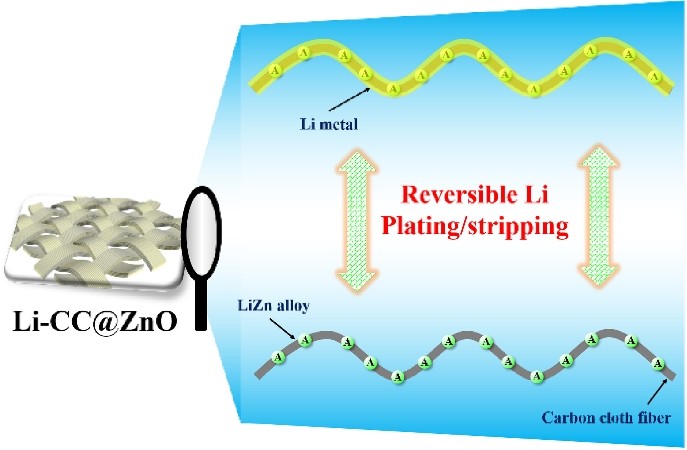 Keywords
lithium metal anodes 
lithium plating/stripping 
dendrite-free 
thermal infiltration 
carbon cloth 
zinc oxide nanowire arrays 
Notes
Acknowledgements
This work is financially supported by the National Key Research and Development Program of China (Nos. 2016YFB0100100 and 2018YFB0104000), the Key Project of Science and Technology in Guangdong Province (No. 2017A010106006), and the National Natural Science Foundation of China (Nos. 21433013 and 51471073).
Supplementary material
Supplementary material, approximately 3.86 MB.
Copyright information
© Tsinghua University Press and Springer-Verlag GmbH Germany, part of Springer Nature 2018