Two-dimensional metal-organic-framework as a unique theranostic nano-platform for nuclear imaging and chemo-photodynamic cancer therapy
Abstract
Nanoscale metal organic frameworks (NMOFs) with porous structure and inherent biodegradability are attractive nanomedicine platforms. In addition to conventional particulate NMOFs, two-dimensional (2D) NMOFs are emerging as a unique type of NMOFs which however have been relatively less explored for nanomedicine applications. Herein, 2D-NMOFs composed of Zn2+ and tetrakis(4-carboxyphenyl) porphyrin (TCPP) are fabricated and functionalized with polyethylene glycol (PEG). Compared to their particulate counterpart, such 2D-NMOFs show greatly increased drug loading capacity and enhanced light-triggered singlet oxygen production, promising for chemotherapy and photodynamic therapy (PDT), respectively. Utilizing the porphyrin structure of TCPP, our 2D-NMOFs could be labeled with a diagnostic radioisotope, 99mTc, for single photon emission computer tomography (SPECT) imaging, which reveals efficient tumor homing of those 2D-NMOFs upon intravenous injection. While offering a remarkable synergistic in vivo antitumor effect for the combined chemo-PDT, such 2D-NMOFs show efficient biodegradation and rapid renal clearance. Our work presents the great promise of 2D-NMOFs for nanomedicine applications.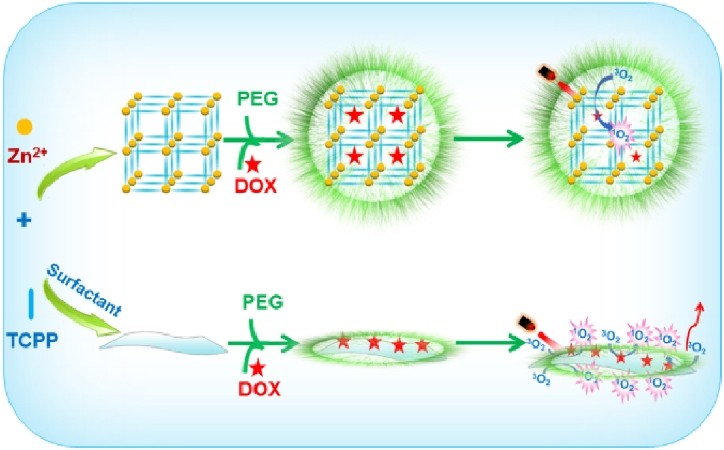 Keywords
nanoscale metal-organic-framework 
two-dimensional nanosheets 
drug delivery 
photodynamic therapy 
combination therapy 
Notes
Acknowledgements
This work was partially supported by the National Research Programs from Ministry of Science and Technology (MOST) of China (No. 2016YFA0201200), the National Natural Science Foundation of China (Nos. 51525203 and 51761145041), Collaborative Innovation Center of Suzhou Nano Science and Technology, and a Project Funded by the Priority Academic Program Development (PAPD) of Jiangsu Higher Education Institutions.
Copyright information
© Tsinghua University Press and Springer-Verlag GmbH Germany, part of Springer Nature 2018