Space-confined growth of monolayer ReSe2 under a graphene layer on Au foils
Abstract
Vertical heterostructures based on two-dimensional (2D) materials have attracted widespread interest for their numerous applications in electronic and optoelectronic devices. Herein, we report the direct construction of an abnormal graphene/ReSe
2
stack on Au foils by a two-step chemical vapor deposition (CVD) strategy. During the second growth stage, monolayer ReSe
2
is found to preferentially evolve at the interface between the first-grown graphene layer and the Au substrate. The unusual stacking behavior is unraveled by
in-situ
"cutting open" the upper graphene from the defects to expose the lower ReSe
2
using scanning tunneling microscopy (STM). From combination of these results with density functional theory calculations, the domain boundaries and edge sites of graphene are proposed to be adsorption sites for Re and Se precursors, further facilitating the growth of ReSe
2
at the van der Waals gap of graphene/Au. This work hereby offers an intriguing strategy for obtaining vertical 2D heterostructures featured with an ultra-clean interface and a designed stacking geometry.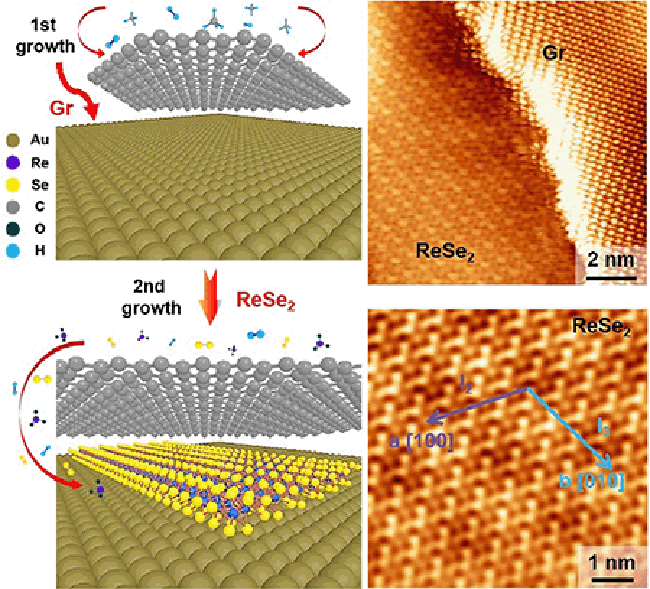 Keywords
graphene 
rhenium selenide 
chemical vapor deposition 
scanning tunneling microscopy 
two-dimensional (2D) heterostructure 
Notes
Acknowledgements
This work was supported by the National Natural Science Foundation of China (Nos. 51472008, 51861135201, 51290272, 61774003, 51502007, and 51672007), the National Key Research and Development Program of China (Nos. 2016YFA0200103, 2017YFA0205700, and 2017YFA0304600), the Open Research Fund Program of the State Key Laboratory of Low-Dimensional Quantum Physics (Nos. KF201601 and KF201604) and "2011 Program" Peking-Tsinghua-IOP Collaborative Innovation Center of Quantum Matter. The authors acknowledge Electron Microscopy Laboratory in Peking University for the use of Cs corrected electron microscope. The theoretical simulations of this work were supported by the Youth 1000-Talent Program of China, the Shenzhen Basic Research Project (No. JCYJ20170407155608882), and the Development and Reform Commission of Shenzhen Municipality for the development of the "Low-Dimensional Materials and Devices" Discipline. The computations were carried out at National Supercomputer Center in Tianjin, and the calculations were performed on TianHe-1 (A).
Copyright information
© Tsinghua University Press and Springer-Verlag GmbH Germany, part of Springer Nature 2018