Photo-controlled release of paclitaxel and model drugs from RNA pyramids
Abstract
Stimuli-responsive release of drugs from a nanocarrier in spatial-, temporal-, and dosage-controlled fashions is of great interest in the pharmaceutical industry. Paclitaxel is one of the most effective and popular chemotherapeutic drugs against a number of cancers such as metastatic or nonmetastatic breast cancer, non–small cell lung cancer, refractory ovarian cancer, AIDS-related Kaposi's sarcoma, and head and neck cancers. Here, by taking the advantage of RNA nanotechnology in biomedical and material science, we developed a three-dimensional pyramid-shaped RNA nanocage for a photocontrolled release of cargo, using paclitaxel as a model drug. The light-triggered release of paclitaxel or fluorophore Cy5 was achieved by incorporation of photocleavable spacers into the RNA nanoparticles. Upon irradiation with ultraviolet light, cargos were rapidly released (within 5 min). In vitro treatment of breast cancer cells with the RNA nanoparticles harboring photocleavable paclitaxel showed higher cytotoxicity as compared to RNA nanoparticles without the photocleavable spacer. The methodology provides proof of concept for the application of the light-triggered controlled release of drugs from RNA nanocages.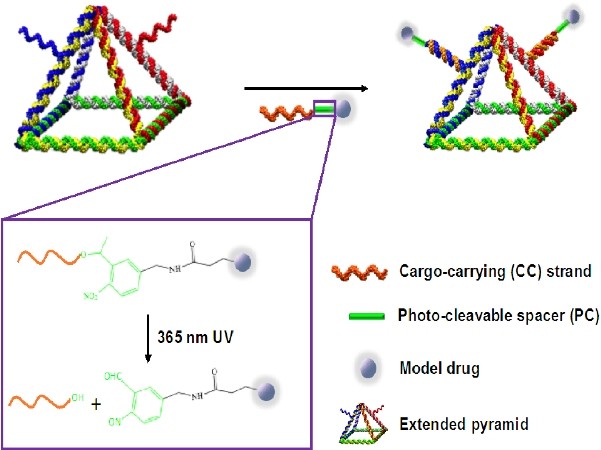 Keywords
RNA nanotechnology 
controlled release 
paclitaxel 
drug delivery 
RNA nanoparticles 
Phi29 three-way junction 
Notes
Acknowledgements
The research in P. G.'s lab was supported by NIH grants R01EB019036, R01CA186100 and U01CA207946 to Peixuan Guo. The cryo-EM work was supported by NIH grants P41GM103832 (W. C.) and P50 GM103297 (W. C.). P. G.'s Sylvan G. Frank Endowed Chair position in Pharmaceutics and Drug Delivery is funded by the CM Chen Foundation. We would like to thank Dr. Farzin Haque and Dr. Daniel Jasinski for helpful discussions. We also would like to thank Dr. Yi Shu for synthesis of paclitaxel-N3.
Copyright information
© Tsinghua University Press and Springer-Verlag GmbH Germany, part of Springer Nature 2018