In situ observation of synthesized nanoparticles in ultra-dilute aerosols via X-ray scattering
Abstract
In-air epitaxy of nanostructures (Aerotaxy) has recently emerged as a viable route for fast, large-scale production. In this study, we use small-angle X-ray scattering to perform direct in-flight characterizations of the first step of this process, i.e., the engineered formation of Au and Pt aerosol nanoparticles by spark generation in a flow of N2 gas. This represents a particular challenge for characterization because the particle density can be extremely low in controlled production. The particles produced are examined during production at operational pressures close to atmospheric conditions and exhibit a lognormal size distribution ranging from 5–100 nm. The Au and Pt particle production and detection are compared. We observe and characterize the nanoparticles at different stages of synthesis and extract the corresponding dominant physical properties, including the average particle diameter and sphericity, as influenced by particle sintering and the presence of aggregates. We observe highly sorted and sintered spherical Au nanoparticles at ultra-dilute concentrations (< 5 × 105 particles/cm3) corresponding to a volume fraction below 3 × 10–10, which is orders of magnitude below that of previously measured aerosols. We independently confirm an average particle radius of 25 nm via Guinier and Kratky plot analysis. Our study indicates that with high-intensity synchrotron beams and careful consideration of background removal, size and shape information can be obtained for extremely low particle concentrations with industrially relevant narrow size distributions.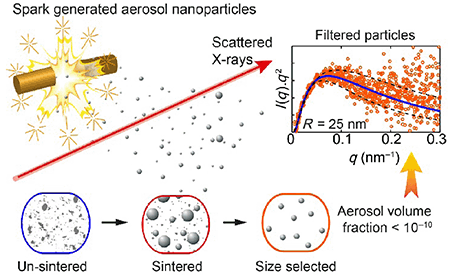 Keywords
aerosol 
nanoparticle synthesis 
in situ analysis 
small-angle X-ray scattering 
Aerotaxy 
Notes
Acknowledgements
This work was performed within Nanolund at Lund University, and was supported by the Knut and Alice Wallenberg Foundation, the Swedish Research Council (VR) and the Swedish Foundation for Strategic Research (SSF). The Dutch Organization for Scientific Research (NWO) and the ESRF are acknowledged for providing beamtime for this project.
Copyright information
© The Author(s) 2018
Open Access The article published in this journal is distributed under the terms of the Creative Commons Attribution 4.0 International License (http://creativecommons.org/licenses/by/4.0/), which permits unrestricted use, distribution, and reproduction in any medium, provided you give appropriate credit to the original author(s) and the source, provide a link to the Creative Commons license, and indicate if changes were made.
, corrected publication 2018