Three-dimensional spongy framework as superlyophilic, strongly absorbing, and electrocatalytic polysulfide reservoir layer for high-rate and long-cycling lithium-sulfur batteries
Abstract
In the development of lithium-sulfur (Li-S) batteries, various approaches have been adopted to enhance the electronic conductivity of the sulfur cathode and alleviate the shuttle effect of polysulfides; however, the strategies providing efficient solutions are still limited. To further improve the electrochemical performance of Li-S batteries, in this work we propose a new strategy involving the incorporation of a three-dimensional functional spongy framework as polysulfide reservoir layer, with strong absorbability and electrocatalytic activity towards sulfur species. The spongy framework has a hierarchical architecture composed of highly conductive Ni foam/graphene/carbon nanotubes/MnO2 nanoflakes (NGCM). The strongly interconnected Ni foam, graphene, and carbon nanotubes of the NGCM sponge facilitate electron transfer during discharge/charge processes; moreover, the superlyophilic properties of the NGCM sponge ensure good wettability and interface contact with the Li-S electrolyte, and the porous MnO2 nanoflakes provide strong chemisorptive and electrocatalytic effects on polysulfides (as confirmed theoretically and experimentally). The NGCM sponge, serving as a polysulfide reservoir layer attached on a conventional sulfur-mixed carbon nanotubes (S/CNTs) cathode, can provide improved reversible capacity, rate capability (593 mAh·g–1 at 3.0 C), and cycling stability. In addition, the self-discharge rate is greatly reduced, owing to the efficient conservation of polysulfides in the NGCM spongy framework.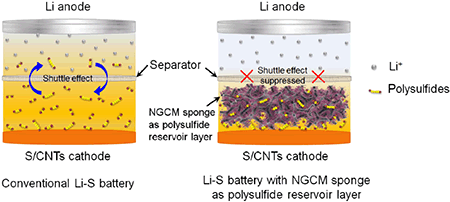 Keywords
lithium-sulfur batteries 
composite spongy framework 
polysulfide reservoir layer 
chemisorption and absorbability 
electrocatalytic effect 
Notes
Acknowledgements
This work is supported by the National Key R&D Program of China (Nos. 2017YFA0208200, 2016YFB0700600, and 2015CB659300), the National Natural Science Foundation of China (Nos. 21403105, 21573108, and 51761135104), Natural Science Foundation of Jiangsu Province (Nos. BK20150583 and BK20170644), and the Fundamental Research Funds for the Central Universities (No. 020514380107).
Copyright information
© Tsinghua University Press and Springer-Verlag GmbH Germany, part of Springer Nature 2018