Porphyrin-like Fe-N4 sites with sulfur adjustment on hierarchical porous carbon for different rate-determining steps in oxygen reduction reaction
Abstract
We developed a strategy based on coordination polymer to synthesize singleatom site Fe/N and S-codoped hierarchical porous carbon (Fe1/N,S-PC). The as-obtained Fe1/N,S-PC exhibited superior oxygen reduction reaction (ORR) performance with a half-wave potential (E1/2, 0.904 V vs. RHE) that was better than that of commercial Pt/C (E1/2, 0.86 V vs. RHE), single-atom site Fe/N-doped hierarchical porous carbon (Fe1/N-PC) without S-doped (E1/2, 0.85 V vs. RHE), and many other nonprecious metal catalysts in alkaline medium. Moreover, the Fe1/N,S-PC revealed high methanol tolerance and firm stability. The excellent electrocatalytic activity of Fe1/N,S-PC is attributed to the synergistic effects from the atomically dispersed porphyrin-like Fe-N4 active sites, the heteroatom codoping (N and S), and the hierarchical porous structure in the carbon materials. The calculation based on density functional theory further indicates that the catalytic performance of Fe1/N,S-PC is better than that of Fe1/N-PC owing to the sulfur doping that yielded different rate-determining steps.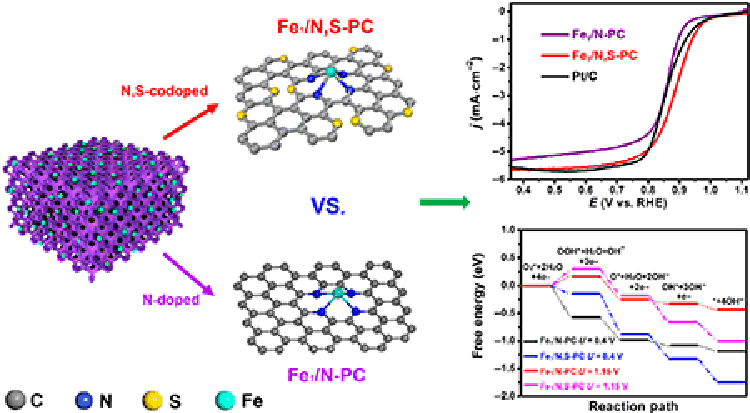 Keywords
single-atom catalyst 
heteroatom codoping 
porous materials 
oxygen reduction 
electrocatalysis 
Notes
Acknowledgements
This work was supported by China Ministry of Science and Technology under Contract of 2016YFA (0202801), the National Natural Science Foundation of China (Nos. 21521091, 21390393, U1463202, 21573119, 21590792, and 21501004). We thanks for the help from the Beijing Synchrotron Radiation Facility (BSRF) and National Synchrotron Radiation Laboratory (NSRL) in characterizations.
Copyright information
© Tsinghua University Press and Springer-Verlag GmbH Germany, part of Springer Nature 2018