Probing magnetic-proximity-effect enlarged valley splitting in monolayer WSe2 by photoluminescence
Abstract
Possessing a valley degree of freedom and potential in information processing by manipulating valley features (such as valley splitting), group-VI monolayer transition metal dichalcogenides have attracted enormous interest. This valley splitting can be measured based on the difference between the peak energies of σ+ and σ− polarized emissions for excitons or trions in direct band gap monolayer transition metal dichalcogenides under perpendicular magnetic fields. In this work, a well-prepared heterostructure is formed by transferring exfoliated WSe2 onto a EuS substrate. Circular-polarization-resolved photoluminescence spectroscopy, one of the most facile and intuitive methods, is used to probe the difference of the gap energy in two valleys under an applied out-of-plane external magnetic field. Our results indicate that valley splitting can be enhanced when using a EuS substrate, as compared to a SiO2/Si substrate. The enhanced valley splitting of the WSe2/EuS heterostructure can be understood as a result of an interfacial magnetic exchange field originating from the magnetic proximity effect. The value of this magnetic exchange field, based on our estimation, is approximately 9 T. Our findings will stimulate further studies on the magnetic exchange field at the interface of similar heterostructures.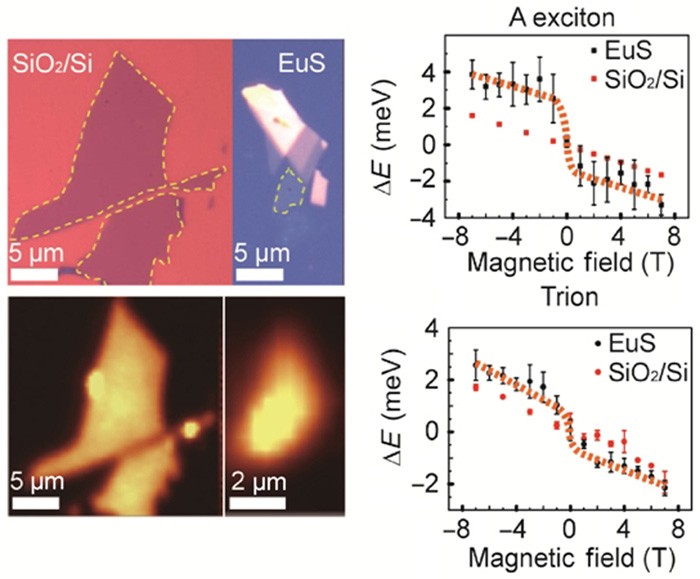 Keywords
valley splitting 
transition metal dichalcogenides 
magnetic proximity effect 
heterostructure 
magnetic exchange field 
Notes
Acknowledgements
This work is supported by the National Natural Science Foundation of China (No. 61774040), the National Young 1000 Talent Plan of China, the Shanghai Municipal Natural Science Foundation (No. 16ZR1402500), the Opening project of State Key Laboratory of Functional Materials for Informatics (Shanghai Institute of Microsystem and Information Technology, Chinese Academy of Sciences), Singapore Ministry of Education (MOE) Tier 1 RG199/17, NTU Start-up grant M4080513, US NSF MRI-1229208 and UB RENEW Institute. M. E. acknowledges support by Jiangsu 100 Talent and Six Categories of Talent.
Copyright information
© Tsinghua University Press and Springer-Verlag GmbH Germany, part of Springer Nature 2018