Background-free latent fingerprint imaging based on nanocrystals with long-lived luminescence and pH-guided recognition
Abstract
Latent fingerprints (LFPs) are highly specific to individuals, and LFP imaging has played an important role in areas such as forensic investigation and law enforcement. Presently, LFP imaging still faces considerable problems, including background interference and destructive and complex operations. Herein, we have designed a background-free, nondestructive, and easy-to-perform method for LFP imaging based on pH-mediated recognition of LFPs by carboxyl group-functionalized Zn
2
GeO
4
:Mn (ZGO:Mn-COOH) persistent luminescence nanorods (PLNRs). By simply adjusting the pH of the ZGO:Mn-COOH colloid dispersion to a certain acidic range, the negatively charged ZGO:Mn-COOH readily binds to protonated fingerprint ridges via electrostatic attraction. The ZGO:Mn-COOH colloid dispersion can be stored in portable commercial spray bottles, and the LFPs have been easily detected
in situ
by simply dropping the colloid dispersion on the LFPs. Moreover, since the ZGO:Mn-COOH can remain luminescent after excitation ceases, background color and background fluorescence interference were efficiently removed by simply capturing the luminescent LFP images after the excitation ceased. The entire LFP imaging process can be easily conducted without any destructive or complex operations. Due to the great versatility of the developed method for LFP imaging, clear LFP images with well-resolved ridge patterns were obtained. The designed background-free, nondestructive, and easy-to-perform LFP imaging strategy has great potential for future applications, such as forensic investigations and law enforcement.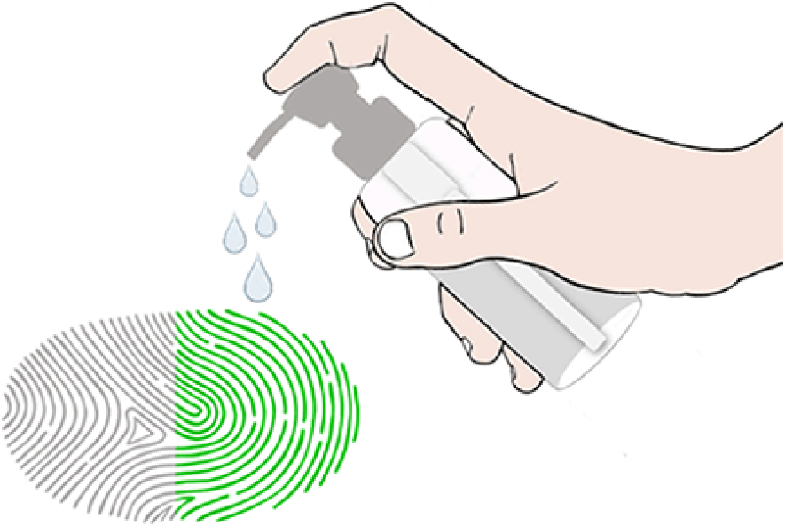 Keywords
fingerprint 
persistent luminescence 
background interference 
nanoparticle 
imaging 
Notes
Acknowledgements
This work was supported by the National Natural Science Foundation of China (No. 21675120), the National Key R&D Program of China (No. 2017YFA0208000), the National Basic Research Program of China (973 Program, No. 2015CB932600), the Open Funding Project of the State Key Laboratory of Biochemical Engineering (No. 4102010299) and the Fundamental Research Funds for the Central Universities (No. 2042017kf0210). Q. Y. thanks the large-scale instrument and equipment sharing foundation of Wuhan University.
Copyright information
© Tsinghua University Press and Springer-Verlag GmbH Germany, part of Springer Nature 2018