Growth of atomically thick transition metal sulfide filmson graphene/6H-SiC(0001) by molecular beam epitaxy
Abstract
We report the growth and characterization of atomically thick NbS
2
, TaS
2
, and FeS films on a 6
H
-SiC(0001) substrate terminated with monolayer or bilayer epitaxial graphene. The crystal and electronic structures are studied by scanning tunneling microscopy and reflection high-energy electron diffraction. The NbS
2
monolayer is solely in the 2
H
structure, while the TaS
2
monolayer contains both 1
T
and 2
H
structures. Charge-density waves are observed in all phases. For the FeS films, the tetragonal structure coexists with the hexagonal one and nosuperconductivity is observed.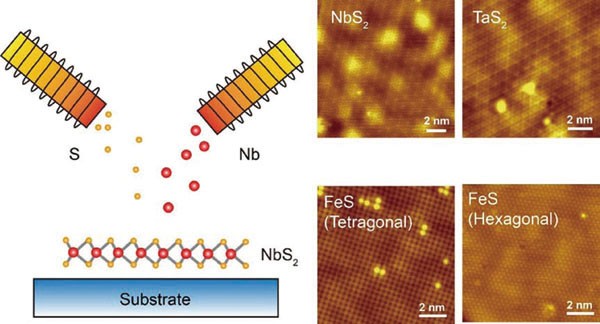 Keywords
two-dimensional (2D) materials 
molecular beam epitaxy 
charge density wave 
NbS2 
TaS2 
FeS 
Notes
Acknowledgements
This work is supported by the National Natural Science Foundation of China (Nos. 51561145005, 11574175 and 11622433), and the Ministry of Science and Technology of China (No. 2016YFA0301002). All the crystal structures in this paper are produced by VESTA [29].
Copyright information
© Tsinghua University Press and Springer-Verlag GmbH Germany, part of Springer Nature 2018