Plasmon-enhanced ZnO whispering-gallery mode lasing
Abstract
Collaborative enhancements from surface plasmons (SPs) and whispering-gallery modes (WGMs) can induce intense near-field effects with high spatial localization around the surface of a semiconducting material. One can construct a highly efficient hybrid microcavity using semiconducting materials through resonant coupling between SPs and WGMs. Hexagonal ZnO micro-/nanostructures, which have been employed as natural WGM microcavities for ultraviolet (UV) lasing, can be used as ideal platforms to construct such hybrid microcavities. Here, we comprehensively review the recent efforts for improving lasing performance by resonant coupling between SPs and WGMs. Traditional SPs originating from various metals as well as novel SPs originating from atomic layers such as graphene are considered. Moreover, we discuss the mechanism of light-matter interactions beyond the improvements in lasing performance.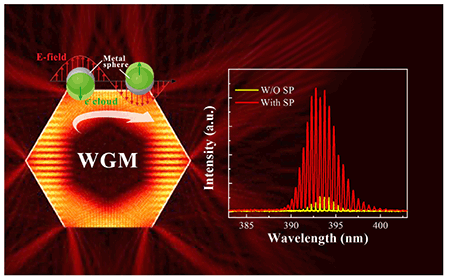 Keywords
ZnO microcavity 
surface plasmon 
whispering-gallery mode 
Notes
Acknowledgements
This work was supported by the National Natural Science Foundation of China (Nos. 61275054, 11604114 and 11734005) and Science and Technology Support Program of Jiangsu Province (No. BE2016177).
Copyright information
© Tsinghua University Press and Springer-Verlag GmbH Germany, part of Springer Nature 2018