DNA-encoded morphological evolution of bimetallic Pd@Au core-shell nanoparticles from a high-indexed core
Abstract
DNA-mediated synthesis of nanoparticles is a powerful method to access exclusive shapes and surface properties. Previous studies employed seeds containing low-energy facets, such as a simple cubic palladium seed, in the synthesis of Pd-Au bimetallic nanoparticles; however, few studies have investigated whether DNA molecules are influential when a seed containing high-energy facets is used. Seeds enclosed by high-energy facets act as facile nucleation sites in nanoparticle growth and could suppress the effect of DNA. We report the DNA-encoded control of the morphological evolution of bimetallic Pd@Au core-shell nanoparticles from a concave palladium nanocube seed containing high-indexed facets. Based on detailed spectroscopic and microscopic studies of time-dependent growth of bimetallic nanoparticles, we found that the DNA molecules containing 10 repeating units of thymine, guanine, cytosine, or adenine (referred to as T10, G10, C10, and A10, respectively) show a unique interaction with the surface of the seed and the precursor. The most important factor is the binding affinity of the nucleobase to the Pd surface; A10 shows the highest binding affinity and can stabilize the high energy surfaces of the seed. Initially, the growth of bases with lower binding affinities (T10, G10, and C10) is completely dictated by the seed's surface energy, but later growth can be influenced by different DNA sequences, providing four Pd@Au bimetallic nanoparticles with unique morphologies. The effect of these DNA molecules with medium or low binding affinities can only be observed when more Au is deposited. We propose a scheme for DNA-controlled growth. These results provide insights into the factors governing the DNA-mediated growth of core-shell structures using seeds with high-energy sites, and the insights can be readily applied to other bimetallic systems.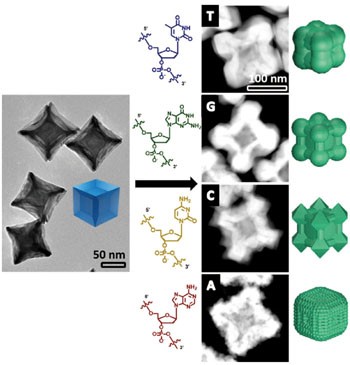 Keywords
concave seed 
DNA 
shape-control 
Pd@Au core-shell nanoparticles 
Notes
Acknowledgements
We wish to thank the U.S. National Institutes of Health (Nos. GM124316 and MH110975) for financial support. N. S. R. S. would like to thank the Beckman Graduate Fellowship for financial support. The authors thank Prof. Hong Yang, Prof. Kenneth S. Suslick, and Prof. Catherine J. Murphy for their insightful discussions. SEM, TEM, and STEM were carried out at the Federick Seitz Materials Research Laboratory Central Research Facilities, University of Illinois. The authors also thank Dr. Moitree Laskar for suggestions in a synthetic protocol, Dianwen Zhang for help with the confocal Raman microscopy, Kapil Dave for CD measurements, Kevin Harnden for help with data analysis and Vishwas Srivastava for help with HR-TEM and helpful discussions.
Copyright information
© Tsinghua University Press and Springer-Verlag GmbH Germany, part of Springer Nature 2018