Template-free large-scale synthesis of g-C3N4 microtubes for enhanced visible light-driven photocatalytic H2 production
Abstract
A template-free hydrothermal-assisted thermal polymerization method has been developed for the large-scale synthesis of one-dimensional (1D) graphitic carbonnitride (g-C3N4) microtubes. The g-C3N4 microtubes were obtained by simple thermal polymerization of melamine-cyanuric acid complex microrods under N2 atmosphere, which were synthesized by hydrothermal treatment of melamine solution at 180 °C for 24 h. The as-obtained g-C3N4microtubes exhibited a large surface area and a unique one-dimensional tubular structure, which provided abundant active sites for proton reduction and also facilitated the electron transfer processes. As such, the g-C3N4 microtubes showed enhanced photocatalytic H2 productionactivity in lactic acid aqueous solutions under visible light irradiation (λ ≥ 420 nm), which was ∼ 3.1 times higher than that of bulk g-C3N4 prepared by direct thermal polymerization of the melamine precursor under the same calcination conditions.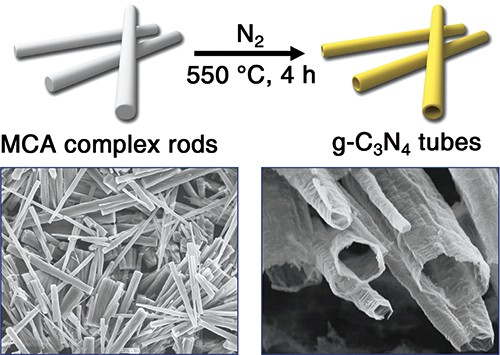 Keywords
g-C3N4 
microtubes 
photocatalytic 
water splitting 
visible light response 
Notes
Acknowledgements
This work was supported by the National Basic Research Program of China (No. 2014CB239402), the National Key Projects for Fundamental Research and Development of China (Nos. 2016YFB0600901, 2017YFA0206904, and 2017YFA0206900), the National Natural Science Foundation of China (Nos. 51772305, 51572270, U1662118, and 21401207), the Strategic Priority Research Program of the Chinese Academy of Sciences (No. XDB17000000), and the Youth Innovation Promotion Association of the CAS.
Copyright information
© Tsinghua University Press and Springer-Verlag GmbH Germany, part of Springer Nature 2018