Enzymatic formation of curcumin in vitro and in vivo
Abstract
The recent classification of curcumin (Cur) as a pan-assay interference compound (PAINS) and an invalid metabolic panaceas (IMPS) candidate demonstrated the controversial nature of Cur as a drug lead owing to its aggregation in aqueous phase and inherent instability in vivo. Here, we report a simple prodrug approach to generate nanoparticles of Curin situ that allow it to function reproducibly as an anticancer and an anti-inflammatory agent. Diphosphorylated curcumin (Cur-2p), a precursor of Cur and a substrate of alkaline phosphatase (ALP), exhibited drastically improved chemical stability and low aggregation in water. After conversion to curcumin around or inside cancer cells by ALP, Cur-2p selectively inhibited cancer cells that overexpressed ALP, but did not affect normal cells. Moreover, the intravitreal injection of Cur-2p resulted in excellent intraocular biocompatibility with no apparent damage to the morphology and visual function of retina, as shown by fundus imaging, optical coherence tomography (OCT), and histological observation. A rodent model of uveitis showed that Cur-2p significantly suppressed the inflammation response compared with Cur. As a rational approach to investigate and apply PAINS and IMPS candidates, this work presents a straightforward method to maximize the potential of drug leads and ultimately fulfil the promises and potential clinical benefits of PAINS and IMPS candidates.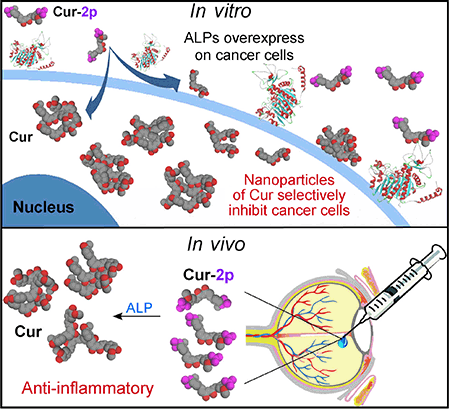 Keywords
enzymatic formation 
curcumin nanoparticles 
drug discovery 
anti-cancer 
anti-inflammatory 
Notes
Acknowledgements
This work was partially supported by National Institutes of Health (No. R01CA142746 and R21AI130560), National Science Foundation (No. MRSEC-1420382), Zhejiang Provincial Natural Science Foundation of China (No. LR18H300002), the National Natural Science Foundation of China (No. 31671022).
Copyright information
© Tsinghua University Press and Springer-Verlag GmbH Germany, part of Springer Nature 2018