Self-powered versatile shoes based on hybrid nanogenerators
Abstract
A triboelectric nanogenerator (TENG) and an electromagnetic generator (EMG) were hybridized to harvest the human mechanical energy. By an effective conjunction of triboelectrification and electromagnetic induction, the hybridized nanogenerator with a radius of 2 cm and height of 1.2 cm could charge a 1,000 μF capacitor to 5.09 V after 100 cycles of vibration. This mini-sized hybrid nanogenerator could then be embedded in shoes to serve as an energy cell. Typical outdoor applications—including driving with a Global Positioning System (GPS) device, charging a Li-ion battery and a cell phone—were successfully demonstrated, suggesting its potential application in smart wearable electronics and future suits of soldiers.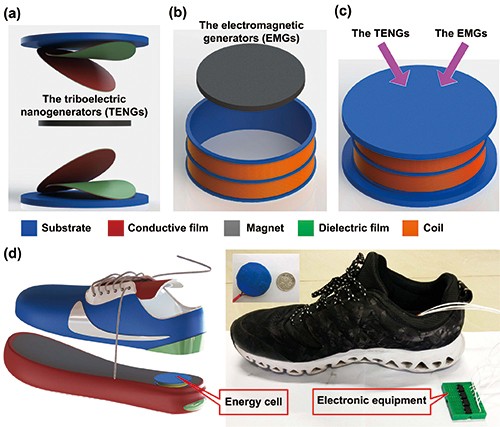 Keywords
triboelectric nanogenerators 
electromagnetic generators 
hybrid nanogenerators 
Notes
Acknowledgements
L. L., W. T., and C. R. D. contributed equally to this work. The authors acknowledge the support from the National Key R & D Project from Ministry of Science and Technology (No. 2016YFA0202704), National Natural Science Foundation of China (Nos. 51432005, 5151101243, and 51561145021), Beijing Municipal Science & Technology Commission (No. Y3993113DF), the "Thousands Talents" program for pioneer researcher, and their innovation team in China.
Supplementary material
Supplementary material, approximately 3.35 MB.
Copyright information
© Tsinghua University Press and Springer-Verlag GmbH Germany, part of Springer Nature 2018