Gold nanoparticles cause size-dependent inhibition of embryonic development during murine pregnancy
Abstract
Gold nanoparticles (Au NPs) have been widely utilized in biomedical applications owing to their attractive features and biocompatibility, which greatly increase the risk of humans' being exposed to Au NPs, including pregnant women. In contrast to mature cells, embryos are more susceptible to outside disruptive stimuli. Nonetheless, a possible inhibitory effect of nanomaterials on embryonic development is usually ignored as long as the NPs do not have significant cytotoxic effects. According to our results, a minimal "nontoxic" concentration of Au NPs during early pregnancy can have lethal inhibitory effects on embryos in vivo and in vitro. We conducted important experiments on the influence of Au NPs on embryonic development and found that Au NPs can disturb embryonic development in a size- and concentration-dependent manner. Au NPs of 15 nm in diameter downregulated the expression pattern of distinct germ layer markers both at mRNA and protein levels; this action prevented differentiation of all three embryonic germ layers. Consequently, fetal resorption was observed. Our work reveals the impact of Au NPs on embryonic development and will provide an important guidance and serve as a reference for biomedical applications of Au NPs with minimal side effects.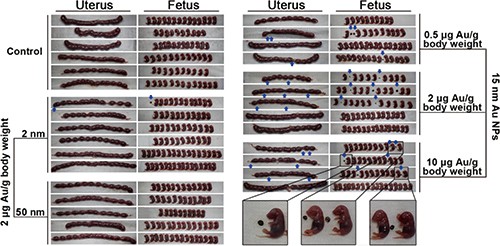 Keywords
gold nanoparticles 
embryonic development 
fetal resorption 
differentiation 
Notes
Acknowledgements
This work was supported by the National Natural Science Foundation of China (No. 31600808), the Beijing Natural Science Foundation (No. 7164316). This work was supported in part by Chinese Natural Science Foundation key projects (Nos. 31630027 and 31430031). The authors also appreciate the support of the Strategic Priority Research Program of the Chinese Academy of Sciences (No. XDA09030301).
Copyright information
© Tsinghua University Press and Springer-Verlag GmbH Germany, part of Springer Nature 2018