Single-step flash-heat synthesis of red phosphorus/graphene flame-retardant composite as flexible anodes for sodium-ion batteries
Abstract
Red phosphorus (RP) has attracted considerable attention as the anode for high-performance Na-ion batteries, owing to its low cost and high theoretical specific capacity of ∼ 2,600 mAh/g. In this study, a facile single-step flash-heat treatment was developed to achieve the reduction of graphene oxide (GO) and the simultaneous deposition of RP onto the reduced graphene oxide (rGO) sheets. The resulting RP/rGO composite was shown to be a promising candidate for overcoming the issues associated with the poor electronic conductivity and large volume variation of RP during cycling. The RP/rGO flexible film anode delivered an average capacity of 1,625 mAh/g during 200 cycles at a charge/discharge current density of 1 A/g. Average charge capacities of 1,786, 1,597, 1,324, and 679 mAh/g at 1, 2, 4, and 6 A/g current densities were obtained in the rate capability tests. Moreover, owing to the RP component, the RP/rGO film presented superior flame retardancy compared to an rGO film. This work thus introduces a highly accessible synthesis method to prepare flexible and safe RP anodes with superior electrochemical performance toward Na-ion storage.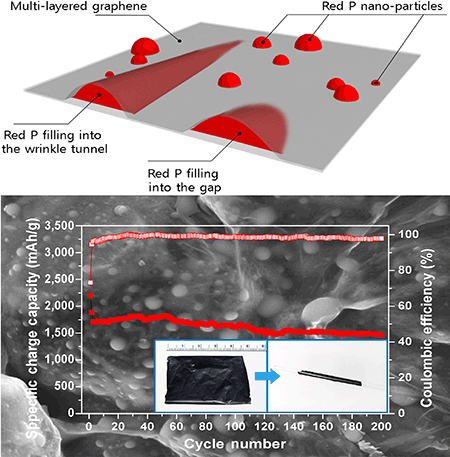 Keywords
sodium-ion batteries 
red phosphorus 
facile synthesis 
flexible 
flame-retardant 
reduced graphene oxide 
Notes
Acknowledgements
We would like to acknowledge the collaboration of this research with King Abdul-Aziz City for Science and Technology (KACST) via The Center of Excellence for Nanotechnologies (CEGN). A portion of the images and data used in this article were acquired at The Center for Electron Microscopy and Microanalysis, University of Southern California.
Supplementary material
Supplementary material, approximately 26.3 MB.
Supplementary material, approximately 9.36 MB.
Copyright information
© Tsinghua University Press and Springer-Verlag GmbH Germany, part of Springer Nature 2017