Ni-doped ZnCo2O4 atomic layers to boost the selectivity in solar-driven reduction of CO2
Abstract
Regulating the selectivity of CO2 photoreduction is particularly challenging. Herein, we propose ideal models of atomic layers with/without element doping to investigate the effect of doping engineering to tune the selectivity of CO2 photoreduction. Prototypical ZnCo2O4 atomic layers with/without Ni-doping were first synthesized. Density functional theory calculations reveal that introducing Ni atoms creates several new energy levels and increases the density-of-states at the conduction band minimum. Synchrotron radiation photoemission spectroscopy demonstrates that the band structures are suitable for CO2 photoreduction, while the surface photovoltage spectra demonstrate that Ni doping increases the carrier separation efficiency. In situ diffuse reflectance Fourier transform infrared spectra disclose that the CO2·− radical is the main intermediate, while temperature-programed desorption curves reveal that the ZnCo2O4 atomic layers with/without Ni doping favor the respective CO and CH4 desorption. The Ni-doped ZnCo2O4 atomic layers exhibit a 3.5-time higher CO selectivity than the ZnCo2O4 atomic layers. This work establishes a clear correlation between elemental doping and selectivity regulation for CO2 photoreduction, opening new possibilities for tailoring solar-driven photocatalytic behaviors.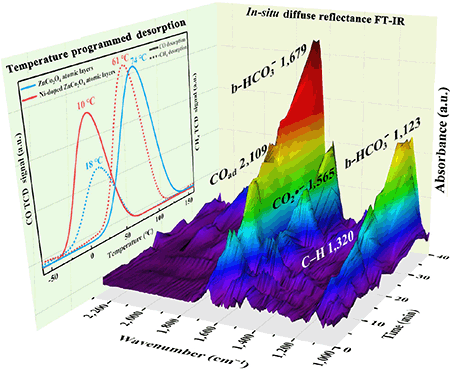 Keywords
atomic layers 
Ni-doped 
zinc cobaltite 
selectivity of CO2 reduction 
Notes
Acknowledgements
This work was financially supported by the National Key Research and Development Program of China (Nos. 2017YFA0303500 and 2017YFA0207301), the National Natural Science Foundation of China (Nos. 21422107, U1632147, 21331005, U1532265, and 11621063), Youth Innovation Promotion Association of CAS (No. CX2340000100), Key Research Program of Frontier Sciences of CAS (No. QYZDY-SSW-SLH011), the Fundamental Research Funds for the Central Universities (Nos. WK2340000063 and WK2340000073) and Scientific Research Grant of Hefei Science Center of CAS (No. 2016HSC-IU002).
Copyright information
© Tsinghua University Press and Springer-Verlag GmbH Germany, part of Springer Nature 2017