Ultra-robust triboelectric nanogenerator for harvesting rotary mechanical energy
Abstract
Triboelectric nanogenerators (TENGs) for harvesting rotary mechanical energy are mostly based on in-plane sliding or free-standing mode. However, the relative displacement between two contacting triboelectric layers causes abrasion, which lowers the output power and reduces service life. Therefore, it is important to develop a method to minimize abrasion when harvesting rotary mechanical energy. Here, we report a scale-like structured TENG (SL-TENG), in which two triboelectric layers work under a contact-separation mode to avoid in-plane relative sliding in order to minimize abrasion. As a result, the SL-TENG exhibits outstanding robustness. For example, the output voltage of the SL-TENG does not exhibit any measurable decay although this output has been continuously generated through more than a million cycles. Moreover, at a very low rotation rate of 120 rpm, the SL-TENG can generate a maximum short-circuit current of 78 μA, delivering an instantaneous power density of 2.54 W/m2 to an external load. In relation to this, a Li-ion battery was charged using the SL-TENG. After a 30-min charging time, the battery achieved a discharge capacity of 0.1 mAh. Through a power management circuit integrated into the SL-TENG, a continuous direct current (DC) of 5 V is outputted, providing sufficient DC power for driving a radio-frequency wireless sensor and other conventional electronics.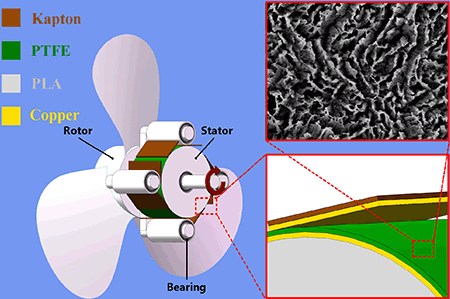 Keywords
nanogenerator 
ultra-robust 
energy harvesting 
rotary motions 
scale-like structure 
Notes
Acknowledgements
We wish to thank Tao Zhou and Jinxi Zhang for stimulating discussions, and Hongtao Yuan, Jianqiang Fu and Chaoying Zhang for assistance on characterization measurements. This work is supported by the National Key R&D Project from the Minister of Science and Technology, China (Nos. 2016YFA0202702, 2016YFA0202703, and 2016YFA0202704) and the National Natural Science Foundation of China (Nos. 21703010, 21274006 and 51503005), the Programs for Beijing Science and Technology Leading Talent (No. Z16111000490000).
Supplementary material
Supplementary material, approximately 1.31 MB.
Copyright information
© Tsinghua University Press and Springer-Verlag GmbH Germany, part of Springer Nature 2017