Heterostructured graphene quantum dot/WSe2/Si photodetector with suppressed dark current and improved detectivity
Abstract
A high-performance heterojunction photodetector is formed by combining an n-type Si substrate with p-type monolayer WSe2 obtained using physical vapor deposition. The high quality of the WSe2/Si heterojunction is demonstrated by the suppressed dark current of 1 nA and the extremely high rectification ratio of 107. Under illumination, the heterojunction exhibits a wide photoresponse range from ultraviolet to near-infrared radiation. The introduction of graphene quantum dots (GQDs) greatly elevates the photodetective capabilities of the heterojunction with strong light absorption and long carrier lifetimes. The GQDs/WSe2/Si heterojunction exhibits a high responsivity of ∼ 707 mA·W–1, short response time of 0.2 ms, and good specific detectivity of ∼ 4.51 × 109 Jones. These properties suggest that the GQDs/WSe2/Si heterojunction holds great potential for application in future high-performance photodetectors.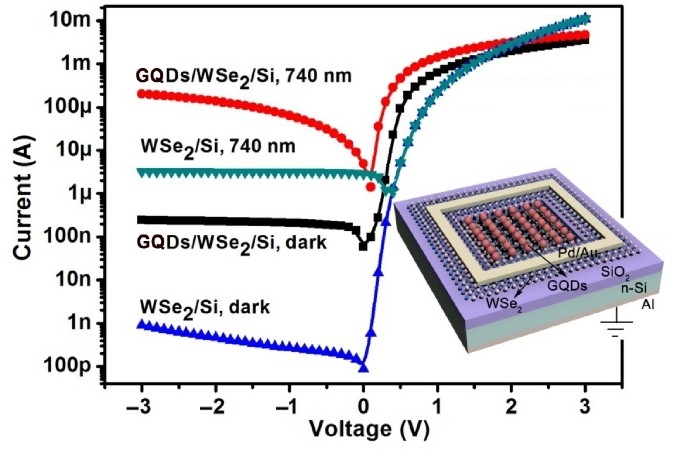 Keywords
heterojunction 
photodetector 
Si 
WSe2 
graphene quantum dots 
Notes
Acknowledgements
This work was supported by the National Natural Science Foundation of China (NSFC) (Nos. 51672154 and 51372130), MoST(No. 2016YFA0200200), Natural Science Foundation of Jiangsu Province (No. BK20160328), and Open Research Fund Program of the State Key Laboratory of Low-Dimensional Quantum Physics (No. KF201517).
Copyright information
© Tsinghua University Press and Springer-Verlag GmbH Germany, part of Springer Nature 2017