Fullerene/cobalt porphyrin charge-transfer cocrystals: Excellent thermal stability and high mobility
Abstract
Although organic semiconductors with high mobility and thermal stability are particularly desirable for practical applications, facile methods for their development still remains a big challenge. In this work, a charge-transfer cocrystal based on fullerene (C70)/cobalt porphyrin supramolecular architecture was prepared by a solution-processable co-assembly strategy. This supramolecular architecture showed hole mobility as high as 4.21 cm2·V−1·s−1, and a relatively high mobility of 0.02 cm2·V−1·s−1 even after thermal treatment at 1,000 °C. Further studies confirmed the occurrence of charge-transfer from 5,10,15,20-tetrakis(4-methoxyphenyl)porphyrinato cobalt(II) (CoTMPP) to C70 and the paramagnetic character within the supramolecular system. These factors were found to be responsible for the aforementioned superior performances. Thus, a novel organic semiconductor has been reported in this work, which can be potentially used for next generation electronic devices. Furthermore, it has been demonstrated that charge-transfer co-crystallization is a powerful strategy for the rational design and construction of a broad class of new multifunctional organic co-crystalline materials.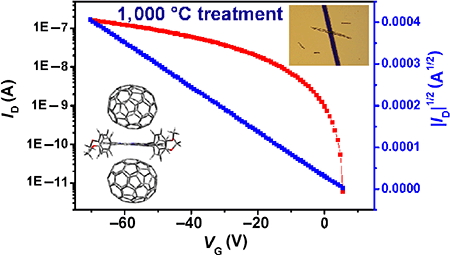 Keywords
organic semiconductor 
fullerene/porphyrin 
thermal stability 
mobility 
charge-transfer 
Notes
Acknowledgements
Financial support from the National Thousand Talents Program of China, the National Natural Science Foundation of China (Nos. 51472095, 51602112, 51672093 and 21103224), Program for Changjiang Scholars and Innovative Research Team in University (No. IRT1014), Key Laboratory of Functional Inorganic Material Chemistry (Heilongjiang University), and Ministry of Education are gratefully acknowledged. This work was partially supported by Japan Society for the Promotion of Science (JSPS) (Nos. JP16F16360, 26102011, 26249145, and 15K21721). We thank the Analytical and Testing Center in Huazhong University of Science and Technology for all related measurements. We also acknowledge Dr. Akihiko Fujiwara and Dr. Kunihisa Sugimoto for single-crystal XRD measurement.
Copyright information
© Tsinghua University Press and Springer-Verlag GmbH Germany, part of Springer Nature 2018