High-performance asymmetrical supercapacitor composed of rGO-enveloped nickel phosphite hollow spheres and N/S co-doped rGO aerogel
Abstract
An asymmetrical supercapacitor (ASC), comprising reduced graphene oxide (rGO)-encapsulated nickel phosphite hollow microspheres (NPOH-0.5@rGO) as positive electrode, and porous nitrogen/sulfur co-doped rGO aerogel (NS-3D rGO) as negative electrode has been prepared. The NPOH-0.5@rGO electrode combines the advantages of the NPOH hollow microspheres and the conductive rGO layers giving rise to a large specific capacitance, high cycling reversibility, and excellent rate performance. The NS-3D rGO electrode with abundant porosity and active sites promotes electrolyte infiltration and broadens the working voltage range. The ASC (NPOH-0.5@rGO//NS-3D rGO) shows a maximum voltage of up to 1.4 V, outstanding cycling ability (capacitance retention of 95.5% after 10,000 cycles), and excellent rate capability (capacitance retention of 77% as the current density is increased ten times). The ASC can light up an light-emitting diodes (LED) for more than 20 min after charging for 20 s. The fabrication technique and device architecture can be extended to other active oxide and carbon-based materials for next-generation high-performance electrochemical storage devices.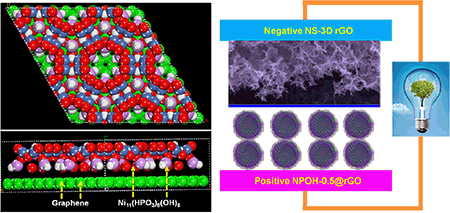 Keywords
nickel phosphate 
hollow sphere 
graphene 
nitrogen/sulfur co-doping 
asymmetrical 
supercapacitor 
Notes
Acknowledgements
This work was jointly supported by the National Natural Science Foundation of China (No. 51572246), Fundamental Research Funds for the Central Universities (Nos. 53200859565, 53200859500 and 2652015425), as well as City University of Hong Kong Applied Research Grant (ARG) (No. 9667122) and Strategic Research Grant (SRG) (No. 7004644).
Copyright information
© Tsinghua University Press and Springer-Verlag GmbH Germany 2018