Hierarchical three-dimensional flower-like Co3O4 architectures with a mesocrystal structure as high capacity anode materials for long-lived lithium-ion batteries
Abstract
In this work, we rationally design a high-capacity electrode based on three-dimensional (3D) hierarchical Co3O4 flower-like architectures with a mesocrystal nanostructure. The specific combination of the micro-sized 3D hierarchical architecture and the mesocrystal structure with a high porosity and single crystal-like nature can address the capacity fading and cycling stability as presented in many conversion electrodes for lithium-ion batteries. The hierarchical 3D flower-like Co3O4 architecture accommodates the volume change and mitigates mechanical stress during the lithiation–delithiation processes, and the mesocrystal structure provides extra lithium-ion storage and electron/ion transport paths. The achieved hierarchical 3D Co3O4 flower-like architectures with a mesocrystal nanostructure exhibit a high reversible capacity of 920 mA·h·g−1 after 800 cycles at 1.12 C (1 C = 890 mA·h·g−1), improved rate performance, and cycling stability. The finding in this work offers a new perspective for designing advanced and long-lived lithium-ion batteries.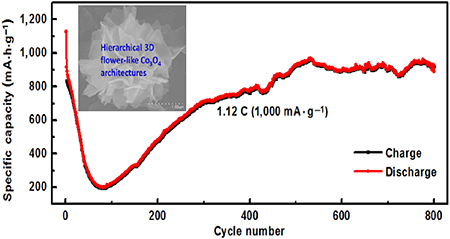 Keywords
Co3O4 
three-dimensional 
anode materials 
lithium-ion batteries 
Notes
Acknowledgements
This work was supported by the National Natural Science Foundation of China (Nos. 11374377, 61575225, 11404414, 11074312 and 11474174), and the Undergraduate Research Training Program of Minzu University of China (Nos. GCCX2016110009 and GCCX2016110010).
Copyright information
© Tsinghua University Press and Springer-Verlag GmbH Germany 2018