Ligand density-dependent influence of arginine–glycine–aspartate functionalized gold nanoparticles on osteogenic and adipogenic differentiation of mesenchymal stem cells
Abstract
Extracellular matrix (ECM) plays a very important role in regulating cell function and fate. It is highly desirable to fabricate biomimetic models to investigate the role of ECM in stem cell differentiation. In this study, arginine–glycine–aspartate (RGD)-modified gold nanoparticles (Au NPs) with tunable surface ligand density were prepared to mimic the ECM microenvironment. Their effect on osteogenic and adipogenic differentiation of human mesenchymal stem cells (MSCs) was investigated. The biomimetic Au NPs were taken up by MSCs in a ligand density-dependent manner. The biomimetic NPs with a high RGD density had an inhibitive effect on the alkaline phosphatase (ALP) activity, calcium deposition, and osteogenic marker gene expression of MSCs. Their effect on oil droplet formation and adipogenic marker gene expression was negative when RGD density was low, while their effect was promotive when RGD density was high. The biomimetic Au NPs regulated the osteogenic and adipogenic differentiation of MSCs mainly through affecting the focal adhesion and cytoskeleton. This study highlights the roles of biomimetic NPs on stem cell differentiation that could provide a meaningful strategy in fabricating functional biomaterials for tissue engineering and biomedical applications.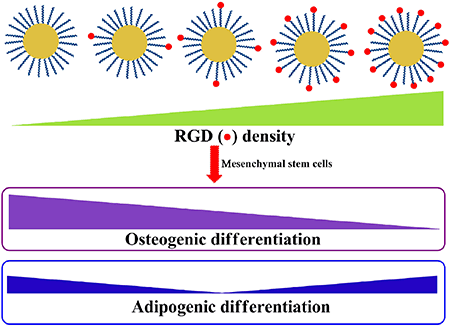 Keywords
arginine–glycine–aspartate (RGD) density 
biomimetic gold nanoparticles (Au NPs) 
osteogenic differentiation 
adipogenic differentiation 
mesenchymal stem cells 
Notes
Acknowledgements
This work was supported by the World Premier International Research Center Initiative (WPI) on Materials Nanoarchitectonics from the Ministry of Education, Culture, Sports, Science and Technology, Japan and JSPS KAKENHI Grant Number 15H03027.
Copyright information
© Tsinghua University Press and Springer-Verlag GmbH Germany 2018