Au nanocomposite enhanced electret film for triboelectric nanogenerator
Abstract
A triboelectric nanogenerator (TENG) with an organic nanocomposite electret thin film as the triboelectric layer for mechanical energy harvesting was investigated systematically. In combination with corona charging, a TENG was fabricated by using embedded-nanocapacitor-structure polytetrafluoroethylene (PTFE) impregnated with gold nanoparticles (Au-NPs). The output performances, stability, and durability of the TENGs with Au-PTFE nanocomposite films were characterized after being washed in water. It was found that the output current increases by 70% and the equivalent surface charge density (ESCD) reaches 85 μC/m2 in comparison to the virgin PTFE film. Such outstanding performance is likely due to the equivalent nanocapacitors between the Au-NPs and PTFE molecules, which serve as nano charge traps in the nanocomposite electret film under negative high-voltage corona charging. This work not only expands the practical applications of TENGs, but also opens up new possibilities for the development of high performance triboelectric materials.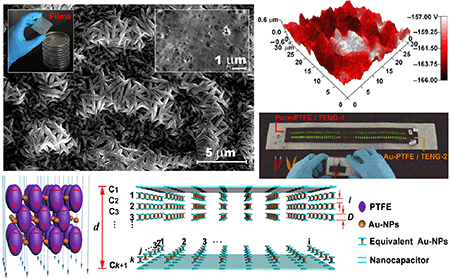 Keywords
equivalent nanocapacitor structure 
polytetrafluoroethylene (PTFE) electret thin film 
gold nanoparticles 
equivalent surface charge density 
Notes
Acknowledgements
Thanks for the support from National Natural Science Foundation of China (Nos. 61405131, 51432005, 5151101243, and 51561145021), the National Key R&D Project from Minister of Science and Technology (No. 2016YFA0202704), Beijing Municipal Science & Technology Commission (No. Y3993113DF), and the "thousands talents" program for pioneer researcher and his innovation team, China.
Supplementary material
Supplementary material, approximately 4.10 MB.
Supplementary material, approximately 2.55 MB.
Supplementary material, approximately 4.48 MB.
Supplementary material, approximately 2.99 MB.
Copyright information
© Tsinghua University Press and Springer-Verlag GmbH Germany, part of Springer Nature 2017