Two-photon lithography for 3D magnetic nanostructure fabrication
Open Access
Research Article
Abstract
Ferromagnetic materials have been utilized as recording media in data storage devices for many decades. The confinement of a material to a two-dimensional plane is a significant bottleneck in achieving ultra-high recording densities, and this has led to the proposition of three-dimensional (3D) racetrack memories that utilize domain wall propagation along the nanowires. However, the fabrication of 3D magnetic nanostructures of complex geometries is highly challenging and is not easily achieved with standard lithography techniques. Here, we demonstrate a new approach to construct 3D magnetic nanostructures of complex geometries using a combination of two-photon lithography and electrochemical deposition. The magnetic properties are found to be intimately related to the 3D geometry of the structure, and magnetic imaging experiments provide evidence of domain wall pinning at the 3D nanostructured junction.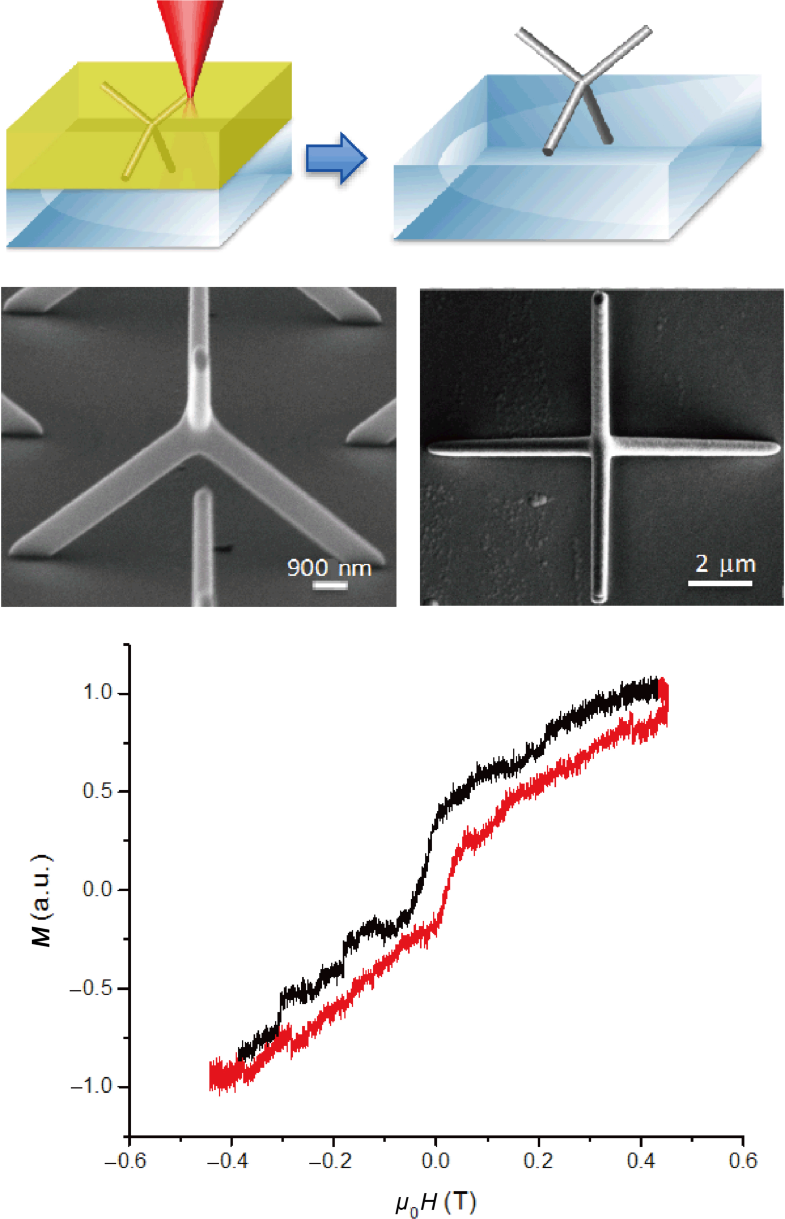 Keywords
magnetism 
spintronics 
nanomagnetism 
three-dimensional (3D) lithography 
Notes
Acknowledgements
S. L. gratefully acknowledges funding from EPSRC (Nos. EP/L006669/1, EP/P510750/1, and EP/P511122/1). JGR and Y-LDH acknowledge financial support from the ERC advanced grant 247462 QUOWSS and EPSRC grant EP/M009033/1. The research leading to these results has received funding from the European Union Seventh Framework Programme [FP7-People-2012-ITN] under grant agreement 316657 (SpinIcur). Information on the data that underpins the research reported here, including how to access them, can be found in the Cardiff University data catalogue at http://doi.org/ 10.17035/d.2017.0031438135.
Copyright information
© The author(s) 2018
Open Access: This article is distributed under the terms of the Creative Commons Attribution 4.0 International License (http://creativecommons.org/licenses/by/4.0/), which permits unrestricted use, distribution, and reproduction in any medium, provided you give appropriate credit to the original author(s) and the source, provide a link to the Creative Commons license, and indicate if changes were made.