Gold nanoshells: Contrast agents for cell imaging by cardiovascular optical coherence tomography
Abstract
Optical coherence tomography (OCT) has gained considerable attention in interventional cardiovascular medicine and is currently used in clinical settings to assess atherosclerotic lesions and to optimize stent placement. Artery imaging at the cellular level constitutes the first step towards cardiovascular molecular imaging, which represents a major advance in the development of personalized noninvasive therapies. In this work, we demonstrate that cardiovascular OCT can be used to detect individual cells suspended in biocompatible fluids. Importantly, the combination of this catheter-based clinical technique with gold nanoshells (GNSs) as intracellular contrast agents led to a substantial enhancement in the backscattered signal produced by individual cells. This cellular contrast enhancement was attributed to the large backscattering cross-section of GNSs at the OCT laser wavelength (1,300 nm). A simple intensity analysis of OCT cross-sectional images of suspended cells makes it possible to identify the sub-population of living cells that successfully incorporated GNSs. The generalizability of this method was demonstrated using two different cell lines (HeLa and Jurkat cells). This work provides novel insights into cardiovascular molecular imaging using specifically modified GNSs.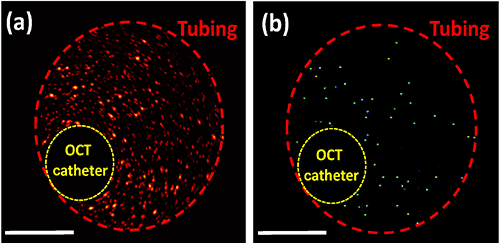 Keywords
OCT intravascular imaging 
gold nanoparticles 
3D imaging 
Notes
Acknowledgements
This work is supported by the Spanish Ministry of Economy and Competitiveness under Project No. MAT2016-75362-C3-1-R and by Instituto de Salud Carlos III under Project No. PI16/00812. Jie Hu acknowledges the scholarship from the China Scholarship Council (No. 201506650003). Dirk H. Ortgies is grateful to the Spanish Ministry of Economy and Competitiveness for a Juan de la Cierva scholarship (No. FJCI-2014-21101).
Copyright information
© Tsinghua University Press and Springer-Verlag GmbH Germany 2018