Spontaneous twisting of a collapsed carbon nanotube
Abstract
We study the collapsing and subsequent spontaneous twisting of a carbon nanotube by in situ transmission electron microscopy (TEM). A custom-sized nanotube is first created in the microscope by selectively extracting shells from a parent multi-walled tube. The few-walled, large-diameter daughter nanotube is driven to collapse via mechanical stimulation, after which the ribbon-like collapsed tube spontaneously twists along its long axis. In situ diffraction experiments fully characterize the uncollapsed and collapsed tubes. The experimental observations and associated theoretical analysis indicate that the origin of the twisting is compressive strain.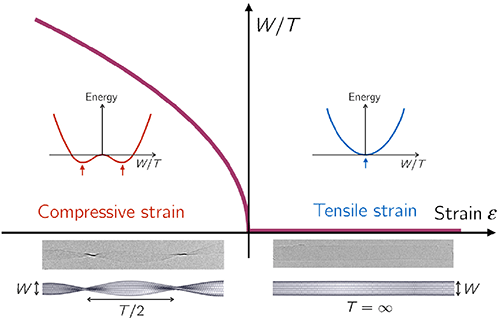 Keywords
multi-walled carbon nanotube 
collapsed carbon nanotube 
in situ TEM 
electron diffraction 
twisting 
graphene nanoribbons 
Notes
Acknowledgements
This work was supported in part by the Director, Office of Basic Energy Sciences, Materials Sciences and Engineering Division, of the U.S. Department of Energy under Contract #DE-AC02-05CH11231, within the Nanomachines Program (KC1203), which provided support for TEM characterization and the continuum model calculation; by the Office of Naval Research under contract N00014-16-1-2229 which provided support for collapsed nanoribbon synthesis; by the National Science Foundation under grant DMR- 1508412 which provided for total energy calculations, and by the Swedish Research Council (grant dnr 2015-00520) which provided support for HRB. Computational resources have been provided by the NSF through XSEDE resources at NICS.
Copyright information
© Tsinghua University Press and Springer-Verlag Berlin Heidelberg 2016