Abstract
Multidrug resistance targeted mutation (mdr1a −/− ) mice spontaneously develop intestinal inflammation. The aim of this study was to further characterize the intestinal inflammation in mdr1a −/− mice. Intestinal samples were collected to measure inflammation and gene expression changes over time. The first signs of inflammation occurred around 16 weeks of age and most mdr1a −/− mice developed inflammation between 16 and 27 weeks of age. The total histological injury score was the highest in the colon. The inflammatory lesions were transmural and discontinuous, revealing similarities to human inflammatory bowel diseases (IBD). Genes involved in inflammatory response pathways were up-regulated whereas genes involved in biotransformation and transport were down-regulated in colonic epithelial cell scrapings of inflamed mdra1 −/− mice at 25 weeks of age compared to non-inflamed FVB mice. These results show overlap to human IBD and strengthen the use of this in vivo model to study human IBD. The anti-inflammatory regenerating islet-derived genes were expressed at a lower level during inflammation initiation in non-inflamed colonic epithelial cell scrapings of mdr1a −/− mice at 12 weeks of age. This result suggests that an insufficiently suppressed immune response could be crucial to the initiation and development of intestinal inflammation in mdr1a −/− mice.
This is a preview of subscription content, log in to check access.
Access options
Buy single article
Instant unlimited access to the full article PDF.
US$ 39.95
Price includes VAT for USA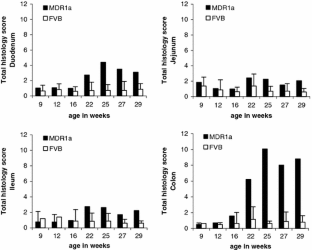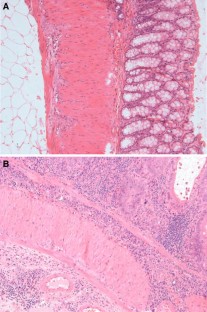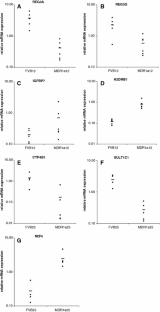 Abbreviations
ABCB:

ATP-binding cassette sub-family B

CANX:

Calnexin

CYP:

Cytochrome P450

IBD:

Inflammatory Bowel Diseases

CD:

Crohn's Disease

HPRT1:

Hypoxanthine phosphoribosyltransferase 1

HIS:

Histological injury score

IGFBP7:

Insulin-like growth factor binding protein 7

IFN-γ:

Interferon gamma

MPO:

Myeloperoxidase

MDR:

Multidrug resistance

NCF4:

Neutrophil cytosolic factor 4

REG3:

Regenerating islet-derived 3

RT-PCR:

Real time polymerase chain reaction

SNP:

Single nucleotide polymorphism

SULT:

Sulfotransferase

UC:

Ulcerative Colitis
References
1.

Aitken AE, Richardson TA, Morgan ET (2006) Regulation of drug-metabolizing enzymes and transporters in inflammation. Annu Rev Pharmacol Toxicol 46:123–149

2.

Banner KH, Cattaneo C, Le Net JL, Popovic A, Collins D, Gale JD (2004) Macroscopic, microscopic and biochemical characterisation of spontaneous colitis in a transgenic mouse, deficient in the multiple drug resistance 1a gene. Br J Pharmacol 143:590–598

3.

Bilsborough J, Viney JL (2004) Out, out darn toxin: the role of MDR in intestinal homeostasis. Gastroenterology 127:339–340

4.

Brant SR, Panhuysen CI, Nicolae D, Reddy DM, Bonen DK, Karaliukas R, Zhang L, Swanson E, Datta LW, Moran T, Ravenhill G, Duerr RH, Achkar JP, Karban AS, Cho JH (2003) MDR1 Ala893 polymorphism is associated with inflammatory bowel disease. Am J Hum Genet 73:1282–1292

5.

Cummings JH, Antoine JM, Azpiroz F, Bourdet-Sicard R, Brandtzaeg P, Calder PC, Gibson GR, Guarner F, Isolauri E, Pannemans D, Shortt C, Tuijtelaars S, Watzl B (2004) PASSCLAIM—gut health and immunity. Eur J Nutr 43(Suppl 2):II118–II173

6.

Dieckgraefe BK, Stenson WF, Korzenik JR, Swanson PE, Harrington CA (2000) Analysis of mucosal gene expression in inflammatory bowel disease by parallel oligonucleotide arrays. Physiol Genom 4:1–11

7.

Folch-Puy E, Granell S, Dagorn JC, Iovanna JL, Closa D (2006) Pancreatitis-associated protein I suppresses NF-kappa B activation through a JAK/STAT-mediated mechanism in epithelial cells. J Immunol 176:3774–3779

8.

Gaya DR, Russell RK, Nimmo ER, Satsangi J (2006) New genes in inflammatory bowel disease: lessons for complex diseases? Lancet 367:1271–1284

9.

Grisham MB, Benoit JN, Granger DN (1990) Assessment of leukocyte involvement during ischemia and reperfusion of intestine. Methods Enzymol 186:729–742

10.

Haller D (2006) Intestinal epithelial cell signalling and host-derived negative regulators under chronic inflammation: to be or not to be activated determines the balance towards commensal bacteria. Neurogastroenterol Motil 18:184–199

11.

Ho GT, Moodie FM, Satsangi J (2003) Multidrug resistance 1 gene (P-glycoprotein 170): an important determinant in gastrointestinal disease? Gut 52:759–766

12.

Ho GT, Soranzo N, Nimmo ER, Tenesa A, Goldstein DB, Satsangi J (2006) ABCB1/MDR1 gene determines susceptibility and phenotype in ulcerative colitis: discrimination of critical variants using a gene-wide haplotype tagging approach. Hum Mol Genet 15:797–805

13.

Jessop DS, Douthwaite DA, Conde GL, Lightman SL, Dayan SM, Harbuz MS (1997) Effects of acute stress or centrally injected interleukin-1beta on neuropeptide expression in the immune system. Stress 2:133–144

14.

Keilbaugh SA, Shin ME, Banchereau RF, McVay LD, Boyko N, Artis D, Cebra JJ, Wu GD (2005) Activation of RegIIIbeta/gamma and interferon gamma expression in the intestinal tract of SCID mice: an innate response to bacterial colonisation of the gut. Gut 54:623–629

15.

Kuribayashi F, Nunoi H, Wakamatsu K, Tsunawaki S, Sato K, Ito T, Sumimoto H (2002) The adaptor protein p40(phox) as a positive regulator of the superoxide-producing phagocyte oxidase. EMBO J 21:6312–6320

16.

Langmann T, Moehle C, Mauerer R, Scharl M, Liebisch G, Zahn A, Stremmel W, Schmitz G (2004) Loss of detoxification in inflammatory bowel disease: dysregulation of pregnane X receptor target genes. Gastroenterology 127:26–40

17.

Lawrance IC, Fiocchi C, Chakravarti S (2001) Ulcerative colitis and Crohn's disease: distinctive gene expression profiles and novel susceptibility candidate genes. Hum Mol Genet 10:445–456

18.

Maggio-Price L, Shows D, Waggie K, Burich A, Zeng W, Escobar S, Morrissey P, Viney JL (2002) Helicobacter bilis infection accelerates and H. hepaticus infection delays the development of colitis in multiple drug resistance-deficient (mdr1a−/−) mice. Am J Pathol 160:739–751

19.

Mathew CG, Lewis CM (2004) Genetics of inflammatory bowel disease: progress and prospects. Hum Mol Genet 13(Spec No 1):R161–R168

20.

Panwala CM, Jones JC, Viney JL (1998) A novel model of inflammatory bowel disease: mice deficient for the multiple drug resistance gene, mdr1a, spontaneously develop colitis. J Immunol 161:5733–5744

21.

Podolsky DK (2002) The current future understanding of inflammatory bowel disease. Best Pract Res Clin Gastroenterol 16:933–943

22.

Puleston J, Cooper M, Murch S, Bid K, Makh S, Ashwood P, Bingham AH, Green H, Moss P, Dhillon A, Morris R, Strobel S, Gelinas R, Pounder RE, Platt A (2005) A distinct subset of chemokines dominates the mucosal chemokine response in inflammatory bowel disease. Aliment Pharmacol Ther 21:109–120

23.

Reeves PG, Nielsen FH, Fahey GC Jr (1993) AIN-93 purified diets for laboratory rodents: final report of the American Institute of Nutrition ad hoc writing committee on the reformulation of the AIN-76A rodent diet. J Nutr 123:1939–1951

24.

Schinkel AH, Smit JJ, van Tellingen O, Beijnen JH, Wagenaar E, van Deemter L, Mol CA, van der Valk MA, Robanus-Maandag EC, te Riele HP (1994) Disruption of the mouse mdr1a P-glycoprotein gene leads to a deficiency in the blood–brain barrier and to increased sensitivity to drugs. Cell 77:491–502

25.

Schwab M, Schaeffeler E, Marx C, Fromm MF, Kaskas B, Metzler J, Stange E, Herfarth H, Schoelmerich J, Gregor M, Walker S, Cascorbi I, Roots I, Brinkmann U, Zanger UM, Eichelbaum M (2003) Association between the C3435T MDR1 gene polymorphism and susceptibility for ulcerative colitis. Gastroenterology 124:26–33

26.

Tak PP, Firestein GS (2001) NF-kappaB: a key role in inflammatory diseases. J Clin Invest 107:7–11

27.

Yantiss RK, Odze RD (2006) Diagnostic difficulties in inflammatory bowel disease pathology. Histopathology 48:116–132
Acknowledgments
Many thanks to Janice Rhodes and Hannah Smith (Crop and Food Research) for assistance with the mouse trial and Ric Broadhurst, Jason Peters, Bruce Sinclair and Kate Broadley (AgResearch Limited) for technical support throughout the study. The authors would also like to thank Julian Heyes and Juliet Sutherland (Crop and Food Research) for the valuable discussions and Katia Nones (Crop and Food Research) for proof-reading and editing the manuscript. This study is part of Nutrigenomics New Zealand, a collaboration between AgResearch, Crop & Food Research, HortResearch and The University of Auckland that is largely funded by the Foundation for Research, Science and Technology. Matthew Barnett is funded by a Foundation for Research, Science and Technology Postdoctoral Fellowship.
About this article
Cite this article
Dommels, Y.E.M., Butts, C.A., Zhu, S. et al. Characterization of intestinal inflammation and identification of related gene expression changes in mdr1a−/− mice. Genes Nutr 2, 209–223 (2007) doi:10.1007/s12263-007-0051-4
Received:

Accepted:

Published:

Issue Date:
Keywords
Colon

Gene expression

Intestinal Inflammation

Mice