Abstract
Background
Nasointestinal decompression was implemented into clinical practice in 1930s. Earlier clinical trials have confirmed the efficacy of nasointestinal tubes in treating adhesive small bowel obstructions. A recent study showed controversial results: efficacy after nasogastric intervention was not less efficient compared to nasointestinal decompression. Hydrophilic silicon triple lumen tubes used for intestinal decompression were introduced in 2003. A variety of modifications were introduced and applied in clinical practice. Our study attempts to compare the decompression efficacy between the modern ileus tube and nasogastric tubes used for decompression in patients with malignant bowel obstruction.
Methods
A total of 132 consecutive patients with intestinal obstruction were included in this study. There was no significant difference between the two groups with regard to clinical characteristics and laboratory variables documented on admission. The endoscopically inserted intestinal tube was used for gastrointestinal decompression in 64 patients, and nasogastric tube was applied in 68 patients. The therapeutic efficacy of applied strategies was compared between the two groups using Chi-squared test.
Results
Compared with the strategy applying nasogastric tubes, the group of patients treated with intestinal tube showed significantly shorter time for surgical rehabilitation (4.8 ± 2.2 d vs 9.6 ± 4.8 d). Significant difference was registered in laboratory test results (P < 0.01). In the study group, the output of drainage and the length of hospital stay were significantly shorter compared to the control (P < 0.05).
Conclusion
Nasointestinal decompression used in the surgical management of small intestinal obstruction with malignancy has significantly higher efficacy compared to nasogastric decompression.
This is a preview of subscription content, log in to check access.
Access options
Buy single article
Instant access to the full article PDF.
US$ 39.95
Price includes VAT for USA
Subscribe to journal
Immediate online access to all issues from 2019. Subscription will auto renew annually.
US$ 99
This is the net price. Taxes to be calculated in checkout.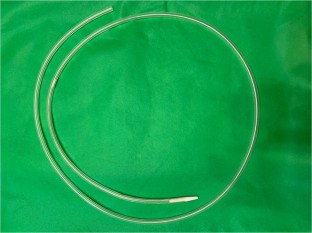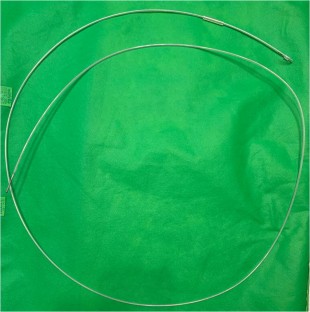 References
1.

Eren T, Boluk S, Bayraktar B, Ozemir IA, Yildirim Boluk S, Tombalak E, Alimoglu O (2015) Surgical indicators for the operative treatment of acute mechanical intestinal obstruction due to adhesions. Ann Surg Treat Res 88(6):325–333

2.

Sazhin AV, Tyagunov AE, Larichev SE, Lebedev IS, Makhuova GB, Marchenko IP, Polushkin VG, Tyagunov AA, Sazhin IV, Nechay TV, Ivakhov GB, Titkova SM, Anurov MV, Gasanov MM, Kolygin AV, Mirzoyan AT, Glagolev NS, Kurashinova LS. (2018) Optimal time of surgery for acute adhesive small bowel obstruction]. Khirurgiia (Mosk) (3):24-30

3.

Hort A, Hameed A, Middleton PG, Pleass HC (2019, 2019) Distal intestinal obstruction syndrome: an important differential diagnosis for abdominal pain in patients with cystic fibrosis. ANZ J Surg. https://doi.org/10.1111/ans.15357

4.

Mohanty D, Garg PK, Kumar A, Jain BK (2014) Abdominal lump with intestinal obstruction: prior history of abdominal surgery is a clue to diagnosis. Ann Afr Med 13(2):95–96

5.

Bento JH, Bianchi ET, Tustumi F, Leonardi PC, Junior UR, Ceconello I (2019) Surgical management of malignant intestinal obstruction: outcome and prognostic factors. Chirurgia (Bucur) 114(3):343–351

6.

Mu JF, Wang Q, Wang SD, Wang C, Song JX, Jiang J, Cao XY (2018) Clinical factors associated with intestinal strangulating obstruction and recurrence in adhesive small bowel obstruction: a retrospective study of 288 cases. Medicine (Baltimore) 97(34):e12011

7.

Timofeev ME, Larichev SE, Fedorov ED, Polushkin VG, Shapoval'iants SG. (2015) Laparoscopic diagnosis and treatment of acute early adhesive intestinal obstruction. Khirurgiia (Mosk) (8):46-53

8.

Demetrashvili ZM (2012) Cholelythic intestinal obstruction. Surgery. 3:65–68

9.

de Li C, Li RH, Tian Q (2016) Efficacy of intestinal decompression with long nasointestinal tube and selective contrast radiography in the treatment of small bowel obstruction in elderly patients. Minerva Chir 71(2):85–90

10.

Pedersen KS, Raghav K, Overman MJ (2019) Small bowel adenocarcinoma: etiology, presentation, and molecular alterations. J Natl Compr Cancer Netw 17(9):1135–1141

11.

Nutu OA, Marcacuzco Quinto AA, Jiménez Romero LC (2017) Primary malignant tumors of the small intestine: a retrospective analysis of 15 years experience. Med Clin (Barc) 149(3):129–130

12.

Scélo G, Boffetta P, Hemminki K, Pukkala E, Olsen JH, Andersen A, Tracey E, Brewster DH, McBride ML, Kliewer EV, Tonita JM, Pompe-Kirn V, Chia KS, Jonasson JG, Martos C, Colin D, Brennan P (2006) Associations between small intestine cancer and other primary cancers: an international population-based study. Int J Cancer 118(1):189–196

13.

Pujara D, Chiang YJ, Cormier JN, Bruera E, Badgwell B (2017) Selective approach for patients with advanced malignancy and gastrointestinal obstruction. J Am Coll Surg 225(1):53–59

14.

Levin AL (1921) A new gastroduodenal catheter. JAMA 76:1007–1009

15.

Wangensteen OH, Paine JR (1933) Treatment of acute intestinal obstruction by suction with the duodenal tube. JAMA 101:1532–1539

16.

Ullah MA, Rahman MA, Chowdhury LH, Mohammed S, Hasan MI (2017) Outcome of upper gastrointestinal surgery with or without nasogastric intubation. Mymensingh Med J 26(3):650–657

17.

Macarone Palmieri R, Amodio PM, Rizzello M, Goglia A, Piciollo M, Piccioni E, Guglielmelli P, Rubino F (2012) Does the nasogastric tube has a role in elective colo-rectal surgery? G Chir 33(3):58–61

18.

Karakonstantis S, Kalemaki D (2018) Symptomatic relief as an outcome in studies of nasogastric decompression in small bowel obstruction. Am J Emerg Med 36(6):1109–1110

19.

Tavassoli A, Rajabi MT, Abdollahi A, Bagheri R, Noorshafiee S (2011) Efficacy and necessity of nasojejunal tube after gastrectomy. Int J Surg 9(3):233–236

20.

VijayGanapathy S, Karthikeyan VS, Mallya A, Poonawala A, Keshavamurthy R (2018) Nasogastric tube as abdominal pressure sensor in urodynamics-proof of concept of a novel approach. Neurourol Urodyn 37(2):785–791

21.

Kunstman JW, Klemen ND, Fonseca AL, Araya DL, Salem RR (2013) Nasogastric drainage may be unnecessary after pancreaticoduodenectomy: a comparison of routine vs selective decompression. J Am Coll Surg 217(3):481–488

22.

Mangano A, Marciano L (2018) One-day nasogastric tube decompression after distal gastrectomy: a prospective randomized study. Surg Today 48(1):127

23.

Glasheen WP, Cordier T, Gumpina R, Haugh G, Davis J, Renda A (2019) Charlson comorbidity index: ICD-9 update and ICD-10 translation. Am Health Drug Benefits 12(4):188–197

24.

Soloviov IE (2000) Modified system of SAPS Модифицированная система SAPS for the evaluation of patients with acute malignant intestinal obstruction. Oncology 3:204–206

25.

Karadeli E, Erbay G, Parlakgumus A, Yabanoglu H (2017) Abdominal CT findings in patients with primary lymphoma causing small bowel obstruction. J Coll Physicians Surg Pak 27(11):711–713

26.

Uludag M, Agkun I, Yetkin G et al (2004) Factors affecting morbidity and mortality in mechanical intestinal obstruction. Ulus Trauma Derg 10:177–184

27.

Thompson WM, Kilani RK, Smit BB et al (2007) Accuracy of abdominal radiography in acute small bowel obstruction: does reviewer experience matter? AJR Am J Roetgenol 188(33):233–238

28.

Ullah S, Khan M (2008) Intestinal obstruction: a spectrum of causes, Department of Surgery, postgraduate medical institute Lady Reading hospital, Peshawar Pakistan. JPMI. 8(1):210–213

29.

Bolliger M, Kroehnert JA, Molineus F, Kandioler D, Schindl M, Riss P (2018) Experiences with the standardized classification of surgical complications (Clavien-Dindo) in general surgery patients. Eur Surg 50(6):256–261

30.

Pan SY, Morrison H (2011) Epidemiology of cancer of the small intestine. World J Gastrointest Oncol 3(3):33–42
Ethics declarations
Conflict of Interest
The authors declare that they have no conflict of interest.
Ethical Approval
The study was approved by the YSMU research ethics committee.
Statement of Informed Consent
Informed consent was obtained from all individual participants included in the study.
Additional information
Publisher's Note
Springer Nature remains neutral with regard to jurisdictional claims in published maps and institutional affiliations.
About this article
Cite this article
Mirijanyan, A.A., Grigoryan, K.H. & Mirijanyan, M.M. Comparative Analysis of Efficacy of Intraoperative Decompression with Nasogastric and Nasojejunal Tubes in Patients with Malignant Small Bowel Obstruction. Indian J Surg (2020). https://doi.org/10.1007/s12262-020-02091-4
Received:

Accepted:

Published:
Keywords
Intestinal obstruction

Nasointestinal decompression

Intoxication markers