Summary
Tongue cancer is one of the most aggressive oral cavity malignancies. It is more common in Southeast Asia. Epidemiology in Africa and Arab countries is not well studied. Herein the authors searched the hospital-based registry for tongue cancer patients whether surgically treated or not. The authors retrieved 156 cases eligible for the study. The tumour mainly affected older individuals with a male to female ratio of 1.04:1. Most of the patients received surgical treatment mainly partial or hemiglossectomy with either elective or therapeutic neck dissection. Overall survival was affected by age and recurrence, while disease-free survival was affected by age, grade, T stage, lymph node status, type of surgery and adjuvant therapy. In conclusion, population based registries are needed to further quantify the risk of disease in Africa and the Middle East. In addition, high treatment failure after classic treatment of tongue cancer warrants further research in identifying underlying aetiology and implementing neoadjuvant and adjuvant therapy in the treatment tools.
This is a preview of subscription content, log in to check access.
Access options
Buy single article
Instant unlimited access to the full article PDF.
US$ 39.95
Price includes VAT for USA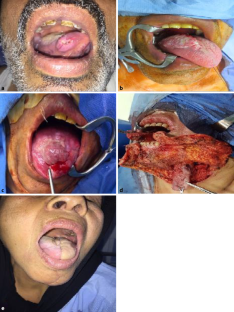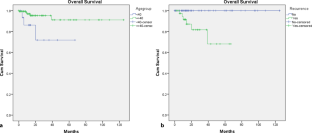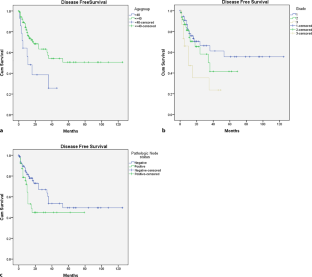 References
1.

Curado M‑P, et al. Cancer incidence in five continents. Vol. 6. Lyon, France: IARC Press, International Agency for Research on Cancer; 2007.

2.

Warnakulasuriya S. Global epidemiology of oral and oropharyngeal cancer. Oral Oncol. 2009;45(4–5):309–16.

3.

Llewellyn C, Johnson N, Warnakulasuriya K. Risk factors for squamous cell carcinoma of the oral cavity in young people—a comprehensive literature review. Oral Oncol. 2001;37(5):401–18.

4.

Idris A, et al. Descriptive epidemiology of oral neoplasms in sudan 1970–1985 and the role of toombak. Int J Cancer. 1995;61(2):155–8.

5.

Al-Jaber A, Al-Nasser L, El-Metwally A. Epidemiology of oral cancer in Arab countries. SMJ. 2016;37(3):249.

6.

Rubin P, McDonald S, Qazi R. Clinical oncology: a multidisciplinary approach for physicians and students. 1993.

7.

Warnakulasuriya K, Robinson D, Evans H. Multiple primary tumours following head and neck cancer in southern England during 1961–98. J Oral Pathol Med. 2003;32(8):443–9.

8.

Attar E, et al. Head and neck cancer in a developing country: a population-based perspective across 8 years. Oral Oncol. 2010;46(8):591–6.

9.

Sankaranarayanan R, et al. Oral cancer: prevention, early detection, and treatment. In: Cancer: disease control priorities. 3rd ed. 2015. p. 85.

10.

Ng JH, et al. Changing epidemiology of oral squamous cell carcinoma of the tongue: a global study. Head Neck. 2017;39(2):297–304.

11.

Pezzuto F, et al. Update on head and neck cancer: current knowledge on epidemiology, risk factors, molecular features and novel therapies. Oncology. 2015;89(3):125–36.

12.

Veness MJ, et al. Anterior tongue cancer and the incidence of cervical lymph node metastases with increasing tumour thickness: should elective treatment to the neck be standard practice in all patients? ANZ J Surg. 2005;75(3):101–5.

13.

Licitra L, et al. Primary chemotherapy in resectable oral cavity squamous cell cancer: a randomized controlled trial. J Clin Oncol. 2003;21(2):327–33.

14.

Bossi P, et al. Preoperative chemotherapy in advanced resectable OCSCC: long-term results of a randomized phase III trial. Ann Oncol. 2014;25(2):462–6.

15.

Liao CT, et al. Analysis of risk factors of predictive local tumor control in oral cavity cancer. Ann Surg Oncol. 2008;15(3):915–22.

16.

Ansarin M, et al. Classification of GLOSSECTOMIES: proposal for tongue cancer resections. Head Neck. 2019;41(3):821–7.

17.

Mannelli G, et al. Classification of tongue cancer resection and treatment algorithm. J Surg Oncol. 2018;117(5):1092–9.

18.

Lee DY, et al. Survival and recurrence of resectable tongue cancer: resection margin cutoff value by T classification. Head Neck. 2018;40(2):283–91.

19.

Mücke T, et al. Tumor thickness and risk of lymph node metastasis in patients with squamous cell carcinoma of the tongue. Oral Oncol. 2016;53:80–4.

20.

Thiagarajan S, et al. Predictors of prognosis for squamous cell carcinoma of oral tongue. J Surg Oncol. 2014;109(7):639–44.
Ethics declarations
Conflict of interest
O. Hamdy, M.M. Saleh, M.H. Ros, A. Mosaad, S. Awny, E.M. Abo-Elnaga, and I.H. Metwally declare that they have no competing interests.
Ethical standards
Informed consent was obtained from all patients for being included in the study. Informed consent was obtained from participants for photos included in the study.
Additional information
Publisher's Note
Springer Nature remains neutral with regard to jurisdictional claims in published maps and institutional affiliations.
About this article
Cite this article
Hamdy, O., Saleh, M.M., Ros, M.H. et al. Epidemiology and predictors of survival of tongue cancer among Egyptians in the Delta region. memo (2020) doi:10.1007/s12254-019-00557-0
Received:

Accepted:

Published:
Keywords
Oral cancer

Glossectomy

Epidemiology

Survival

Recurrence

Tongue malignancy