Elevated expression of EBV and TLRs in the brain is associated with Rasmussen's encephalitis
Abstract
Rasmussen's encephalitis (RE) is a rare pediatric neurological disorder, the etiology of which remains unclear. It has been speculated that the immunopathogenesis of RE involves damage to neurons, which eventually leads to the occurrence of RE. Viral infection may be a critical factor in triggering RE immunopathogenesis. In this study, we analyzed the expression of Epstein-Barr virus (EBV) antigens as well as of Toll-like receptor 3 (TLR3), TLR9, and downstream adapter TIRdomain-containing adapter-inducing interferon-β (TRIF) in the brain tissues of 26 patients with RE and 16 control individuals using immunohistochemistry (IHC). In the RE group, EBV antigens were detected in 53% of individuals at various expression levels. In contrast, there was no detectable EBV antigen expression in control brain tissues. Moreover, we found marked increases in the expression of TLR3, TLR9, and TRIF in the brain tissues of RE patients compared with levels in the control group. Furthermore, among RE cases, EBV expression and high TLR3 expression were associated with more severe brain atrophy. Our results suggest that the elevated expression of EBV and TLRs may be involved in RE occurrence through the activation of downstream molecules.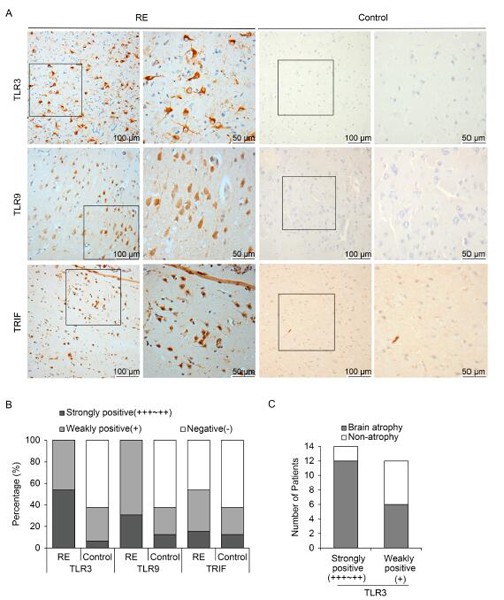 Keywords
Rasmussen's encephalitis (RE) 
Epstein-Barr virus (EBV) 
Toll-Like receptor (TLR) 
TIR-domain-containing adapter-inducing interferon-β (TRIF) 
epilepsy 
Notes
Acknowledgments
This work was supported by the following funds: the National Natural Science Foundation of China (81471957, 81571275, 81671971, and 81701992), the Beijing Municipal Natural Science Foundation (7144217), and the Scientific Research Common Program of Beijing Municipal Commission of Education (KM201610025001).
Copyright information
© Wuhan Institute of Virology, CAS and Springer Nature Singapore Pte Ltd. 2017