Viral metagenomics analysis of feces from coronary heart disease patients reveals the genetic diversity of the Microviridae
Abstract
Recent studies have declared that members of the ssDNA virus family Microviridae play an important role in multiple environments, as they have been found taking a dominant position in the human gut. The aim of this study was to analyze the overall composition of the gut virome in coronary heart disease (CHD) patients, and try to discover the potential link between the human gut virome and CHD. Viral metagenomics methods were performed to detect the viral sequences in fecal samples collected from CHD inpatients and healthy persons as controls. We present the analysis of the virome composition in these CHD patients and controls. Our data shows that the virome composition may be linked to daily living habits and the medical therapy of CHD. Virgaviridae and Microviridae were the two dominant types of viruses found in the enteric virome of CHD patients. Fourteen divergent viruses belonging to the family Microviridae were found, twelve of which were grouped into the subfamily Gokushovirinae, while the remaining two strains might represent two new subfamilies within Microviridae, according to the phylogenetic analysis. In addition, the genomic organization of these viruses has been characterized.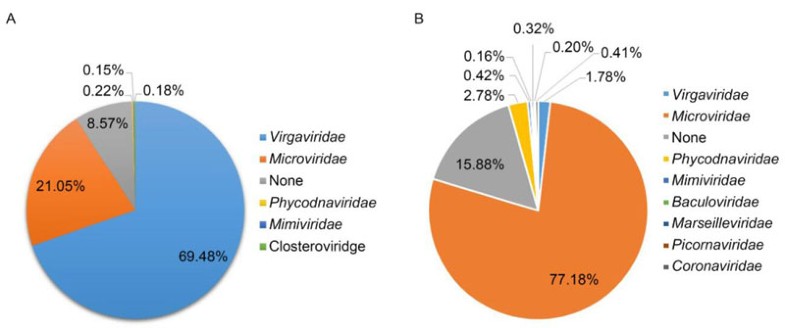 Keywords
gut virome 
coronary heart disease (CHD) 
viral metagenomics 
Microviridae
Gokushovirinae
Notes
Acknowledgments
This work was financially supported by the "2014 Agri- X" Project Found of Shanghai Jiao Tong University(No. AF1500028/001).
Copyright information
© Wuhan Institute of Virology, CAS and Springer Science+Business Media Singapore 2017