A new strategy for full-length Ebola virus glycoprotein expression in E.coli
Abstract
Ebola virus (EBOV) causes severe hemorrhagic fever in humans and non-human primates with high rates of fatality. Glycoprotein (GP) is the only envelope protein of EBOV, which may play a critical role in virus attachment and entry as well as stimulating host protective immune responses. However, the lack of expression of full-length GP in
Escherichia coli
hinders the further study of its function in viral pathogenesis. In this study, the
vp40
gene was fused to the full-length
gp
gene and cloned into a prokaryotic expression vector. We showed that the VP40-GP and GP-VP40 fusion proteins could be expressed in
E.coli
at 16 °C. In addition, it was shown that the position of
vp40
in the fusion proteins affected the yields of the fusion proteins, with a higher level of production of the fusion protein when
vp40
was upstream of
gp
compared to when it was downstream. The results provide a strategy for the expression of a large quantity of EBOV full-length GP, which is of importance for further analyzing the relationship between the structure and function of GP and developing an antibody for the treatment of EBOV infection.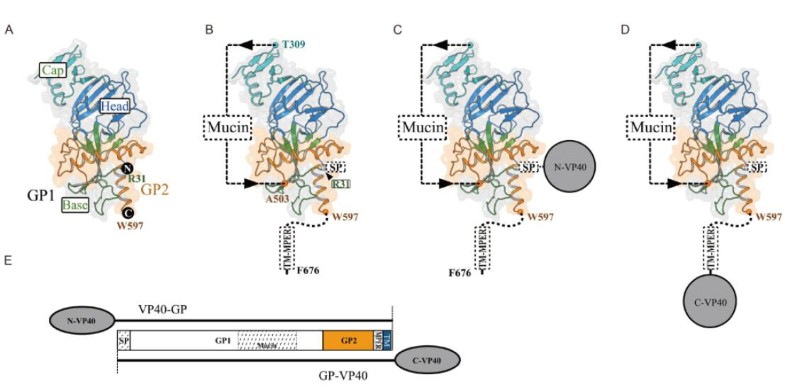 Keywords
Ebola virus (EBOV) 
glycoprotein (GP) 
E.coli
prokaryotic expression 
Notes
Acknowledgments
This project was jointly supported by the National Science and Technology Major Project (2012ZX10004219 and 2012ZX10004403), the Presidential Fund of the Chinese Academy of Sciences and the Wuhan Key Laboratory on Emerging Infectious Diseases and Biosafety. We thank Dr. Guoliang Lu (Structural Biology of Viral Genome Replication, Wuhan Institute of Virology) for helpful advice.
Copyright information
© Wuhan Institute of Virology, CAS and Springer Science+Business Media Singapore 2016