Abstract
Attractive appearance is highly desirable for fresh market red-skinned potatoes. Red potatoes derive their skin color from anthocyanins. Some growers attempt to enhance red potato skin color by treating vines with the synthetic auxin 2,4-D. In this study, 2,4-D was applied twice at early bloom stage to 'Red Norland' potatoes and tubers were harvested weekly until plants senesced. 2,4-D rapidly increased anthocyanin quantity and altered anthocyanin composition. Average tuber mass at the final harvest was less for the 2,4-D-treatment than untreated controls. Elevated anthocyanin content resulting from 2,4-D persisted through 3 months storage. 2,4-D-treated potatoes did not differ from untreated controls in the number and depth of red pigmented cells in the phellem. Thus, changes in periderm cell division and expansion may not contribute to the 2,4-D response of 'Red Norland'. Instead, the data suggest that 2,4-D application initiated a rapid change in anthocyanin accumulation that persisted into storage.
Resumen
La apariencia atractiva es altamente deseable para el mercado fresco de papa roja. Las papas rojas derivan el color de su piel de las antocianinas. Algunos productores intentan aumentar el color rojo de la piel de la papa mediante el tratamiento del follaje con la auxina sintética 2,4-D. En este estudio, el 2,4-D se aplicó dos veces en un estado temprano de floración a la variedad "Red Norland", y se cosecharon los tubérculos semanalmente hasta la senescencia de las plantas. El 2,4-D incrementó rápidamente la cantidad de antocianina y alteró su composición. El promedio de la masa del tubérculo en la cosecha final fue menor para el tratamiento con 2,4-D que en los testigos sin tratar. El elevado contenido de antocianina que resultó del 2,4-D persistió a lo largo de tres meses de almacenamiento. Las papas tratadas con 2,4-D no tuvieron diferencias con los testigos sin tratar en el número y profundidad de las células pigmentadas de rojo en el felema. De aquí que los cambios en la división y expansión celular y en peridermo puede que no contribuyan a la respuesta del 2,4-D de "Red Norland". En cambio, los datos sugieren que la aplicación del 2,4-D iniciaron un cambio rápido en la acumulación de antocianinas que persistió en el almacén.
This is a preview of subscription content, log in to check access.
Access options
Buy single article
Instant unlimited access to the full article PDF.
US$ 39.95
Price includes VAT for USA
Subscribe to journal
Immediate online access to all issues from 2019. Subscription will auto renew annually.
US$ 99
This is the net price. Taxes to be calculated in checkout.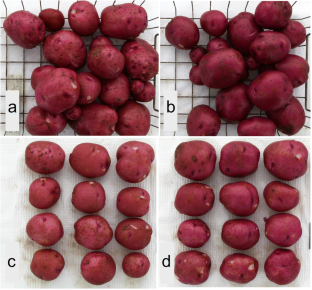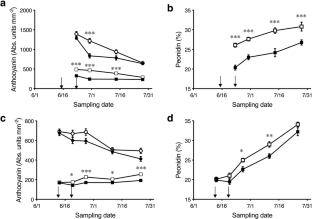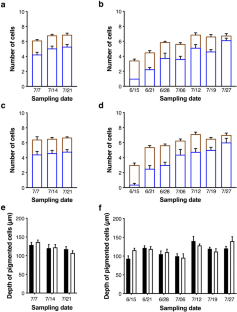 References
Cheng, H., S. Peavey, and A.S. Kezis. 2015. An analysis of factors that influence the purchasing decision for fresh potatoes: A study of consumers in a New England market. Journal of Marketing Theory and Practice 8: 46–54.

Colquhoun, J. B. , S. A. Chapman, A.J. Gevens, R. L. Groves, D. J. Heider, B. M. Jensen, G. R. W. Nice and M. D. Ruark. 2019. Commercial vegetable production in Wisconsin - 2019. University of Wisconsin-Extension, cooperative extension publication A3422.

Fogelman, E., S. Tanami, and I. Ginzberg. 2014. Anthocyanin synthesis in native and wound periderms of potato. Physiologia Plantarum 153: 616–626.

Fritz, V.A., J.B. Hebel, A.M. Borowski, and P.E. Hung. 1991. Ethephon and 2,4-D do not improve periderm color and may decrease yield in red-skinned `Norland' potato. HortScience 26: 553–555.

Fults, J.L., and L.A. Schaal. 1948. Red skin color of bliss triumph potatoes increased by the use of synthetic plant hormones. Science 108: 411–411.

Fults, J.L., L.A. Schaal, N. Landblom, and M.G. Payne. 1950. Stabilization and intensification of red skin color in red McClure potatoes by use of the sodium salt of 2,4-dichloro-phenoxyacetic acid. American Potato Journal 27: 377–395.

Harborne, J.B. 1960. Plant polyphenols. 1. Anthocyanin production in the cultivated potato. Biochemical Journal 74: 262–269.

Hung, C., J.R. Murray, S.M. Ohmann, and C.B.S. Tong. 1997. Anthocyanin accumulation during potato tuber development. Journal of the American Society for Horticultural Science 122: 20–23.

Jemison, J.M., Jr., P. Sexton, and M.E. Camire. 2008. Factors influencing consumer preference of fresh potato varieties in Maine. American Potato Journal 85: 140–149.

Lewis, C.E., J.R.L. Walker, J.E. Lancaster, and K.H. Sutton. 1998. Determination of anthocyanins, flavonoids and phenolic acids in potatoes. I: Coloured cultivars of Solanum tuberosum L. Journal of the Science of Food and Agriculture 77: 45–57.

Lulai, E.C., and D.L. Corsini. 1998. Differential deposition of suberin phenolic and aliphatic domains and their roles in resistance to infection during potato tuber (Solanum tuberosum L.) wound-healing. Physiological and Molecular Plant Pathology 53: 209–222.

Lulai, E.C., and P.H. Orr. 1994. Techniques for detecting and measuring developmental and maturational changes in tuber native periderm. American Potato Journal 71: 489–505.

Neubauer, J.D., E.C. Lulai, A.L. Thompson, J.C. Suttle, M.D. Bolton, and L.G. Campbell. 2013. Molecular and cytological aspects of native periderm maturation in potato tubers. Journal of Plant Physiology 170: 413–423.

Nylund, R.E. 1956. The use of 2,4-D to intensify the skin color of Pontiac potatoes. American Potato Journal 33: 145–154.

Rasband, W. S., 2018. ImageJ, U. S. National Institutes of Health, Bethesda, Maryland, USA, https://imagej.nih.gov/ij/.

Reyes, L.F., J.C. Miller, and L. Cisneros-Zevallos. 2004. Environmental conditions influence the content and yield of anthocyanins and total phenolics in purple- and red-flesh potatoes during tuber development. American Journal of Potato Research 81: 187–193.

Rodriguez-Saona, L.E., M.M. Giusti, and R.E. Wrolstad. 1998. Anthocyanin pigment composition of red-fleshed potatoes. Journal of Food Science 63: 458–465.

Roe, M.R., J.L. Carlson, T.M. McManimon, A.D. Hegeman, and C.B.S. Tong. 2014. Differential accumulation and degradation of anthocyanins in red Norland periderm is dependent on soil type and tuber storage duration. American Journal of Potato Research 91: 696–705.

Rosen, C.J., J.A. Roessler, P.D. Petracek, S. Engelman, and C.B.S. Tong. 2009. 2,4-Dichlorophenoxyacetic acid increases peonidin derivatives in red Norland periderm. American Journal of Potato Research 86: 15–23.

Sabba, R.P., and E.C. Lulai. 2002. Histological analysis of the maturation of native and wound periderm in potato (Solanum tuberosum L.) tuber. Annals of Botany 90: 1–10.

Thornton, M.K., J. Lee, R. John, N.L. Olsen, and D.A. Navarre. 2013. Influence of growth regulators on plant growth, yield, and skin color of specialty potatoes. American Journal of Potato Research 90: 271–283.

Tonutare, T., U. Moor, and L. Szajdak. 2014. Strawberry anthocyanin determination by pH differential spectroscopic method –how to get true results? Acta Scientiarum Polonorum Hortorum Cultus 13: 35–47.

Waterer, D. 2010. Influence of growth regulators on skin colour and scab diseases of red-skinned potatoes. Canadian Journal of Plant Science 90: 745–753.

Waterer, D., H. Elsadr, and M. McArthur. 2011. Skin color, scab sensitivity and field performance of lines derived from spontaneous chimeras of red Norland potato. American Journal of Potato Research 88: 199–206.
Acknowledgements
The authors thank Steve Diercks and Andy Diercks of Coloma Farms for their participation in this project. Dan Heider, University of Wisconsin-Department of Horticulture, made the 2,4-D applications and his assistance is gratefully acknowledged. The authors thank Peter Crump, University of Wisconsin-Madison Statistical Consultant, for experimental design assistance and Cameron O. Scarlett, University of Wisconsin-Madison School of Pharmacy, for assistance with mass spectrometry. The assistance with HPLC method development provided by Alex Knopf and Dakota Schaus is sincerely appreciated. This work was funded in part by the Wisconsin Potato and Vegetable Growers Association.
About this article
Cite this article
Busse, J.S., Bethke, P.C. Impact of 2,4-D and potato (Solanum tuberosum L.) tuber age on anthocyanin content of skin and phellem anatomy of Red Norland. Am. J. Potato Res. 97, 102–110 (2020) doi:10.1007/s12230-019-09760-5
Keywords
Red potato quality

Fresh market potato

Periderm

Synthetic auxin

Peonidin

Pelargonidin