Abstract
The potato crop has much exotic related germplasm, so optimizing the techniques for obtaining hybrid seeds from interspecific crosses is of interest to potato researchers and breeders, especially when the cross of interest is very difficult and few hybrid seeds are expected per pollination. A model plant of Solanum verrucosum (a particularly useful wild bridge species) was selected to have very uniform and robust flower and seed production in natural crosses as a backdrop for detecting effects of different emasculation techniques. For three uniform buds in single inflorescences, one was pollinated naturally (N) after no emasculation, one was emasculated by gently opening the corolla and plucking out only the immature anthers (A) with a tweezer, and one had total (T) removal of the sepals, corolla and anthers with a tweezers. Pollen of a highly fertile diploid tuberosum male was applied uniformly to all three buds within an inflorescence one day later. No pistil abortion occurred, excluding that as a limiting factor for getting hybrid seed. But both average fruit weight and average seeds per fruit were highly significantly reduced by emasculation in the pattern T < A < N, suggesting that the increasing physical trauma of emasculation progressively reduces seedset in S. verrucosum. In contrast, in similar crosses made within tuberosum cultivar females, pistil abortion was the only significant factor limiting hybrid seedset. We conclude that it could be valuable to find alternatives to physical emasculation for preventing selfing.
Resumen
El cultivo de la papa tiene mucho germoplasma exótico, de manera que la optimización de las técnicas para la obtención de semillas híbridas de cruzas interespecíficas es de interés para los investigadores y mejoradores de la papa, especialmente cuando la cruza de interés es muy difícil y que se esperan unas cuantas semillas híbridas por polinización. Se seleccionó un modelo de planta, Solanum verrucosum (una especie silvestre puente particularmente útil), por tener una flor muy uniforme y robusta y producción de semilla en cruzas naturales, como fondo para detectar efectos de diferentes técnicas de emasculación. Para cada tres yemas uniformes en inflorescencias individuales, una se polinizó naturalmente (N) sin emasculación, una se emasculó mediante una delicada apertura de la corola, arrancando solamente las anteras inmaduras (A) con unas pinzas, y una tuvo eliminación total de los sépalos, corolas y anteras (T) con pinzas. Se aplicó uniformemente polen de un diploide de tuberosum macho altamente fértil a las tres yemas dentro de una inflorescencia un día después. No se presentó aborto de pistilo, excluyéndolo como factor limitante para obtener la semilla híbrida. Pero tanto el promedio del peso del fruto como el promedio de semillas por fruto fueron alta y significativamente reducidos por emasculación en el patrón T < A < N, lo que sugiere que aumentando el trauma físico de la emasculación se reduce progresivamente el amarre de semilla en S. verrucosum. En contraste, en cruzas similares hechas dentro de hembras de variedades tuberosum, el aborto del pistilo fue el único factor significativo que limitaba el amarre de semilla híbrida. Concluimos que pudiera ser valioso encontrar alternativas a la emasculación física para prevenir la endogamia.
This is a preview of subscription content, log in to check access.
Access options
Buy single article
Instant unlimited access to the full article PDF.
US$ 39.95
Price includes VAT for USA
Subscribe to journal
Immediate online access to all issues from 2019. Subscription will auto renew annually.
US$ 99
This is the net price. Taxes to be calculated in checkout.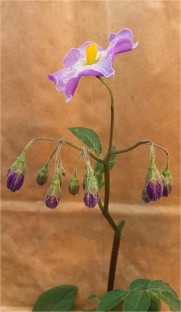 References
Clark, C.F., W.S. Stuart, and F.J. Stevenson. 1931. The Katahdin potato, a new variety. American Potato Journal 8: 122–125.

GRIN. 2019. Germplasm resources information network website. Comprehensive database of holdings for the US Potato Genebank. https://npgsweb.ars-grin.gov/gringlobal/search.aspx. Accessed 09/10/19.

Steel, R.G.D., and J.H. Torrie. 1980. Principles and procedures of statistics. A biometrical approach. 2nd ed. New York: McGraw-Hill Book Company.

Yermishin, A.P., Y.V. Polyukhovich, E.V. Voronkova, and A.V. Savchuk. 2014. Production of hybrids between the 2EBN bridge species Solanum verrucosum and 1EBN diploid potato species. American Journal of Potato Research 91: 610–617.
About this article
Cite this article
Bamberg, J. Emasculation Technique Reduces Seedset in Solanum verrucosum. Am. J. Potato Res. 97, 111–113 (2020) doi:10.1007/s12230-019-09754-3
Keywords