Abstract
Bacteria of the Arcobacter (A.) genus, originating mainly from food and water, are dreaded germs for humans as well as animals. However, the virulence of these bacteria has not been fully elucidated yet. This study looked at the occurrence of eight virulence-associated factors (ciaB, cj1349, pldA, irgA, hecA, tlyA, mviN, hecB) in a total of 80 isolates of Arcobacter butzleri and 22 isolates of A. cryaerophilus. The isolates were derived from food, water, and clinical samples. A polymerase chain reaction using specific primers was used to detect these virulence-associated genes. The presence of all genes in the isolates of A. butzleri (98.8% ciaB, 95.0% cj1349, 98.8% pldA, 22.5% irgA, 31.3% hecA, 95.0% tlyA, 97.5% mviN, 38.8% hecB) and A. cryaerophilus (95.5% ciaB, 0.0% cj1349, 9.1% pldA, 0.0% irgA, 0.0% hecA, 31.8% tlyA, 90.9% mviN, 0.0% hecB) was monitored. Among the tested isolates, there were 13 isolates (12.7%) of A. butzleri, in which the presence of all eight virulence-associated genes was recorded in the genome. In contrast, in one A. cryaerophilus strain, none of the observed genes were detected. The presence of ciaB and mviN genes was significantly more frequent in A. cryaerophilus isolates than other genes (P < 0.05). In general, more virulence-associated genes have been detected in A. butzleri isolates compared to A. cryaerophilus. The most common gene combination (ciaB, cj1349, pldA, tlyA, mviN) was detected in case of 39 isolates. In 50.0% of A. butzleri isolates derived from clinical samples, all eight virulence-associated genes were significantly more frequently detected (P < 0.05). The tlyA gene occurred significantly more frequent in A. butzleri isolates from meat and water samples and irgA and hecB genes in clinical samples. Therefore, our study provides information about occurrence of virulence-associated genes in genome of Arcobacter isolates. These findings could be hazardous to human health, because the presence of virulence-associated genes is the assumption for potential dangerousness of these bacteria. Our results indicate high incidence of virulence-associated genes in Arcobacter genomes and hence potentially pathogenic properties of the studied strains.
This is a preview of subscription content, log in to check access.
Access options
Buy single article
Instant unlimited access to the full article PDF.
US$ 39.95
Price includes VAT for USA
Subscribe to journal
Immediate online access to all issues from 2019. Subscription will auto renew annually.
US$ 99
This is the net price. Taxes to be calculated in checkout.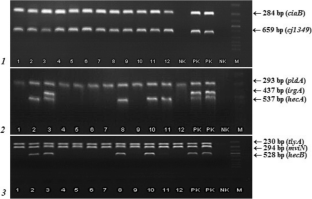 References
Alispahic M, Hummel K, Jandreski-Cvetkovic D, Nöbauer K, Razzazi-Fazeli E, Hess M, Hess C (2010) Species-specific identification and differentiation of Arcobacter, Helicobacter and Campylobacter by full-spectral matrix-associated laser desorption/ionization time of flight mass spectrometry analysis. J Med Microbiol 59:295–301

Collado L, Figueras MJ (2011) Taxonomy, epidemiology, and clinical relevance of the genus Arcobacter. Clin Microbiol Rev 24:174–192

Collado L, Guarro J, Figueras MJ (2009) Prevalence of Arcobacter in meat and shellfish. J Food Prot 72:1102–1106

Collado L, Jara R, Vásquez N, Telsaint C (2014) Antimicrobial resistance and virulence genes of Arcobacter isolates recovered from edible bivalve molluscs. Food Control 46:508–512

Douidah L, de Zutter L, Baré J, De Vos P, Vandamme P, Vandenberg O, Van den Abeele AM, Houf K (2012) Occurrence of putative virulence genes in Arcobacter species isolated from humans and animals. J Clin Microbiol 50:735–741

Douidah L, De Zutter L, Vandamme P, Houf K (2010) Identification of five human and mammal associated Arcobacter species by a novel multiplex-PCR assay. J Microbiol Methods 80(3):281–286

Ferreira S, Queiroz JA, Oleastro M, Domingues FC (2016) Insights in the pathogenesis and resistance of Arcobacter: a review. Crit Rev Microbiol 42:364–383

Giacometti F, Lucchi A, Di Francesco A, Delogu M, Grilli E, Guarniero I, Stancampiano L, Manfreda G, Merialdi G, Serraino A (2015) Arcobacter butzleri, Arcobacter cryaerophilus, and Arcobacter skirrowii circulation in a dairy farm and sources of milk contamination. Appl Environ Microbiol 81:5055–5063

Giacometti F, Piva S, Vranckx K, De Bruyne K, Drigo I, Lucchi A, Manfreda G, Serraino A (2018) Application of MALDI-TOF MS for the subtyping of Arcobacter butzleri strains and comparison with their MLST and PFGE types. Int J Food Microbiol 277:50–57

Girbau C, Guerra C, Martínez-Malaxetxebarria I, Alonso R, Fernández-Astorga A (2015) Prevalence of ten putative virulence genes in the emerging foodborne pathogen Arcobacter isolated from food products. Food Microbiol 52:146–149

Ho HT, Lipman LJ, van der Graaf-van Bloois L, van Bergen M, Gaastra W (2006) Potential routes of acquisition of Arcobacter species by piglets. Vet Microbiol 114:123–133

Ho HT, Lipman LJ, Hendriks HG, Tooten PC, Ultee T, Gaastra W (2007) Interaction of Arcobacter spp. with human and porcine intestinal epithelial cells. FEMS Immunol Med Microbiol 50:51–58

Houf K, Tutenel A, De Zutter L, Van Hoof J, Vandamme P (2000) Development of a multiplex PCR assay for the simultaneous detection and identification of Arcobacter butzleri, Arcobacter cryaerophilus and Arcobacter skirrowii. FEMS Microbiol Lett 193:89–94

ICMSF (2002) Microorganisms in foods 7—microbiological testing in food safety management. International Commission on Microbiological Specifications for Foods. Kluwer Academic/Plenum Publishers, New York

Karadas G, Sharbati S, Hänel I, Messelhäusser U, Glocker E, Alter T, Gölz G (2013) Presence of virulence genes, adhesion and invasion of Arcobacter butzleri. J Appl Microbiol 115:583–590

Khan IUH, Cloutier M, Libby M, Lapen DR, Wilkes DR, Topp E (2017) Enhanced single-tube multiplec PCR assay for detection and identification of six Arcobacter species. J Appl Microbiol 123:1522–1532

Khan IUH, Hill S, Nowak E, Edge TA (2013) Effect of incubation temperature on the detection of thermophilic Campylobacter species from freshwater beaches, nearby wastewater effluents, and bird fecal droppings. Appl Environ Microbiol 79:7639–7645

Lehmann D, Alter T, Lehmann L, Uherkova S, Seidler T, Gölz G (2015) Prevalence, virulence gene distribution and genetic diversity of Arcobacter in food samples in Germany. Berl Munch Tierarztl Wochenschr 128:163–168

Levican A, Alkeskas A, Gűnter C, Forsythe S, Figueras MJ (2013a) The adherence and invasion of human intestinal cells by Arcobacter species and their virulence genotype. Appl Environ Microbiol 79:4951–4957

Levican A, Collado L, Figueras MJ (2013b) Arcobacter cloaceae sp. nov. and Arcobacter suis sp. nov., two new species isolated from food and sewage. Syst Appl Microbiol 36:22–27

Miller WG, Parker CT, Rubenfield M, Mendz GL, Wösten MMSM, Ussery DW, Stolz JF, Binnewies TT, Hallin PF, Wang G, Malek JA, Rogosin A, Stanker LH, Mandrell RE (2007) The complete genome sequence and analysis of the epsilonproteobacterium Arcobacter butzleri. PLoS One 12:1–21

Piva S, Gariano GR, Bonilauri P, Giacometti F, Decastelli L, Florio D, Massella E, Serraino A (2017) Occurrence of putative virulence genes on Arcobacter butzleri isolated from three different environmental sites throughout the dairy chain. J Appl Microbiol 122:1071–1077

Šilha D, Šilhová-Hrušková L, Vytřasová J (2015) Modified isolation method of Arcobacter spp from different environmental and food samples. Folia Microbiol 60:515–521

Talay F, Molva C, Atabay HI (2016) Isolation and identification of Arcobacter species from environmental and drinking water samples. Folia Microbiol 61:479–484

Tabatabaei M, Aski HS, Shayegh H, Khoshbakht R (2014) Occurrence of six virulence-associated genes in Arcobacter species isolated from various sources in Shiraz, Southern Iran. Microb Pathog 66:1–4

Van den Abeele AM, Vogelaers D, Van Hende J, Houf K (2014) Prevalence of Arcobacter species among humans, Belgium, 2008–2013. Emerg Infect Dis 20:1731–1734

Vandamme P, Falsen E, Rossau R, Hoste B, Segers P, Tytgat R, De Ley J (1991) Revision of Campylobacter, Helicobacter, and Wolinella taxonomy: emendation of generic descriptions and proposal of Arcobacter gen. nov. Int J Syst Bacteriol 41:88–103

Vandenberg O, Dediste A, Houf K, Ibekwem S, Souayah H, Cadranel H, Douat N, Zissis G, Butzler JP, Vandamme P (2004) Arcobacter species in humans. Emerg Infect Dis 10:1863–1867

Whiteduck–Léveillée K, Cloutier M, Topp E, Lapen DR, Talbot G, Villemur R, Khan IUH (2016) Development and evaluation of multiplex PCR assay for rapid detection of virulence–associated genes in Arcobacter species. J Microbiol Methods 121:59–65

Zacharow I, Bistroń J, Wałecka-Zacharska E, Podkowik M, Bania J (2015) Genetic diversity and incidence of virulence-associated genes of Arcobacter butzleri and Arcobacter cryaerophilus isolates from pork, beef, and chicken meat in Poland. Biomed Res Int 956507:1–6. https://doi.org/10.1155/2015/956507
Acknowledgements
The authors gratefully acknowledge the Hospital in Litomyšl, Czech Republic, for providing of clinical bacterial strains.
Funding
This work was funded by the Department of Biological and Biochemical Science, Faculty of Chemical Technology, University of Pardubice, Czech Republic [grant SGS_2017_004].
Ethics declarations
Conflict of interest
The authors declare that they have no conflict of interest.
About this article
Cite this article
Šilha, D., Vacková, B. & Šilhová, L. Occurrence of virulence-associated genes in Arcobacter butzleri and Arcobacter cryaerophilus isolates from foodstuff, water, and clinical samples within the Czech Republic. Folia Microbiol 64, 25–31 (2019) doi:10.1007/s12223-018-0628-x
Received:

Accepted:

Published:

Issue Date: