Erratum to: Mind Reading and the Art of Drafting Medical Opinions in Veterans Benefits Claims
Erratum to: Psychol. Inj. and Law (2011) 4:171–186
DOI 10.1007/s12207-011-9113-4
The original version of this article unfortunately was published with errors introduced during the editing process, especially in the footnotes and references. The corrected version is given below.
Abstract The Department of Veterans Affairs' disability compensation program is distinctly different from other benefits systems and legal claims of disability. A medical professional seeking to provide evidence to be used in deciding such a claim must understand how that evidence fits into the process so that he or she may present a complete and useful opinion. This article assists those providing expert opinions in veterans benefits claims by describing: (a) the kinds of adjudicators who will evaluate the opinions, (b) the legal requirements defining the types and amount of detail required, and (c) the basic substance of veterans law with which a medical examiner should be familiar so as to produce a complete and relevant opinion.
Keywords Veterans.Disability.Compensation.Benefits.Post-traumatic stress disorder.PTSD.Evidence.Expert opinion.Medical opinion.Adjudication process
Once upon a time, deciding veterans benefits claims was simple and logical, although not perfect. Prior to the institution of judicial review, when a veteran filed a disability claim, the relevant records would be gathered and given to a panel of medical and legal experts (Ridgway, 2010, pp. 268–270). The experts would each bring their own specialized knowledge to the discussion and issue a decision that applied medical science and applicable law to the facts of the case. The problem with this process was that the panels operated as black boxes, producing decisions that often denied claims with no explanation beyond a citation to "sound medical principles" (Cragin, 1994, p. 25). Such decisions may well have been correct as to the science and the law, but they were impossible to verify in the absence of any stated rationale. In practice, there were substantial doubts about whether the decision-making process was living up to its ideal, and Congress ultimately responded to political pressure by passing the Veterans Judicial Review Act (VJRA) (1988), which added judicial oversight to the Department of Veterans Affairs' (VA) claims process (Helfer, 1992; Light, 1992).
Once judicial review was instituted, it was necessary to disband these panels of experts in order to separate the evidence in a case from the application of the law to it.1 Unfortunately, this necessity was not foreseen by Congress when it drafted the VJRA. As a result, the re-engineering of the system caused by the disbandings occurred through ad hoc responses to decisions of the U.S. Court of Appeals for the Federal Circuit (Federal Circuit) and the U.S. Court of Appeals for Veterans Claims (CAVC), and has produced a disjointed system that unnecessarily fragments the evidence-gathering system in a way that is both inefficient and prone to error, due to barriers and procedures that prevent physicians—including psychiatrists and psychologists2—and adjudicators from communicating with each other (Ridgway, 2010, pp. 268–270). The outcome is a system in which the most common errors are due to inadequate medical evidence (see Ridgway, 2009a, pp. 416–417). Unfortunately, there is no reform on the horizon that would replace the current system. Until reform is enacted, producing a high-quality medical opinion that is adequate for making a final decision on a veterans benefits claim will often require a bit of mind reading on the part of the examiner to anticipate all the information that an adjudicator might need. The purpose of this article is to assist those involved in VA's currently sub-optimal evidence gathering system in producing better results under the current regime.
Ultimately, the goal of medical evidence in VA's system is to communicate specific information to those who will decide the claim. This article will look at three different aspects of communicating through written medical opinions. Part I, "VA's Claims Adjudication Process," looks at who is the audience for a medical opinion in a veterans benefits case. Part II, "General Issues in Drafting Medical Opinions for Veterans Benefits Claims," discusses how a medical opinion can communicate effectively with this audience. Part III, "Issues Specific to the Elements of a VA Disability Compensation Claim," turns to what a medical opinion needs to communicate.
VA's Claims Adjudication Process
The golden rule of effective communication is that if the audience did not understand you, then you failed to communicate. Accordingly, the first step in understanding how best to communicate is to understand your audience and its needs. What might go without saying to one group must be explicitly detailed to another. Accordingly, to draft an adequate medical opinion in a veterans benefits claim, it is imperative to have some perspective on where that opinion fits into the larger process.
The Role of Adjudicators in the Modern Claims Process
The key to understanding the role of medical evidence in the current adjudication process is realizing that medical opinions in veterans' cases are essentially substitutes for live expert testimony in a trial-like setting. The CAVC has been fairly explicit on this point, and has used the Federal Rules of Evidence to describe the factors guiding the acceptability of medical opinions in veterans' cases:
Both VA medical examiners and private physicians offering medical opinions in veterans benefits cases are nothing more or less than expert witnesses. While the Federal Rules of Evidence are not binding in this Court, nor on the Board, the rules on expert witness testimony provide useful guidance that has been exhaustively vetted by both the Rules Advisory Committee and by the U.S. Congress. In U.S. district courts, expert testimony may be received from a suitably qualified expert under the following conditions: (1) The testimony is based upon sufficient facts or data; (2) the testimony is the product of reliable principles and methods; and (3) the expert witness has applied the principles and methods reliably to the facts of the case.3
In this analogy, VA adjudicators act much like judges conducting bench trials. They must first act as gatekeepers and then as finders of fact.
However, the claims adjudication system is distinctly different from the trial court setting that the CAVC was comparing in the above quote, because VA adjudicators must provide highly transparent decisions, and they have a substantial duty to gather adequate evidence before deciding a claim.4 In trials, juries and even judges usually operate as black boxes (Mashaw, 2001, p. 20). How well an expert communicated and what the decision maker concluded can only be inferred from the verdict. In contrast, in the VA system, adjudicators must give clear reasons for their decisions, including an explicit statement of how the medical evidence was evaluated.5 More importantly, the VA system is very different from a trial, in which the party with a vague, incomprehensible, or confusing medical expert simply runs a strong risk of losing. Because VA adjudicators have a duty to secure adequate evidence before deciding a claim, problems with medical evidence in the VA system will lead not to dismissal of the claims, but rather to delays, remands, and further development. Unfortunately, this can cause a claim to drag on for a decade or more before it is properly decided (Ridgway, 2010, pp. 268–269).
The Levels of the Claims Processing System
One of the crucial difficulties in drafting an adequate medical opinion for a benefits claim is that it must speak to a variety of audiences. In general, as discussed below a claimant is entitled to at least four "bites at the apple," and there are therefore numerous opportunities for a medical opinion to be found inadequate.6
First, a claim is decided by an adjudicator at one of fifty-seven Veterans Benefits Administration regional offices (ROs).7 These adjudicators are not attorneys. Although a plurality of RO adjudicators have college degrees, one quarter do not.8 Second, if a claim were denied, then a veteran would have the right to have it reexamined by a decision review officer (DRO) at the regional office (Riley, 2010, p. 89). The DRO is generally a senior adjudicator with more experience, but is still not an attorney (Riley, 2010, p. 89). Accordingly, the first audiences for a medical opinion consist of lay persons.
This is significant because, despite their training, these lay adjudicators do not think about claims in the same way as do attorneys (see Parker,
2009
, pp. 217–219), and generally will not implement court decisions independently (see Riley,
2010
, pp. 85–86). Instead, these adjudicators rely primarily on VA manuals and policy documents for guidance on how claims should be decided (see Parker,
2009
, p. 218). Translating case law into specific rules of decision not only takes time, but also frequently loses many of the nuances of the decisions. Therefore, the regional office staff members are often ill-equipped to determine whether the evidence in any given case conforms to the requirements of the law.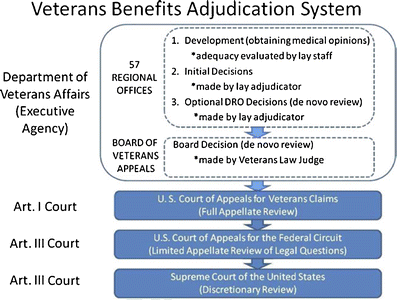 Third, in most instances, it is not until a claim is appealed to the Board of Veterans' Appeals (Board or BVA) in Washington, D.C., that the evidence is examined by an attorney. The BVA employs over 300 staff attorneys, who draft decisions for approximately sixty Board members (Terry, 2011, p. 3). As noted in the introduction, remands to the ROs by the BVA based upon inadequate medical opinions are frequent. However, the workload on the BVA is incredibly demanding, and there is often inadequate time to review the entire claims file and closely scrutinize all the evidence in the record.9 Fourth, as a result, in many cases, it is not until a claim is later appealed to the CAVC, years after the medical evidence in the case was drafted, that the veteran retains an attorney who has sufficient time to carefully dissect an opinion to determine if it could meet all of the detailed requirements discussed below (see Ridgway, 2010, pp. 285–286). Official statistics are not available, but there is little doubt that inadequate medical opinions are one of the leading bases of remands by the CAVC.
The overall picture is of a system in which the legal guidance and rulings provided are not easily transmitted from the courts to the front line and not carefully applied to the evidence in a case until years after it was gathered. Therefore, it is imperative that psychologists and practitioners know how to provide adequate medical evidence without being asked.
The Process of Obtaining a Medical Opinion
One reason that evidence problems are tragically frequent in the VA claims system is that there is little interaction between psychologists and adjudicators in the VA process. Although VA must obtain medical records from a veteran's private psychiatrist if made aware of them (38 U.S.C. § 5103A(b), 2002), VA generally has no duty to seek an opinion or further information from the veteran's doctor.10 Few private psychologists understand how to provide an opinion that is adequate to grant a veterans benefits claim, and therefore are unlikely to provide sufficient evidence to do so.
Most medical evidence is obtained by requests for opinions from VA psychologists.11 Unfortunately, as has been detailed elsewhere, this process is deeply flawed.12 Communication between VA and a psychologist providing an opinion "is usually a one way street"; VA sends a request, and the examiner renders an opinion (Joyce, 2006). VA does not subpoena psychologists to testify13 or have them respond to interrogatories.14 Because there is no routine procedure for quickly and easily clarifying medical opinions, it is vital that any opinion provided be as clear and comprehensive as possible. Otherwise, it may take years of appeals and remands before the defects are identified and addressed.
The Role of Medical Evidence
Not only is it important to understand the general background of the adjudicators at the various levels in the system, it is necessary to know the role played by medical evidence in the process. This involves looking at both the division of responsibility between psychologists and adjudicators and at the other common forms of evidence that play different roles in the system.
The Doctor vs. the Adjudicator
Writing an effective medical opinion begins with understanding how it must be used by the adjudicator. In general, it is the role of the psychologist to provide information and opinions that are uniquely within his or her expertise, and it is the role of the adjudicator to take that information and apply it to the relevant legal criteria.15 A doctor is not required to opine on matters outside the realm of medical expertise, and, in many cases, the legal criteria are based on non-medical factors.16 Psychologists should avoid commenting on legal issues, and instead should note when an issue is not medical. In particular, the question of whether a veteran's condition renders him or her unemployable is a legal question, not a medical one (Moore v. Nicholson, 2007, pp. 218–220). A psychologist can describe in detail the limitations caused by a veteran's symptoms, but the ultimate question of how those limitations translate into an employment disability is for the adjudicator to decide (Moore v. Nicholson, 2007, pp. 218–220).
The Roles of Record Evidence and Lay Witnesses
A related issue that often causes confusion is understanding how the other types of evidence in the claims file should be treated. As discussed in more detail below,17 it is important that an opinion clearly state what facts the psychologist is accepting as the premise of the opinion. Psychologists providing an opinion are ordinarily provided with the veteran's claims file. However, it is often not made clear how the doctor should treat the material in the file. There are two important principles to understand.
First, lay evidence is generally valid to prove facts that are within the realm of knowledge of a lay person.18 For example, veterans can describe symptoms of which they are capable of perceiving, and other witnesses can describe events, injuries, symptoms, or behaviors that are observable by a lay person. Therefore, it is important for a psychologist to address such statements in an opinion.
A trickier aspect of lay evidence is that lay persons are also considered competent to provide opinions on medical issues that fall within the common knowledge of a lay person.19 What constitutes medical common knowledge is not well defined. The Federal Circuit, which has limited jurisdiction to review the CAVC,20 has stated that a lay person is competent to identify a broken leg but not a form of cancer (Jandreau v. Nicholson, 2007, 1377 n.4). The Federal Circuit has also recognized that it is within the realm of common medical knowledge to consider a long gap between service and the beginning of symptoms as evidence against the claim (Maxson v. Gober, 2000, p. 1333).
To illustrate this issue, a noteworthy case in the realm of psychological conditions is Davidson v. Shinseki (2009). The veteran in Davidson drowned in 1973, and this cause of death was listed as "accidental" on his death certificate (Davidson v. Shinseki, 2009, p. 1314). In 1999, the veteran's wife filed a claim for survivor benefits, asserting that the death was a suicide caused by a psychiatric disability related to service (Davidson v. Shinseki, 2009, p. 1314). "A VA psychologist reviewed the medical record and concluded that it was not likely that Mr. Davidson committed suicide, and that 'it is not at least as likely as not that, at the time of his death, the veteran was suffering from [an] acquired psychiatric disability that had its clinical onset in the service and caused or contributed materially in producing his demise'" (Davidson v. Shinseki, 2009, p. 1314; emphasis in original). The BVA denied the claim, and the CAVC affirmed that decision by the BVA. The Federal Circuit then held that the CAVC had erred in stating that "'a valid medical opinion' was required to grant the claim," and remanded the matter back to the BVA so that the Board could give "due consideration" to the widow's lay testimony (Davidson v. Shinseki, 2009, p. 1316).
Neither the Federal Circuit nor the CAVC has elaborated on what "due consideration" of lay medical testimony may mean in circumstances similar to Davidson. However, the implication of Davidson was that the wife's testimony in support of the claim was potentially as probative as that of the VA psychiatrist's opinion against it. Accordingly, it would make sense for a medical opinion to address lay witnesses' beliefs about the origins of a veteran's condition, especially if those beliefs were mistaken and the opinion could identify reasons why the lay beliefs were invalid. For example, if a lay belief were based upon the proximity of a specific symptom to a specific event and medical research demonstrates that the coincidence were not probative, then it would be useful for an opinion to note that point.
Corroboration and Credibility
The second important principle is that there is generally no requirement that a veteran's assertions about what happened in the past be corroborated by records (see Buchanan v. Nicholson, 2006, p. 1337). Indeed, many veterans' service records have been lost or destroyed (see Stender & Walker, 1974, p. 521). Although post-traumatic stress disorder (PTSD) claims have special rules,21 in most cases the veteran's statements alone can be accepted as sufficient proof of past events.22 Therefore, it is inappropriate for a psychologist to reject the history provided by a veteran simply because it is not corroborated by records in his claims file.23
This is not to say that the history provided by the veteran must be accepted without question. However, the ultimate decision on the credibility of the veteran is one for the adjudicator, not the psychologist.24 A psychologist can still play an important role in this determination by indicating whether there were any medical reasons to accept or reject any information provided by the veteran. For example, it is perfectly appropriate for a psychologist to indicate that testing results or medical principles indicate that the veteran is likely exaggerating or inventing some or all of the symptoms reported (see, e.g., Forcier v. Nicholson, 2006, p. 419). It is also appropriate for an opinion to report that the symptoms or history reported by the veteran are inconsistent with the nature of his or her current diagnosis.
Another important way in which a medical examiner can comment upon the credibility of the history provided by a veteran is illustrated by Kahana v. Shinseki (2011). In Kahana, the veteran was seeking compensation for a right anterior cruciate ligament injury, but no such injury was noted in his service medical records (Kahana v. Shinseki, 2011, p. 430). The BVA ignored the veteran's testimony that he sprained his knee in service and rejected the claim, stating that, "[g]iven that a right ACL tear is quite a significant injury, one would expect to see at least some documentation of it in the [SMRs]. Also, one would expect that the [appellant] would have mentioned this right knee injury on his report of medical history at separation" (Kahana v. Shinseki, 2011, p. 434 (internal quotations omitted)). Nonetheless, the CAVC vacated the decision, and held that the BVA erred in "making a medical determination as to the relative severity, common symptomatology, and usual treatment of an ACL injury without citing to any independent medical evidence to corroborate its finding" (Kahana v. Shinseki, 2011, p. 434). The court concluded that the Board was not competent to know how the condition would manifest and what symptoms were likely to have been reported or recorded if such an injury were to have occurred. The essential lesson of Kahana is that determinations about what happened in the past based upon medical evidence and forensic reasoning should be done by an expert.
Ultimately, if there were conflicting information about the veteran's history or symptoms and there were no medical basis for resolving the conflict, then the psychologist should not comment upon the credibility of any of the evidence. Such commentary might undermine the opinion by suggesting that the psychologist was biased for or against the claim (see Sizemore v. Principi, 2004, p. 275). When there is conflicting evidence that will affect the opinion in some relevant way, a psychologist has two options. First, the psychologist can provide multiple, alternative opinions based upon the different possible views of the evidence. Alternative opinions can save months or years in adjudicating a claim by allowing adjudicators to decide the claim regardless of how the factual issues are resolved. Second, the psychologist can indicate that no opinion is possible until the factual issues are resolved. This approach is best used when there are a number of issues that need to be resolved and it would be difficult to address each potential version of the facts in the alternative. Regardless of the approach chosen, it is important to clearly identify all the issues that need to be resolved before an opinion is provided and whether there were any medical reason for resolving any of the issues in a particular way.
Summary
Writing a medical opinion that is useful to VA adjudicators can be a tricky proposition. The adjudicators need to issue detailed and transparent decisions, and, therefore, the opinions provided must be detailed as well. However, the context within which an opinion is sought is often unclear, and psychologists are frequently asked to review voluminous files containing conflicting evidence without guidance. Furthermore, the opinion must also speak to both the lay adjudicators on the front lines and the attorneys and judges who may review the claim later. Accordingly, an adequate medical opinion must be clear, precise, and comprehensive to allow adjudicators, judges, and attorneys to perform their functions. This is a difficult and sometimes frustrating task. However, it is easier when the psychologist has a grasp of how and what to communicate.
General Issues in Drafting Medical Opinions for Veterans Benefits Claims
Providing an adjudicator with everything needed to draft a complete and transparent decision in a veteran's claim can be daunting. In many ways, the opinion needs to stand in for the type of live testimony that would normally be provided at a trial or administrative hearing. Experts who testify frequently become familiar with the litany of questions that are normally asked, as well as the back-and-forth of clarifying particularly complex or difficult issues. This type of interactive testimony provides immediate feedback that helps the expert understand what needs to be communicated. Unfortunately, the VA process does not provide such feedback. Therefore, it can be difficult for a psychologist to know how to communicate effectively within that framework.
The CAVC has held that a medical opinion is adequate when it is based upon consideration of the veteran's prior medical history and examinations, and also describes the disability, if any, in sufficient detail so that the Board's "'evaluation of the claimed disability will be a fully informed one.'"25 This part of the article breaks this requirement into two main components. First, it looks at the foundation of an adequate medical opinion. In general, an adequate medical opinion must be based upon specific types of information in order to be useful to an adjudicator. Second, the section turns to the key aspects of communicating a conclusion effectively. All too often, an opinion will communicate a general sense of what the psychologist believes, but is not clear on some of the finer distinctions that are necessary to apply the law correctly. Understanding the elements of a clear foundation and conclusion allows a doctor to address key issues, regardless of whether the request clearly asked for particular, necessary information.
The Bases of a Good Medical Opinion
The first half of a good medical opinion is the foundation, namely what information the doctor considered in forming his or her conclusions. In general, medical opinions that (a) do not indicate whether the psychologists actually examined the veteran, (b) do not provide the extent of any examination, or (c) do not provide any supporting clinical data will be deemed inadequate (Claiborne v. Nicholson, 2005, p. 186). There are several components to a complete foundation.
The Elements of a Good Medical Opinion
Of course, once the foundation is established, then the opinion needs to state its conclusion. In general, the "probative value of medical[-]opinion evidence is based on the medical expert's personal examination of the patient, the physician's knowledge and skill in analyzing the data, and the medical conclusion that the physician reaches" (Guerrieri v. Brown, 1993, pp. 470–471). Producing a probative and persuasive opinion is easier when the psychologist is familiar with a number of factors.
Issues Specific to the Elements of a VA Disability Compensation Claim
After "who" and "how," the final element of a good medical opinion is "what" to communicate. Disability compensation benefits are the 600-pound gorilla that dominates the adjudication system. Although VA provides many other benefits, disability compensation claims—frequently referred to as "service connection" claims—represent the majority of applications and ninety-five percent of the claims that are disputed by claimants (see Ridgway, 2009b, pp. 115–116). At first blush, they are deceptively simple to describe. They are claims that the veteran has a current disability that was caused by a disease or injury that occurred in service. However, in practice, both the law and the underlying factual issues can be quite complicated.
Conclusion
Providing a complete and useful medical opinion in a veterans benefits claim has become quite difficult. Although many other aspects of the system remain informal, the requirements of an adequate medical opinion have become detailed and demanding. In essence, a medical opinion must now substitute for live testimony on a series of complex medical issues. For this testimony to be useful, a proper foundation must be laid, and the conclusions must be thoroughly explained. The difficulty of this task is further compounded because there is no questioner present during the drafting of an examination to provide feedback or seek clarification.
It can be deeply frustrating, especially for medical professionals, to perform the work as requested and then be told that it was inadequate. Unfortunately, this happens every day in the veterans benefits system because private and VA psychologists are not asked for all the information that is necessary to produce proper medical opinions. Until a better system is devised, veterans will be far better served if the psychologists involved in their claims become more familiar with the basic aspects of the adjudication system so that they can be more proactive in drafting opinions.
One hopes that at some point in the future, VA adjudicators will be able to communicate in some manner directly with medical experts as they did in the past, although under a revised, transparent system in which veterans can safely place their trust. In the meantime, psychologists must rely on a little mind reading and much legwork to answer all the important questions that need to be answered in order to effectively process these claims.
Copyright information
© Springer Science + Business Media, LLC. 2012