Germline ETV6 mutations and predisposition to hematological malignancies
Progress in Hematology Familial predisposition of myeloid malignancies: Biological and clinical significances of recurrent germline mutations
Abstract
Patients with thrombocytopenia 5 have an autosomal dominant disorder of decreased platelet number with tendency to bleed, usually presenting in childhood, and have been found to have germline mutations in ETV6, which encodes a master hematopoietic transcription factor. Some patients who present similarly have inherited mutations in RUNX1 or ANKRD26. All three germline syndromes are also associated with a predisposition to myelodysplastic syndrome (MDS) and acute leukemia (AL). Since the first description of germline ETV6 mutations, 18 families have been reported. The common phenotype is mild to moderate thrombocytopenia with a variable predisposition to acute lymphoblastic leukemia (ALL), acute myeloid leukemia (AML), and MDS. This review will focus upon the role of ETV6 in hematopoiesis, especially in myeloid differentiation and maturation, and will describe the functional effects of mutant ETV6. The review will also provide an overview of common clinical features as well as recommendations for patient screening and follow-up and will debate whether additional clinical features should be included with the germline ETV6 syndrome.
Keywords
ETV6 
Germline 
Predisposition 
Thrombocytopenia 
Acute leukemia 
Introduction
ETV6-gene function and its importance in hematopoiesis
ETV6, located at chromosome 12p13, has been known to be an important player in hematopoiesis since its first description as a translocation partner of PDGFB in chronic myelomonocytic leukemia in 1994 [1]. Since then, more than 30 ETV6 translocation partners have been reported within acute myeloid leukemia (AML), acute lymphoblastic leukemia (ALL), myelodysplastic syndrome (MDS), myeloproliferative neoplasms, and T cell lymphoma, thus making ETV6 one of the most commonly rearranged genes in human acute leukemia (AL) and MDS [2]. The fusion of ETV6 and RUNX1 occurs in 22% of children with ALL, and is thereby the most common cytogenetic subgroup in childhood ALL [3]. Somatic mutations in ETV6 have been described in a variety of hematologic malignancies, among those children with T-ALL [3], and patients with MDS [4, 5, 6], AML [7], B-ALL, chronic lymphocytic leukemia (CLL), chronic myeloid leukemia (CML) and mixed-phenotype acute leukemia [8]. Mutation frequencies in MDS range from 1 to 3% [4, 5, 6], with some evidence that mutations in ETV6 are associated with a poor overall survival [5]. Likewise, somatic ETV6 mutations in AML are rare but recurrent events [7, 9]. Deletions involving the cytogenetic region 12p13 are common in hematopoietic malignancies of both lymphoid and myeloid origin, notably in MDS with monosomy 7 [10] and AML with complex karyotypes [11, 12, 13, 14].
ETV6
encodes a master hematopoietic transcription factor (TF) that is part of a large family, comprising 28 members in humans, all of which encode proteins with a DNA-binding domain designated the ETS domain, which binds the same DNA consensus sequence.
ETV6
comprises eight exons and encodes a TF with three functional domains: a highly conserved N-terminal PNT domain which mediates homo- and heterodimerization and is required for nuclear localization of the protein, a central regulatory domain, and a C-terminal ETS domain (Fig. 
1
a).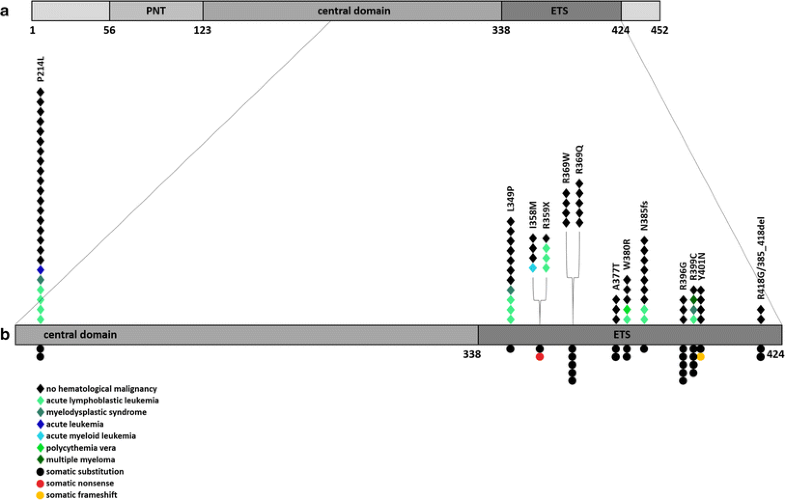 ETV6 specifically acts as a transcriptional repressor that requires homodimerization to exert repression [15, 16, 17, 18, 19]. The DNA-binding capacity of ETV6 is also strongly regulated by an auto-inhibitory mechanism [19]. ETV6 inhibits the activity of other ETS domain containing TFs by heterodimerization, such as FLI1 [20]. FLI1 is critical for the megakaryocyte lineage commitment where it acts in tandem with GABPA [21].
Etv6 knockout mice are embryonically lethal [22], and Etv6 knockdown in zebrafish causes defects in primitive hematopoiesis [23]. Hematopoietic progenitor cells in conditional Etv6 knockout mice fail to colonize the bone marrow, pointing to an important role for Etv6 in the regulation of early hematopoiesis in the bone marrow [24]. However, Etv6 is not essential for the maintenance of mature lineages after commitment of the hematopoietic stem cells, except for a terminal defect in megakaryocyte maturation shown by peripheral thrombocytopenia and an increase in megakaryocyte colony-forming cells [25].
ETV6 in myeloid differentiation and maturation
ETV6 plays a distinct role in myeloid differentiation. Yamagata et al. found that ETV6 overexpression in murine myeloid 32Dcl cells, which can terminally differentiate into neutrophils, leads to growth restriction and apoptosis, demonstrating that ETV6 exerts tumor-suppressive functions [26]. Etv6 knockout mice display moderately reduced neutrophil counts [25]. Further experiments using transgenic mice and ES cells expressing human ETV6 indicated that ETV6 enhances the proliferation of erythrocyte/megakaryocyte common progenitors and accelerates terminal erythroid differentiation via stimulation of hemoglobin synthesis [27]. Likewise, by introducing human wild-type ETV6 into mouse erythroleukemia cells and subsequent overexpression, ETV6 stimulated erythroid differentiation [28]. A more recent study on Etv6 function in zebrafish showed that Etv6 knockdown reduced the levels of progenitor cells, myeloid cells, and erythrocytes and impaired the differentiation of zebrafish heterophils, the piscine neutrophil equivalent [23]. These studies indicate a broad function of ETV6 in early embryonic and adult hematopoiesis as well as in erythroid and megakaryocytic differentiation and maturation.
ETV6 mutations as a germline syndrome
Conclusion
Germline ETV6 mutations are emerging as an important cause of inherited thrombocytopenias, accompanied by a risk for the development of acute leukemias, more often lymphoid, but also myeloid, and other hematopoietic and potentially solid tumors as well. The increased awareness of germline susceptibility syndromes will likely result in the identification of additional families, which will help define the clinical spectrum of abnormalities seen in these individuals. Other inherited gene mutations yet to be discovered may result in syndrome phenocopies, as germline RUNX1 and ANKRD26 mutations are already recognized as presenting with similar signs and symptoms. We recommend a high index of suspicion for these syndromes, with use of professional genetic counselors and appropriate clinical testing and long-term surveillance of germline mutation carriers.
Notes
Compliance with ethical standards
Conflict of interest
Lucy A. Godley receives royalties from her coauthored article on inherited hematopoietic malignancies in UpToDate. Dr. Feurstein declares no competing financial interests.
Copyright information
© The Japanese Society of Hematology 2017