Abstract
Peroneal tendoscopy is an innovative technique that allows visualization of the tendons from the myotendinous junction to the peroneal tubercle, together with adjacent anatomic structures such as the recently unveiled vincula. Through a minimally invasive approach, it is possible to diagnose and treat several disorders, such as common tenosynovitis, accessory muscles, hypertrophic bony prominences, and thickened vincula, that can cause pain and tendon catching. Surgical morbidity and postoperative pain are significantly reduced when compared with open procedures. In this paper, the main indications for peroneal tendoscopy are discussed, the available literature is reviewed, and the surgical technique is described. Advantages of this procedure and current limitations are also presented. Anatomic and histological studies were also performed in order to verify: 1) the feasibility of peroneal tendoscopy for evaluation of peroneal tendons, using cadaver specimens; 2) the presence of nervous tissue in cadaver peroneal vincula as well as in tendoscopic vincula biopsies from patients undergoing surgery for chronic lateral ankle pain.
This is a preview of subscription content, log in to check access.
Access options
Buy single article
Instant unlimited access to the full article PDF.
US$ 39.95
Price includes VAT for USA
Subscribe to journal
Immediate online access to all issues from 2019. Subscription will auto renew annually.
US$ 99
This is the net price. Taxes to be calculated in checkout.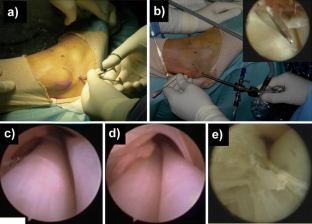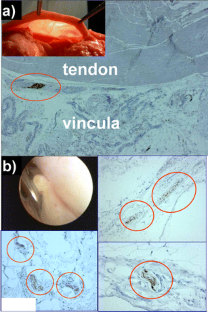 References
Papers of particular interest, published recently, have been highlighted as: • Of importance
1.

• Christensen JC, Lanier TD. Tendoscopy of the ankle. Clin Podiatr Med Surg. 2011;28:561–70. This is the most recent review about Tendoscopy of the Ankle. It is a comprehensive overview of all the possible application of tendoscopy in ankle surgery including peroneal tendon diseases, posterior tibial tendon and Achilles tendon pathologies, flexor hallucis longus disorders.

2.

Wertheimer SJ, Weber CA, Loder BG, et al. The role of endoscopy in treatment of stenosing posterior tibial tenosynovitis. J Foot Ankle Surg. 1995;34:15–22.

3.

van Dijk CN, Kort N, Scholten PE. Tendoscopy of the posterior tibial tendon. Arthroscopy. 1997;13:692–8.

4.

van Sterkenburg MN, Haverkamp D, van Dijk CN, Kerkhoffs GMMJ. A posterior tibial tendon skipping rope. Knee Surg Sports Traumatol Arthrosc. 2010;18:1664–6.

5.

Chow HT, Chan KB, Lui TH. Tendoscopic debridement for stage I posterior tibial tendon dysfunction. Knee Surg Sports Traumatol Arthrosc. 2005;13:695–8.

6.

Steenstra F, van Dijk CN. Achilles tendoscopy. Foot Ankle Clin. 2006;11:429–38. viii.

7.

van Dijk CN. Hindfoot endoscopy. Foot Ankle Clin. 2006;11:391–414. vii.

8.

Lui TH. Flexor hallucis longus tendoscopy: a technical note. Knee Surg Sports Traumatol Arthrosc. 2009;17:107–10.

9.

Lui TH. Extensor tendoscopy of the ankle. Foot Ankle Surg. 2011;17:e1–6.

10.

Lui TH. Arthroscopically assisted Z-lengthening of extensor hallucis longus tendon. Arch Orthop Trauma Surg. 2007;127:855–7.

11.

Maquirriain J, Sammartino M, Ghisi JP, Mazzuco J. Tibialis anterior tenosynovitis: avoiding extensor retinaculum damage during endoscopic debridement. Arthroscopy. 2003;19:E9.

12.

van Dijk CN, Kort N. Tendoscopy of the peroneal tendons. Arthroscopy. 1998;14:471–8.

13.

Scholten PE, van Dijk CN. Tendoscopy of the peroneal tendons. Foot Ankle Clin. 2006;11:415–20. vii.

14.

• Sammarco VJ. Peroneal tendoscopy: indications and techniques. Sports Med Arthrosc. 2009;17:94–9. This paper is a complete and accurate review about the indications and techniques of peroneal tendoscopy written by one of the most know foot and ankle surgeons in United States.

15.

Sarrafian SK. Anatomy of the Foot and Ankle. Philadelphia: Lippincott Williams and Wilkins; 1993.

16.

Blair JM, Botte MJ. Surgical anatomy of the superficial peroneal nerve in the ankle and foot. Clin Orthop Relat Res. 1994;229–238.

17.

Panchbhavi V. Peroneal tendoscopy and report on anomalies diagnosed. Foot Ankle Surg. 2003;9:131–5.

18.

Panchbhavi VK, Trevino SG. The technique of peroneal tendoscopy and its role in management of peroneal tendon anomalies. Techniques in Foot & Ankle Surgery. 2003;2:192–8.

19.

Edwards ME. The relations of the peroneal tendons to the fibula, calcaneus, and cuboideum. Am J Anat. 1928;42:213–53.

20.

Sobel M, Geppert MJ, Warren RF. Chronic ankle instability as a cause of peroneal tendon injury. Clin Orthop Relat Res. 1993;187–191.

21.

Komenda GA, Ferkel RD. Arthroscopic findings associated with the unstable ankle. Foot Ankle Int. 1999;20:708–13.

22.

Taga I, Shino K, Inoue M, et al. Articular cartilage lesions in ankles with lateral ligament injury. An arthroscopic study. Am J Sports Med. 1993;21:120–6. discussion 126–127.

23.

DiGiovanni BF, Fraga CJ, Cohen BE, Shereff MJ. Associated injuries found in chronic lateral ankle instability. Foot Ankle Int. 2000;21:809–15.

24.

Sobel M, Geppert MJ, Hannafin JA, et al. Microvascular anatomy of the peroneal tendons. Foot Ankle. 1992;13:469–72.

25.

Dumontier C. Chirurgie endoscopique des membres. e-mémoires de l'Académie Nationale de Chirurgie. 2004;3:34–44.

26.

• Jerosch J, Aldawoudy A. Tendoscopic management of peroneal tendon disorders. Knee Surg Sports Traumatol Arthrosc. 2007;15:806–10. This recent prospective study included 15 patients with chronic peroneal tendon dysfunction. It offers clear pictures about different pathologic conditions along with their treatment.

27.

Alpantaki K, McLaughlin D, Karagogeos D, et al. Sympathetic and sensory neural elements in the tendon of the long head of the biceps. J Bone Joint Surg Am. 2005;87:1580–3.

28.

Bagge J, Lorentzon R, Alfredson H, Forsgren S. Unexpected presence of the neurotrophins NGF and BDNF and the neurotrophin receptor p75 in the tendon cells of the human Achilles tendon. Histol Histopathol. 2009;24:839–48.

29.

Hagert E, Garcia-Elias M, Forsgren S, Ljung B-O. Immunohistochemical analysis of wrist ligament innervation in relation to their structural composition. J Hand Surg Am. 2007;32:30–6.

30.

Lee J, Ladd A, Hagert E. Immunofluorescent Triple-Staining Technique to Identify Sensory Nerve Endings in Human Thumb Ligaments. Cells Tissues Organs 2011, In Press.

31.

Liang Y, Johansson O. Light and electron microscopic demonstration of the p75 nerve growth factor receptor in normal human cutaneous nerve fibers: new vistas. J Invest Dermatol. 1998;111:114–8.

32.

Keller K, Nasrilari M, Filler T, Jerosch J. The anterior tibio-talar ligament: one reason for anterior ankle impingement. Knee Surg Sports Traumatol Arthrosc. 2010;18:225–32.

33.

Dalsgaard CJ, Björklund H, Jonsson CE, et al. Distribution of neurofilament-immunoreactive nerve fibers in human skin. Histochemistry. 1984;81:111–4.

34.

Kiter E, Karaboyun T, Tufan AC, Acar K. Immunohistochemical demonstration of nerve endings in iliolumbar ligament. Spine. 2010;35:E101–104.

35.

Gonzalez-Martinez T, Perez-Piñera P, Díaz-Esnal B, Vega JA. S-100 proteins in the human peripheral nervous system. Microsc Res Tech. 2003;60:633–8.

36.

Del Valle ME, Harwin SF, Maestro A, et al. Immunohistochemical analysis of mechanoreceptors in the human posterior cruciate ligament: a demonstration of its proprioceptive role and clinical relevance. J Arthroplasty. 1998;13:916–22.

37.

Dhillon MS, Bali K, Vasistha RK. Immunohistological evaluation of proprioceptive potential of the residual stump of injured anterior cruciate ligaments (ACL). Int Orthop. 2010;34:737–41.
Acknowledgments
The Authors are grateful to Luciano Mosso (MD, Pathologist) for the histological assistance and the critical observations. The Authors would also like to thank Radhika Srinivasan, PhD, for editing of the manuscript.
Disclosure
No conflicts of interest relevant to this article were reported.
Electronic supplementary material
Below is the link to the electronic supplementary material.
Cadaveric study. This movie describes the different steps of the cadaveric study: distal portal placement; sural nerve exposure; superficial dissection; superficial peroneal nerve exposure; dissection of the tendon sheath; and vincula exposure. (WMV 21232 kb)
Peroneal tendoscopy release of thickened vincula case 1. (MPG 13534 kb)
Cadaveric study. This movie describes the different steps of the cadaveric study: distal portal placement; sural nerve exposure; superficial dissection; superficial peroneal nerve exposure; dissection of the tendon sheath; and vincula exposure. (WMV 21232 kb)
Peroneal tendoscopy debridement of a partial tear with radiofrequency. This movie shows the debridement of a partial tear of peroneus brevis tendon with the aid of a 90° small radiofrequency wand. (M1V 2827 kb)
Peroneal tendoscopy II portal placement. This movie shows the placement of a proximal portal assisted by transillumination, with the aid of an 18 gauge spinal needle; an underlying tear of the peroneus brevis tendon can be observed. (M1V 7471 kb)
Peroneal tendoscopy release of thickened vincula case 1. (MPG 13534 kb)
Peroneal tendoscopy release of thickened vincula case 2. These movies show the release of a thickened vincula in a patient complaining of lateral ankle pain and a clinical picture of chronic ankle instability; tendoscopy was performed for persistent pain at the posterior margin of lateral malleolus after at least 4 months of non-operative treatment; intraoperative findings of a vincula lesion (thickening/scarring) was treated by a selective release of the thickened portion with the help of a small arthroscopic biter. (M1V 7939 kb)
Peroneal tendoscopy tendoscopic exploration of peroneal tendons part I. (M1V 7192 kb)
Peroneal tendoscopy tendoscopic exploration of peroneal tendons part II. These movies show an overall view of peroneal tendons with the endoscope introduced through the distal portal. (M1V 7661 kb)
Peroneal tendoscopy tendoscopic exploration in tenosynovitis. This movie shows a panoramic view of peroneal tendons in a clinical picture of tenosynovitis. (M1V 4936 kb)
Peroneal tendoscopy histological study. This presentation shows the results of the histological study. Immunohistochemistry was performed on vincula cadaveric samples and vincula biopsies taken from patients undergoing tendoscopy for persistent pain at the posterior margin of the lateral malleolus, in which an intraoperative finding of a vincula lesion (thickening/scarring) was found. Biopsies were evaluated by Haematoxylin/Eosin (H/E) staining and by immunohistochemistry for S-100. Cadaveric vincula samples were evaluated by H/E staining and by immunohistochemistry for S-100, p 75 (low-affinity neurotrophin receptor), NGFR (nerve growth factor receptor, CD271), myelin basic protein (MBP), PGP 9.5 (pan-neuronal marker protein gene product), Neurofilament (NF), Vimentin (as an undifferentiated marker for both nervous and vascular structures). As positive controls, samples from the sural nerve and the sinus tarsi expansion of inferior extensor retinaculum were also harvested and evaluated by H/E staining and immunohistochemistry. (PPT 10372 kb)
About this article
Cite this article
Marmotti, A., Cravino, M., Germano, M. et al. Peroneal tendoscopy. Curr Rev Musculoskelet Med 5, 135–144 (2012). https://doi.org/10.1007/s12178-012-9123-1
Keywords
Tendoscopy

Peroneal tendons

Vincula

Cadaver study

Histological study

Foot

Ankle

Foot and ankle

Musculoskeletal