Farm-Scale Production Cost of Switchgrass for Biomass
Abstract
The economic potential of cellulosic biomass from switchgrass has heretofore been evaluated using estimates of farm costs based on extrapolation from experimental data and budget estimates. The objective of the project reported here was to estimate the cost of production that would be experienced by farmers on commercial production situations. Switchgrass was produced as a biomass crop on commercial-scale fields by ten contracting farmers located from northern North Dakota to southern Nebraska. Results showed a wide range of yields and costs across the five production years and ten sites, with an overall average cost of $65.86 Mg−1 of biomass dry matter, and annualized yield of 5.0 Mg ha−1. The low-cost half of the producers were able to produce at an average cost of $51.95 Mg−1over the 5-year period. When projected to a full 10-year rotation, their cost fell further to $46.26 Mg−1. We conclude that substantial quantities of biomass feedstock could have been produced in this region at a cost of about $50 Mg−1 at the farm gate, which translates to about $0.13/l of ethanol. These results provide a more reliable benchmark for current commercial production costs as compared to other estimates, which range from $25 to $100 Mg−1.
Keywords
Switchgrass 
biomass 
bioenergy 
economics 
ethanol 
Abbreviations
hectare (ha)

10,000 m2

megagram (Mg)

1,000 kg

CRP

Conservation Reserve Program
Introduction
The use of fossil fuels to produce energy has induced both increased CO2 concentration in the atmosphere and associated climate change and dependencies on politically sensitive international oil markets. These consequences have stimulated both considerable research on alternative energy sources and vigorous policy debates about policies to support them. Meanwhile, grain ethanol production has increased dramatically, raising concerns about unwelcome side effects of that technology, even though it has no promise of replacing more than a small fraction of gasoline for automotive fuel [19]. Ethanol produced from cellulosic sources is thus viewed by many to be a prospective alternative energy source that is both more abundant and more environmentally-friendly than grain ethanol [16]. An estimated 3 to 21 million ha of agricultural land in the USA could be converted to perennial grasses for bioenergy based on theoretical market prices [13]. Land for perennial grass production has been projected to come from the land currently in crop production, land currently enrolled in the Conservation Reserve Program (CRP), and pastures [27].
Production technology for producing ethanol from cellulose is not yet commercialized, and may not be for several years, but switchgrass is a potential feedstock for the latent commercial conversion processes. An economic evaluation of a cellulosic energy system based on dedicated biomass crops such as switchgrass must include realistic estimates of the cost of producing the feedstock itself. To date, however, all such evaluations have been based on experimental switchgrass plot data extrapolated to commercial fields, using budgeting techniques and guesses about the relevance of the experimental results to farm-level production technology. The present study addresses this gap in information by summarizing actual costs of biomass production on ten cooperating farmers' fields from Nebraska through North Dakota (Fig. 
1
). Adapted switchgrass cultivars were planted, grown, and managed as biomass crops for a 5 year period beginning in 2000 in Nebraska and 2001 in South and North Dakota using management practices developed in previous small plot research. Net energy and greenhouse gas implications of this study have been reported elsewhere [
21
].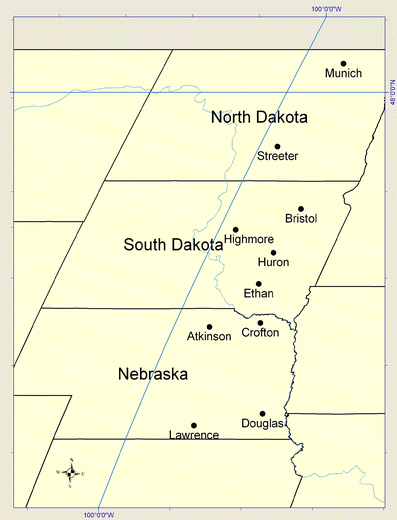 Cooperating farmers were paid for their work and land use. They documented, and project staff verified, all production operations and field biomass. Production and management information from each farm for the 5 year period was used in the analyses presented here. Fields used in the study had characteristics that would have qualified them for enrollment in the Conservation Reserve Program (CRP) of the US Department of Agriculture which pays farmers and land owners to take erodible land out of production and maintain it as planted grasslands or woodlands. The CRP was authorized by the Food Security Act of 1985 and had a goal of removing highly erodible, marginal cropland from crop production.
Methods
The Nebraska fields were established in 2000 and grown through 2004, while the South Dakota and North Dakota fields were established in 2001 and grown through 2005. With one exception, the fields were grown for five seasons. The exception was at Atkinson, NE, where a portion of the field was abandoned after two unsuccessful attempts at establishing a switchgrass stand. In this particular location, the fields consisted of two "pivot corners" (the un-irrigated corners of a square field with a center pivot irrigation system), one of which was abandoned after year 2. One other site suffered a failed establishment the first year, and a third required partial re-seeding.
The climatic conditions were in general not favorable during these years, as seven of the ten sites experienced rainfall below the 30-year mean, and all but Munich, ND, experienced temperatures above normal (for weather data by site, see Table 10 which is published as supporting information on the BioEnergy Research website.) The Atkinson and Douglas, NE sites were particularly warm and dry.
To calculate annualized cost per hectare, the present value of the sequence of annual expenditures, Et, was first calculated using the 10% discount rate as PV = Σ t (E t/(1.10)t). Planting expenditures were considered to occur at time t = 0, and all other expenditures and the harvest itself were considered to occur at the end of the respective crop year, i.e., at t = 1,…, 5. This present value was converted to an annuity of value A, paid at the end of each year through year 5, such that the present value of the annuity is identical to the present value of the expenditures incurred, viz., A = PV[0.10/(1−(1.10)−5)]. Thus, actual expenditures over the 5-year period are equivalent in present value to an "annualized" expenditure of A per hectare at the end of each year for the 5 years. To convert this annualized per hectare cost to cost per Mg, the "annualized yield" was calculated in exactly the same manner. Cost per Mg was then obtained by dividing annualized cost by annualized yield.
To provide an estimate of the cost of production for a projected 10-year cropping period, rather than the 5-year period observed, the average yield and expenditures for the last 4 years at each site were projected to occur at that site for each year from year 6 through year 10. The annualized cost of production over this 10-year period was then calculated as described above.
Discussion
The farm-level production costs from this study provide a benchmark for the cost of commercial production of switchgrass, stored at the farm gate, using technology available in the central and northern Great Plains at the turn of the century. While the average cost experienced over five seasons was $65.86 Mg−1, this cost would have fallen to about $59.10 Mg−1 if the rotation period had been extended to 10 years instead of 5. It is reasonable to conclude from this study that substantial quantities of switchgrass could have been produced in the northern Great Plains during this period at a farm-gate cost as low as $50 Mg−1, as half of our producers were able to produce at this cost.
Using a conversion rate of 0.38 l kg−1 [7], the farm-gate feedstock cost per liter averaged $0.173 l−1 over the 5 years, falling to $0.156 l−1 for a simulated 10-year rotation. Comparable figures for the low-cost producers are $0.137 and $.122 l−1, suggesting that substantial quantities of feedstock could have been produced at average costs in the vicinity of $0.13 l−1. The average cost of transporting round bales to a refinery is estimated [12] to be about $13 t −1, or $0.034 l−1, bringing the total cost of switchgrass feedstock delivered to the refinery to about $0.17 l−1. This compares to a net maize feedstock price of $0.13 l−1 at $2.00 bu−1, or $0.26 l−1 at $4.00 bu−1, the approximate range of maize prices paid by ethanol refineries during 2006 and 2007.
Wide disparities have existed among previous estimates of yield and production cost appropriate to the plains, ranging from $30–100 Mg−1. Estimates from the mid-1990's [8, 25], based on budgeting procedures, ranged from $25 to $30 Mg−1 ($31 to $37 in 2003 dollars), but did not include land cost, which is about 45% of cost among our producers. Even as late as 2003, yields were estimated at 7.8 Mg ha−1 for the North Central region [27], contrasted with our producers who experienced annualized yields of 5.0 Mg ha−1, and non-land costs were estimated at $25.62 Mg−1 compared with the average $36.29 Mg−1 for our producers (Table 4.)
We have made cost comparisons for previous studies that examined all cost components for switchgrass production (see Table 11 in the supporting materials.) To facilitate comparisons, we eliminated interest cost for all these studies as well as our own and calculated cost per Mg based on a 5-year rotation, ignoring any production during the establishment year. The cost estimates per Mg, adjusted to 2003 prices, range from $29.35 by Epplin [6] for the Oklahoma plains, to $72.50 by Hallam et al.[9], and $95.90 by Duffy and Nanhou [5] for Iowa cropland. The comparable number from our study is $63.83 Mg−1. The budgeted cost in Oklahoma is low partly because inputs were minimal, partly because land rent equivalent to $80 ha−1 is very low, and partly because postulated yield of 9 Mg ha−1 is high relative to the 6.4 Mg ha−1 realized by our producers during the 4 maintenance years of the rotation. Costs in Iowa are higher because of higher land rental rates and much higher fertilizer inputs, even though their yield estimates are also considerably higher (11.1 Mg ha−1 by Hallam et al. [9]), based on plot data, and 7.6 Mg ha−1 postulated by Duffy and Nanhou [5].
More recently, Pimentel and Patzek [18] proposed a yield estimate of 10 Mg ha−1 but reported two different cost estimates. In their Table 3 they specify only $23 Mg−1 for non-land costs, optimistic relative to the experience of our producers. In their Table 4 they report an extremely high total cost of $100 Mg−1, attributed to an unpublished study that is no longer available at the cited URL. Another recent study [15], based on a 4-year field-scale (8.6 ha) study in northern Italy, reported average yield at 6 Mg ha−1 for the last 3 years, annualized cost at about ∈120 Mg−1 (approximately $150 Mg−1.) To the authors' knowledge, this is the only other published study of recorded costs on field scale switchgrass production, though it is not very relevant to cost of production in the USA.
In comparison to crops such as maize, only a fraction of the research on developing improved cultivars or hybrids and improved management practices has been conducted for switchgrass. Improved management practices can result in both increased biomass and ethanol yields per hectare and can also result in reduced production costs per Mg of biomass. As an example, the farmers in this study who had the lowest production costs were those that were able to obtain harvestable yields the establishment year because of good weed control by the use of herbicides which controlled both broadleaf and grass annual weeds. Two of these low-cost producers had previous experience with switchgrass, indicating the importance of farmer experience in lowering production cost. They subsequently also had higher than average second year yields.
All the cultivars used in this study [20] were developed primarily for use in pasture production systems and not for high yield biomass energy production systems. To enhance economic production efficiency of biomass feedstocks for crops such as switchgrass, higher yielding cultivars or hybrids developed specifically for use as biomass energy crops and associated management practices will need to be developed for each major agroecosystem where these crops will be grown. Traditional breeding techniques have increased yield performance of switchgrass by 20 to 30% from existing parent types [13]. It is expected that further improvements in both genetics and breeding technology including the use of molecular markers will result in higher yielding cultivars and hybrids and improved agronomics (production system management practices and inputs) for dedicated energy crops such as switchgrass, which will further improve biomass yields, conversion efficiency, and Net Energy Value [23]. As an indicator of the improvement potential, switchgrass biomass yields in recent yield trials in Nebraska, South Dakota, and North Dakota [1, 2, 4] were 50% greater than achieved in this study.
Notes
Acknowledgements
This work was supported by grants from the US Department of Energy, the Agricultural Research Service of the US Department of Agriculture, and by the Nebraska Agricultural Research Division.
Open Access
This article is distributed under the terms of the Creative Commons Attribution Noncommercial License which permits any noncommercial use, distribution, and reproduction in any medium, provided the original author(s) and source are credited.