CXCR4-directed theranostics in oncology and inflammation
Open Access
Invited Review Article
Abstract
Given its prominent role in inflammation and cancer biology, the C-X-C motif chemokine receptor 4 (CXCR4) has gained a lot of attention in the recent years. This review gives a short overview of the physiology and pathology of chemokines and chemokine receptors and then focuses on the current experience of targeting CXCR4, using radiolabeled receptor ligands suitable for positron emission tomography (PET) imaging, in both hematologic and solid malignancy as well as in inflammatory conditions. Additionally, CXCR4-directed endoradiotherapy (ERT) as a new treatment option is discussed.
Keywords
Chemokine 
Cancer 
Theranostics 
Pentixafor 
Pentixather 
Theranostics
As mentioned before, most tumors have a worsening prognosis with increasing CXCR4 expression [119], although many of the underlying mechanisms and their implications for disease progression are still unknown. For instance, high CXCR4 expression on AML blasts correlates with a poor prognosis [99, 120], and the protective bone marrow environment is considered a major reason for treatment resistance and relapse [121], suggesting potential benefits from CXCR4-directed therapies.
Imaging of CXCR4 expression in oncology has mostly not been of diagnostic nature until now. Instead, it was guided predominantly by theranostic thinking, in pursuit of potential therapeutic remedies for patients with otherwise limited or non-existent treatment alternatives.
CXCR4-targeted radionuclide therapy
Pentixather, the therapeutic twin of Pentixafor, is a promising CXCR4 ligand that can be labeled with radionuclides for ERT [84]. First studies examined the use of Pentixather, labeled with beta-emitters 177Lu or 90Y, for ERT of advanced stage MM patients. Although initial response rates were high and adverse effects were limited, overall survival in this very high-risk cohort was not extended [105, 122]. Other pilot investigations showed encouraging results using ERT with [177Lu]/[90Y]Pentixather in diffuse large B cell lymphoma (DLBCL; see also Fig. 1) [123] and in AML patients, respectively [89]. As of now, there is only one prospective trial for CXCR4-directed ERT in preparation (COLPRIT trial, Eudra-CT 2015-001817-28), that will primarily investigate the tolerable dose and side effects of such ERT in patients with MM or lymphoma.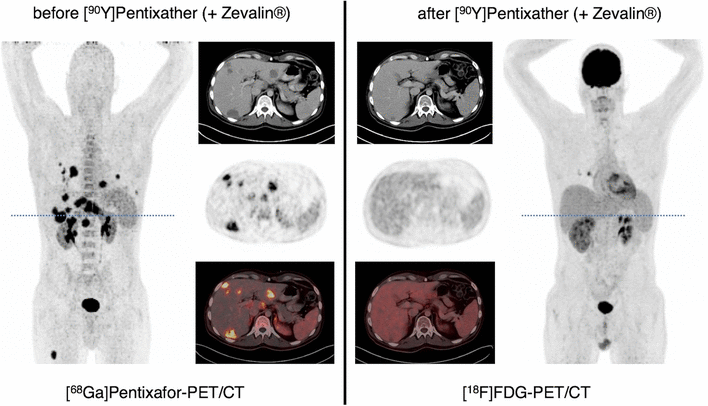 In all cases until now, ERT was performed in addition to high-dose chemotherapy regimens, followed by subsequent hematopoietic stem cell transplantation. It is noteworthy that in hematologic diseases with the intent to perform allogeneic hematopoietic transplantation, the myeloablation by ERT is considered a desired effect to allow engraftment of the cellular therapeutic. Opposite to that, allogeneic hematopoietic cell transplantation is not an established and suitable approach in other malignancies, and myeloablation induced by binding of the radionuclide to hematopoietic progenitor cells in the bone marrow is certainly of major concern. ERT without stem cell rescue might be technically feasible for tumors with pronounced receptor overexpression as witnessed in adrenocortical cancer or small cell lung cancer but requires further development and prospective investigations.
Outlook
CXCR4-directed ERT, and particularly—imaging— is rapidly gaining popularity at a few academic centers. The (pre-)clinically observed dynamics in CXCR4 expression (e.g., chemotherapy-induced) present new opportunities to potentially modulate CXCR4 expression and function. By prior receptor upregulation, imaging might benefit from higher sensitivities, and anti-cancer therapies might find more targets on the cell surface for a stronger effect. Similarly, downregulation of CXCR4 might have synergistic effects with conventional therapies. Furthermore, labeling a CXCR4 ligand with an alpha-emitter for ERT might present a breakthrough in hematologic malignancies, as the higher energy transfer would lead to more effective destruction of cancer and cancer-supporting cells.
Summary
CXCR4 and its natural ligand, the chemokine CXCL12, play important physiologic roles in embryonic development, hematopoiesis and immunity. But the CXCR4-CXCL12 axis is also deeply associated with disease and is particularly involved in tumor growth and metastasis. A multitude of different malignancies overexpress CXCR4 on their respective cell surface, which predominantly is associated with a worse prognosis. Different therapeutics targeting CXCR4 or its ligand CXCL12 have been developed. For instance, Plerixafor, the first FDA-approved CXCR4 inhibitor, mobilizes stem-/progenitor cells from the bone marrow into the circulation. Subsequently, various CXCR4-directed imaging tracers were developed, with the positron-emitting PET tracer [68Ga]Pentixafor being the most frequently used today. CXCR4 imaging with [68Ga]Pentixafor has successfully been performed in several different malignancies, as well as in cardiovascular disease and infections. Its therapeutic twin, Pentixather, labeled with the beta-emitters 177Lu or 90Y, has already been used for ERT in various hematologic malignancies. Research in the field of CXCR4-directed imaging and radionuclide therapy is highly active, and new developments over the full spectrum of translational medicine are anticipated in the coming years.
Notes
Acknowledgements
HJ Wester is the founder and shareholder of Scintomics. All other authors declare no conflict of interests.
Copyright information
© The Author(s) 2018
Open AccessThis article is distributed under the terms of the Creative Commons Attribution 4.0 International License (http://creativecommons.org/licenses/by/4.0/), which permits unrestricted use, distribution, and reproduction in any medium, provided you give appropriate credit to the original author(s) and the source, provide a link to the Creative Commons license, and indicate if changes were made.