Abstract
China has an estimated 30 million gay population, many of whom marry unknowing heterosexual partners due to family and societal pressure. Some pursue an alternative by entering Xinghun, also known as formality marriage or fake marriage, between a gay man and a lesbian. Such relationships are asexual and formulated solely for familial, social, and reproductive purposes. Analyzing 150 Xinghun ads posted on Tianya.cn, this is an exploratory study of an unique relationship behavior, to shed light on the lived experiences of this traditionally voiceless minority group. The qualitative theme analysis found that the ads emphasized some traits that are consistent with traditional Chinese values such as filial piety, compatibility, and traditional gender roles. The ads also showed the advertisers negotiating ways for their private sexual identity and public social identity to coexist. On the one hand, clarity in one's sexual orientation and the commitment to one's same-sex relationship was offered and sought after as a desirable trait; on the other hand, the advertisers emphasized that they did not live the stereotypical gay lifestyle and that they were private about their sexual preference. The ads illustrate the existence of a subculture of Chinese gays and lesbians, trying to cope with heteronormative social and cultural expectations, and to negotiate between the public and the private, between sexual activities and sexual identity, and between "playing gay" and "being gay." Future research directions are discussed.
This is a preview of subscription content, log in to check access.
Access options
Buy single article
Instant access to the full article PDF.
US$ 39.95
Price includes VAT for USA
Subscribe to journal
Immediate online access to all issues from 2019. Subscription will auto renew annually.
US$ 99
This is the net price. Taxes to be calculated in checkout.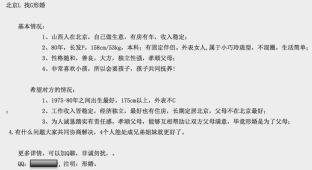 References
Alexa Company. (2012). Statistics summary for Tianya.cn. Accessed on March 1, 2012, at http://www.alexa.com/siteinfo/tianya.cn.

Baize, H. R., & Schroeder, J. E. (1995). Personality and mate selection in personal ads: Evolutionary preferences in a public mate selection process. Journal of Social Behavior & Personality, 10(3), 517–536.

Bartholome, A., Tewksbury, R., & Bruzzone, A. (2000). "I want a man": Patterns of attraction in all male personal ads. The Journal of Men's Studies, 8(3), 309–321.

Blumer, H. (1969). Symbolic interactionism: Perspective and method. Englewood Cliffs, NJ: Prentice Hall.

Boyatzis, R. (1998). Transforming qualitative information: Thematic analysis and code development. Thousand Oaks, CA: Sage.

Chan, C. S. (1995). Issues of sexual identity in an ethnic minority: The case of Chinese American lesbians, gay men, and bisexual people. In A. R. D'Augelli & C. J. Patterson (Eds.), Lesbian, gay and bisexual identities over the lifespan: Psychological perspectives (pp. 87–101). New York: Oxford University Press.

Chang, L., Wang, Y., Shackelford, T. K., & Buss, D. M. (2011). Chinese mate preferences: Cultural evolution and continuity across a quarter of a century. Personality and Individual Differences, 50, 678–683.

Chou, W. (2000). Tongzhi: Politics of same-sex eroticism in Chinese societies. New York: The Hawkworth Press.

Clatts, M. C. (1995). Disembodied acts: On the perverse use of sexual categories in the study of high-risk behaviour. In H. T. Brummelhuis & G. Herdt (Eds.), Culture and sexual risk: Anthropological perspectives on AIDS (pp. 241–256). Luxembourg: Gordon and Breach.

Cui, J. (April 25, 2005). China's cracked closet. Accessed on December 30, 2012, at http://www.foreignpolicy.com/articles/2006/04/25/chinas_cracked_closet.

Daly, J., Kellehear, A., & Gliksman, M. (1997). The public health researcher: A methodological approach. Melbourne: Oxford University Press.

Davison, N. (February 9, 2011). Gay marriage with Chinese characteristics. Accessed on January 10, 2012, at http://www.slate.com/articles/news_and_politics/dispatches/2011/02/gay_marriage_with_chinese_characteristics.html.

Demsey, D. (2010). Conceiving and negotiating reproductive relationships: Lesbians and gay men forming families with children. Sociology, 44, 1145–1162.

Flick, U. (2009). An introduction to qualitative research (4th ed.). Thousand Oaks, CA: Sage.

Gay marriage gone wrong. (July 17, 2012). The Economist. Accessed on December 10, 2012, at http://www.economist.com/blogs/analects/2012/07/attitudes-towards-homosexuality.

Gay men denied divorce. (Ocbober 13, 2011). Global Times. Accessed on March 1, 2012, at http://www.globaltimes.cn/NEWS/tabid/99/ID/679040/Gay-man-denied-divorce.aspx.

Hatala, M. N., & Prehodka, J. (1996). Content analysis of gay male and lesbian personal advertisements. Psychological Reports, 78, 371–374.

Hogben, S., & Coupland, J. (2000). Egg seeks sperm. End of story…? Articulating gay parenting in small ads for reproductive partners. Discourse Society, 11, 459–485.

Kaufman, G., & Phua, V. C. (2003). Is ageism alive in date selection among men? Age requests among gay and straight men in Internet personal ads. Journal of Men's Studies, 11, 225–235.

Kendall, L. (1999). Recontextualizing "cyberspace": Methodological considerations for on-line research. In S. Jones (Ed.), Doing Internet research: Critical issues and methods for examining the Net (pp. 57–74). Thousand Oaks, CA: Sage.

Mountford, T. (March 24, 2010). China: The legal position and status of lesbian, gay, bisexual and transgender people in the People's Republic of China. International Gay & Lesbian Human Rights Commission. Access on March 1, 2012, at http://www.iglhrc.org/cgi-bin/iowa/article/takeaction/resourcecenter/1107.html.

Nemoto, T., Operatio, D., Soma, T., Bao, D., Vajrabukka, A., & Crisostomo, V. (2003). HIV risk and prevention among Asian/Pacific Islander men who have sex with men: Listen to our stories. AIDS Education and Prevention, 15, 7–20.

Ng, V. (1989). Homosexuality and the state in late imperial China. In M. Duberman, M. Vicinus, & G. Chauncey (Eds.), Hidden from history: Reclaiming the gay and lesbian past (pp. 76–89). New York: Meridian.

Okami, P., & Shackelford, K. (2001). Human sex differences in sexual psychology and behavior. Annual Review of Sex Research, 12, 186–241.

Owen, W. F. (1984). Interpretive themes in relational communication. Quarterly Journal of Speech, 70, 274–287.

Pang, L. (1993). Matchmaking via the personal advertisements in China versus in the United States. The Journal of Popular Culture, 23, 163–170.

Parakh, R., & Beresin, E. V. (2001). Looking for love?: Take a cross-cultural walk through the personals. Academic Psychiatry, 25, 223–233.

Phua, V. C., & Kaufman, G. (2003). The crossroads of race and sexuality: Date selection among men in Internet "personal" ads. Journal of Family Issues, 24, 981–994.

Strassberg, D. S., & Holty, S. (2003). An experimental study of women's Internet personal ads. Archives of Sexual Behavior, 32(3), 253–261.

Sun, Z., Farrer, J., & Choi, K. (2006). Sexual identity among men who have sex with men in Shanghai. China Perspective, 64, 2–12. Accessed on March 1, 2012, at http://chinaperspectives.revues.org/598.

van den Hoonaard, W. C. (1997). Working with sensitizing concepts: Analytical field research. Thousand Oaks, CA: Sage.

Wong, W. C., & Kong, T. S. (2007). To determine factors in an initiation of a same-sex relationship in rural China: Using ethnographic decision model. AIDS Care, 19, 850–857.

Wong, W. C., Zhang, J., Wu, S. C., Kong, T. S., & Ling, D. C. Y. (2006). The HIV related risks among men having sex with men in rural Yunnan, China: A qualitative study. Sexually Transmitted Infections, 82(2), 127–130.

Xia, Y., & Zhou, Z. (2003). The transition of courtship, mate selection and marriage in China. In R. Hamon & B. Ingoldsby (Eds.), Mate selection across cultures (pp. 231–246). Thousand Oaks: Sage.
About this article
Cite this article
Liu, M. Two Gay Men Seeking Two Lesbians: An Analysis of Xinghun (Formality Marriage) Ads on China's Tianya.cn. Sexuality & Culture 17, 494–511 (2013). https://doi.org/10.1007/s12119-012-9164-z
Keywords
Sexuality

China

Tianya.cn

Formality marriage

Sexual activities vs. sexual identity