Abstract
Since 1998, several Latin American presidents have attempted to create constituent assemblies, rewrite constitutions, and fundamentally shift power relations with varying levels of success. I argue that two variables have determined executive success. These are mobilizational leverage, or the ability to rally popular support behind the reform agenda, and institutional leverage, or the ability to convince the Judiciary or Electoral Council to allow a referendum to form a Constituent Assembly and sanction its supreme power. I examine this argument through process tracing cases of success (Chávez in Venezuela, Morales in Bolivia, and Correa in Ecuador) and a case of failure (Zelaya in Honduras), drawing on data from 118 elite interviews in Bolivia and Ecuador. This article contributes to the literature on executive-legislative relations and presidential power, explaining a process that allows presidents to navigate the institutions of democracy and enact ambitious reform.
This is a preview of subscription content, log in to check access.
Access options
Buy single article
Instant access to the full article PDF.
US$ 39.95
Price includes VAT for USA
Subscribe to journal
Immediate online access to all issues from 2019. Subscription will auto renew annually.
US$ 99
This is the net price. Taxes to be calculated in checkout.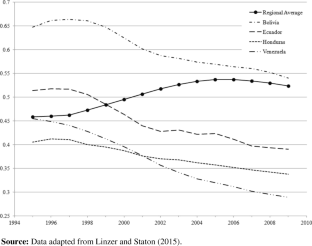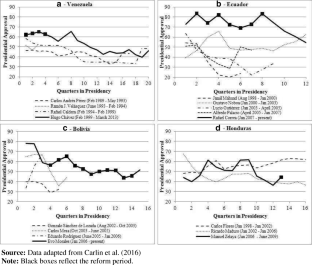 Notes
1.

This implies the CA is above all other state institutions, including the executive, with the authority to dictate fundamental norms organizing the power of the state; see: Negri (1999).

2.

Ambitious agendas empowering popular sectors include: land reform, nationalization, progressive tax reform, and redistributive social policy. Elite-empowering agendas include: privatization, liberalization, balancing budgets primarily through cutting expenditures, regressive tax reform, and structural adjustment policies.

3.

Members of the Bolivian and Ecuadorian governing parties repeatedly mentioned this in interviews.

4.

Theoretically, presidents with ambitious elite-empowering agendas could use the CA. Peruvian President Alberto Fujimori may have been able to use a CA rather than the self-coup in 1992.

5.

The Honduran opposition believed Zelaya would repeat the strategy employed elsewhere; see Freitas (2010: 157) and Kuehne and Trinkunas (2017: 871).

6.

Traditional parties hoped this would stifle Chávez's party, eliminate the coat-tails effect, and fragment the legislative vote; see Molina (2002: 225–27).

7.

Interview: Alberto Acosta (6/2012); interviews in Spanish were translated by the author.

8.

9.

In January 2005, 15 days before leaving office, Palacio drew on Article 171 of the 1998 Constitution to convoke a special session of Congress to initiate a CA. He knew that Congress would delay a decision by passing the proposal on to a commission. He also knew that, if Congress did not approve or reject the proposal within 180 days, then the President could act on it. Thus, he laid the groundwork for Correa to initiate a CA in May. Correa initiated it in April (Interview with Alfredo Palacio, 6/2012).

10.

Interview: Gustavo Larrea (6/2012)

11.

Interview: Former Justice Jorge Alvear Macías (6/2012)

12.

The alternates were called 'diputados de los manteles' (tablecloth congressmen). They met with the executive's representatives to negotiate support for the CA. When leaving, they hid under tablecloths to escape the press.

13.

Interviews: Gamal Serhan Jaldín (3/2012) and Javier Limpias (4/2012)

14.

Interview: Javier Limpias (4/2012)

15.

Zelaya claimed the referendum would be merely a poll of public opinion. However, the Honduran Congress and Supreme Court worried that it was the first step toward reform.

16.

Voting is compulsory and enforced in Ecuador, compulsory but not enforced in Bolivia, and voluntary in Venezuela.

17.

Interview: Fanny Zamudio and Alfredo Espinoza (5/2012).

18.

Gustavo Larrea emphasized that this technicality was crucial for legitimacy: "when [the congressmen] went to complain to the OAS or the United Nations, they could say 'Gentlemen, you are on legislative recess. Go home and do not cause trouble'" (interview, 6/2012).

19.

Interview: Rocio Rosero Garces (7/2012)

20.

Interview: Rosa Elena de la Torre (5/2012)

21.

Interviews: Franco Gamboa Rocabado (1/2012), Fernando Mayorga (3/2012), Gamal Serhán Jaldín (3/2012).

22.

Interview: Javier Limpias (4/2012).

23.

The Bolivian process began before Ecuador's but finished after. Correa was adamant about sticking to the pre-established timeline. The Ecuadorian CA President asserted the need for additional time and resigned over the conflict (Interview: Alberto Acosta, 6/11/12).

24.

Interviews: Rosana Alvarado (7/2012), Monica Chuji (7/2012), Pablo Lucio Paredes (7/2012), Rosa Elena de la Torre (5/2012).

25.

Interview: Fernando Garces (3/2012).

26.

Morales reversed himself given ardent opposition and the likely failure of the consultation. Regrettably, subsequent legislation undermined the binding nature of the consultation.

27.

Venezuela, Bolivia, and Ecuador were considered electoral democracies at the time of reform. Chávez's 1998 election was "free and fair" and Polity IV begins coding Venezuela as "open anocracy" in 2006.

28.

Interviews: Pablo Lucio Paredes (7/2012), Monica Chuji (7/2012), Rocio Rosero Garces (7/2012), Diego Cano (7/2012).
References
Anria S. When movements become parties: The Bolivian MAS in comparative perspective. Cambridge University Press; 2018.

Basabe-Serrano S. Judges without robes and judicial voting in contexts of institutional instability: the case of Ecuador's constitutional court, 1999–2007. J Lat Am Stud. 2012;44(01):127–61.

Basabe-Serrano S, Pachano S, Mejía Acosta A. La Democracia Inconclusa: Derechos Fundamentales, Instituciones Politícas y Rendimientos Gubernamentales en Ecuador (1979-2008). Rev Cienc Política. 2010;30(1):65–86.

Becker M. Correa, indigenous movements, and the writing of a new constitution in Ecuador. Lat Am Perspect. 2011;38(1):47–62.

Bernal AM. Beyond origins: rethinking founding in a time of constitutional democracy. Oxford: Oxford University Press; 2017.

BP. BP Statistical Review of World Energy, 67th Edition [Internet]. London; 2018. Available from: https://www.bp.com/content/dam/bp/en/corporate/pdf/energy-economics/statistical-review/bp-stats-review-2018-full-report.pdf

Breuer A. The problematic relation between direct democracy and accountability in Latin America: evidence from the Bolivian case. Bull Lat Am Res. 2008;27(1):1–23.

Brewer-Carías AR. Asamblea Constituyente y Ordenamiento Constitucional. Caracas; 1999.

Campello D. The politics of redistribution in less developed democracies: evidence from Brazil, Ecuador, and Venezuela. In: Blofield M, editor. The great gap: Inequality and the politics of redistribution in Latin America. University Park, PA: The Pennsylvania State University Press; 2011. p. 185–206.

Castagnola A, Pérez-Liñán A. Bolivia: the rise (and fall) of judicial review. In: Helmke G, Ríos-Figueroa J, editors. Courts in Latin America. Cambridge: Cambridge University Press; 2011. p. 278–305.

Colón-Ríos JI. Carl Schmitt and constituent power in Latin American courts: the cases of Venezuela and Colombia. Constellations. 2011;18(3):365–88.

Corrales J. Fixing democracy: why constitutional change often fails to enhance democracy in Latin America. Oxford: Oxford University Press; 2018.

Cunha Filho CM, Coelho AL, Flores FIP. A right-to-left policy switch? An analysis of the Honduran case under Manuel Zelaya. Int Polit Sci Rev. 2013;34(5):519–42.

Doyle D. The legitimacy of political institutions: explaining contemporary populism in Latin America. Comp Polit Stud. 2011;44(11):1447–73.

Farah D. Into the abyss: Bolivia under Evo Morales and the MAS. 2009.

Freedom House. Freedom in the World [Internet]. 2018 [cited 2018 Aug 16]. Available from: https://freedomhouse.org/report-types/freedom-world

Freitas MV. Honduras and the emergence of a new Latin America. Lat Am Policy. 2010;1(1):157–61.

Gamboa FR. Dilemas y conflictos sobre la Constitución en Bolivia Historia Política de la Asamblea Constituyente. Konrad Adenauer Stiftung: La Paz, Bolivia; 2009.

García-Guadilla MP. Civil society: institutionalization, fragmentation, autonomy. In: Ellner S, Hellinger D, editors. Venezuelan politics in the Chávez Era: class, polarization and conflict. Colorado: Lynne Rienner; 2004. p. 259.

Ginsburg T, Elkins Z, Blount J. Does the process of constitution-making matter? Comp Const Des. 2012:31–66.

Guevara A. Chávez, Venezuela and the new Latin America: an interview with Hugo Chávez. Melbourne: Ocean Press; 2005.

Helmke G. The logic of strategic defection: court–executive relations in Argentina under dictatorship and democracy. Am Polit Sci Rev. Cambridge University Press; 2002;96(02):291–303.

Ibaibarriaga M. La Asamblea Constituyente de Bolivia se traslada a un cuartel militar por seguridad. 2007 Nov 23 [cited 2018 Aug 16]; Available from: http://www.elmundo.es/elmundo/2007/11/23/internacional/1195786895.html

Jameson KP. The indigenous movement in Ecuador the struggle for a Plurinational state. Lat Am Perspect. 2011;176(1):63–73.

Kuehn D, Trinkunas H. Conditions of military contestation in populist Latin America. Democratization Taylor & Francis. 2017;24(5):859–80.

de la Torre C. Populist seduction in Latin America. 2nd ed. Athens, OH: Ohio University Press; 2010.

LAPOP 2018. The Americas Barometer [Internet]. Available from: www.LapopSurveys.org

Lehoucq F. Bolivia's constitutional breakdown. J Democr. 2008;19(4):110–24.

Linz JJ. The perils of Presidentialism. J Democr. 1990; 1(1):51-69.

Linzer DA, Staton JK. A global measure of judicial Independence, 1948–2012. J Law Court. 2015;3(2):223–56.

Love GJ, Windsor LC. Populism and popular support: vertical accountability, exogenous events, and leader discourse in Venezuela. Polit Res Q. 2018;71(3):532–45.

Lucero JA. Crisis and contention in Ecuador. J Democr. 2001;12(2):59–73.

Lupien P. The incorporation of indigenous concepts of plurinationality into the new constitutions of Ecuador and Bolivia. Democratization. 2011;18(3):774–96.

Mainwaring S, Bejarano AM, Pizarro LE. The crisis of democratic representation in the Andes. Stanford: Stanford University Press; 2006.

Mesa Gisbert CD. Presidencia sitiada: memorias de mi gobierno. 4ta ed. Plural Editores: La Paz, Bolivia; 2008.

Molina V JE. The presidential and parliamentary elections of the Bolivarian revolution in Venezuela: change and continuity (1998-2000). Bull Lat Am Res. 2002;21(2):219–47.

Morgan J. Bankrupt representation and party system collapse. University Park, PA: The Pennsylvania State University Press; 2011.

Negretto GL. Making constitutions: presidents, parties, and institutional choice in Latin America. Cambridge: Cambridge University Press; 2013.

Negri A. Insurgencies: constituent power and the modern state. Minneapolis: University of Minnesota Press; 1999.

Norden DL. The making of socialist soldiers: radical populism and civil–military relations in Venezuela, Ecuador and Bolivia. In: Mares DR, Martínez R, editors. Debating civil-military relations in Latin America: Sussex Academic Press; 2014. p. 155–80.

O'Donnell GA. Horizontal accountability in new democracies. J Democr. 1998;9(3):112–26.

Pérez-Liñán A. Democratization and constitutional crises in presidential regimes. Comp Polit Stud. 2005;38(1):51–74.

Pérez-Liñán A. Presidential impeachment and the new political instability in Latin America. Cambridge: Cambridge University Press; 2007.

La Roche HJ, Paradisi León H 1998. Fallos N° 17 y 18 de la Corte Suprema de Justicia de Venezuela sobre el referendo para convocar a una Asamblea Constituyente. ;1–21.

Romero C, Böhrt Irahola C, Peñaranda R. Del conflicto al diálogo: memorias del acuerdo constitucional. Fundación Boliviana para la Democracia Multipartidaria: La Paz, Bolivia; 2009.

Ruhl JM. Honduras unravels. J Democr. 2010;21(2):93–107.

Singer M. Delegating away democracy: how good representation and policy successes can undermine democratic legitimacy. Comp Polit Stud. 2018;51(13):1754–88.

Smulovitz C, Peruzzotti E. Societal accountability in Latin America. J Democr. 2000;11(4):147–58.

Svolik MW. Polarization versus democracy. J Democr. 2019;30(3):20–32.

US Embassy in Caracas. Whatever It Takes to Win: A Venezuelan Campaign Notebook [Internet]. 1998 [cited 2018 Aug 16]. Available from: https://foia.state.gov/searchapp/DOCUMENTS/Waterfall/143675.pdf

Valeria I, Alurralde C, Albó X. Cronología de la Asamblea Constituyente. Tinkazos. 2009;11(23–24):101–28.

Webber JR. Carlos Mesa, Evo Morales, and a divided Bolivia (2003-2005). Lat Am Perspect. 2010;172(3):51–70.

Weyland K. The rise of Latin America's two lefts: insights from Rentier state theory. Comp Polit. 2009;41(2):145–64.
Additional information
Publisher's Note
Springer Nature remains neutral with regard to jurisdictional claims in published maps and institutional affiliations.
About this article
Cite this article
Stoyan, A.T. Ambitious Reform Via Constituent Assemblies: Determinants of Success in Contemporary Latin America. St Comp Int Dev 55, 99–121 (2020). https://doi.org/10.1007/s12116-019-09297-y
Keywords
Constituent assemblies

Institutional change

Democracy

Executive-legislative relations

Latin America