Extrinsic Mortality Effects on Reproductive Strategies in a Caribbean Community
Abstract
Extrinsic mortality is a key influence on organisms' life history strategies, especially on age at maturity. This historical longitudinal study of 125 women in rural Domenica examines effects of extrinsic mortality on human age at maturity and pace of reproduction. Extrinsic mortality is indicated by local population infant mortality rates during infancy and at maturity between the years 1925 and 2000. Extrinsic mortality shows effects on age at first birth and pace of reproduction among these women. Parish death records show huge historical variation in age-specific mortality rates. The infant mortality rate (IMR) in the early 1920s was low, increased dramatically beginning in 1929, and reached a maximum in the 1950s, at which point IMR declined steadily to its present low rate. The mortality rate early in life showed a quadratic association with age at first birth. Women who experienced conditions of low IMR early in life reproduced relatively late in life. Those born into moderately high levels of infant mortality tended to reproduce earlier than those born at low levels. At very high infant mortality levels early in life, women went on to delay reproduction until relatively late, possibly as a result of somatic depletion and energetic stress associated with the conditions that lead to high IMR. Population mortality rates at age of maturity also showed a quadratic association with age at first birth. The pace of reproduction, estimated as number of surviving offspring controlled for maternal age, showed a similar quadratic effect. There were complex interactions between population mortality rates in infancy and at maturity. When extrinsic mortality was high during infancy, extrinsic mortality later in life had little effect on timing of first birth. When extrinsic mortality was low to moderate in infancy, extrinsic mortality later in life had significant effects on adult reproduction. I speculate that these effects are mediated through development of personality facets associated with reproduction.
Keywords
Risk 
Teen pregnancy 
Child development 
Evolutionary ecology 
Behavioral ecology 
Demography 
Personality 
Extrinsic mortality is the risk of death that is not conditional on an organism's reproductive behavior (Stearns 1992:182). We can define extrinsic mortality as variance in the probability of death that is not accounted for by mating or parenting effort (or, by extension, trade-offs between reproductive and somatic effort). In other words, an organism cannot escape extrinsic mortality by changing its behavior: it is the age-specific risk of death that is equally shared by all members of a population. Intrinsic mortality, in contrast is the probability of death associated with allocation of somatic and reproductive effort. Predation, for example, could result in either extrinsic or intrinsic mortality, or both. Imagine a population of organisms in which there is a probability (p) of death from predation at age x. Then p is a combination of factors, some of which are beyond an individual's control but others are not. The frequency by which an individual encounters a predator depends on extrinsic factors, such as the density of predators in the environment (beyond the individual's control), and intrinsic factors, such as the level of vigilance, time spent exposed in the landscape as a result of mating effort, and so on (determined by allocation of effort). An individual of a prey species in an environment with many predators may reduce the probability of death by predation by adjusting its behavior, but there is always some extrinsic probability of death by predation. The predation example raises an important point about extrinsic mortality: Any age-specific probability of death has both intrinsic and extrinsic components that can be difficult to isolate analytically. Despite empirical challenges, extrinsic and intrinsic components of mortality can have profound influences on adaptive behavior.
Extrinsic mortality plays a key role in the evolution of life histories and reproductive strategies (Chisholm 1993, 1999a; Promislow and Harvey 1991; Roff 2002; Stearns 1992). When extrinsic mortality is high, organisms should reproduce early in life to reduce mortality exposure per unit of time and extend the length of the reproductive span, which should maximize fertility to "beat the odds" that some offspring will die. Conversely when extrinsic mortality is low, then differential reproductive success is contingent on resources invested in growth, development, and parental effort rather than luck. Hence, in low extrinsic-risk environments, individuals may enhance fitness by delaying reproduction to accrue additional resources (including knowledge and skills), and by reducing fertility and increasing investment per offspring. These predicted relationships hold among mammals: Juvenile mortality is negatively correlated with age at maturity, age at weaning, and maternal investment, and positively correlated with litter size and pace of reproduction (Promislow and Harvey 1990:424).
Extrinsic risk for humans has attracted theoretical interest since the early 1990s (e.g., Borgerhoff Mulder 1992; Chisholm 1993, 1999a; Harpending et al. 1990); however, empirical work is relatively scarce. Several studies show predicted relations between extrinsic risk and human life history patterns. Mortality was shown to be negatively associated with age at reproductive maturity among urban Americans (Wilson and Daly 1997), sub-Saharan Africans (Gant et al. 2009), and in two cross-national studies (Low et al. 2008; Walker et al. 2006). Extrinsic risk predicts patterns of parental care cross-culturally (Quinlan 2006, 2007). And perception of mortality may influence human reproductive behavior (Chisholm et al. 2005). Even though this body of research is small, it seems clear that local extrinsic risk is an important environmental cue for shaping human reproductive strategies, but how and when are local environmental conditions encoded into life histories?
What role do environmental cues play in the development of human reproductive strategies, and when in development are those cues most salient? Long-standing debate in anthropology and evolutionary psychology identifies two important periods for shaping the adult phenotype. Early childhood, from 1 to about 7 years of age, has been suggested as a sensitive period for development that has strong effects on adult outcomes (e.g., Belsky et al. 1991; Chisholm 1999a; Draper and Harpending 1982; Ellis et al. 1999; Quinlan 2003; Quinlan and Quinlan 2007). Recent adoption studies find that conditions in the first 42 months are important in shaping development during childhood, with a dose-response effect for duration and severity of environmental conditions (Rutter and O'Connor 2004). In these related early childhood models, caregiver responsiveness emerges as one likely mechanism that communicates environmental conditions to developing offspring. In harsh and risky environments, parents themselves engage in high-fertility, low-investment reproductive strategies that include relatively unresponsive parental care (Quinlan 2007). Theoretically, this pattern of "low-intensity" parental care switches children toward a similar low-investment, high-fertility developmental trajectory. The psychological and physiological mechanisms are unclear, but psychosocial stress, attachment and associated hormones have been implicated (Chisholm 1999a; Ellis 2004; Flinn et al. 2008; Schechter and Francis 2010). The parental responsiveness—early childhood theory of reproductive development suggests strong vertical or intergenerational transmission of adult phenotypes (Quinlan and Flinn 2003).
A second, though not necessarily mutually exclusive, line of thought suggests that it makes little adaptive sense to lock humans into an adult phenotype early in the life course because such canalization could lead to significant mismatch between adult phenotypes and the extant environment (Quinlan and Flinn 2003; Whiting 1980). Hence, humans should be open to environmental influences throughout the life course, and conditions at the age of maturity should be particularly salient in shaping behavior. Research has shown that stressful family events like parental separation in early childhood (birth to about age 6 years) have the strongest effects on the development of adult phenotypes, and the effect diminishes when those events occur later in adolescence (Quinlan 2003). Stressful family life, however, may become a less salient environmental cue later in development as other information becomes more pertinent. Hence, strong effects later in life (around age at maturity) are predicted in addition to early developmental effects. Mechanisms for later developmental effects are unknown, but physiological pathways (see Vitzthum 2001) and conscious decision making are likely important.
The present study cannot address mechanistic questions; instead it focuses on timing of environmental cues by examining effects of extrinsic mortality on timing of first birth and pace of reproduction for a rural community in the Commonwealth of Dominica. The study takes advantage of a naturalistic experiment (see Rutter 2007) in an extraordinarily variable environment that occurred between 1925 and 2001 to examine population-level extrinsic mortality rates for year of birth and year at maturity (first birth) for 125 rural Dominican women. When extrinsic mortality is high, age at first birth is predicted to be relatively early and pace of reproduction will be relatively rapid. When extrinsic mortality is low, age at first birth is predicted to be relatively late and pace of reproduction will be relatively slow. These basic predictions are perhaps too simplistic.
Very high extrinsic mortality rates may indicate an environment that is so harsh that reproduction is not feasible (Ellis
2004
). Hence, at very high extrinsic mortality rates, individuals may shut down reproductive development to preserve somatic resources in hopes that the environment may improve later. Extrinsic mortality, hence, is predicted to show quadratic associations with reproductive behavior (Fig. 
1
).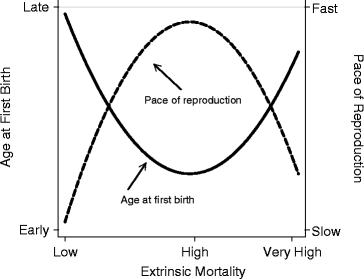 Notes
Acknowledgments
Thanks to the Saint Sauveur Roman Catholic Church for access to St. David Parish historical birth and death records. Thanks to friends in Bwa Mawego (too many to mention here) for their tremendous help with local oral histories and ethnographic interviews. Thanks to Heather Bonander for research assistance with the historical demographic data. Thanks to the Central Statistics Office of the Commonwealth of Dominica for research permission. Thanks to Drs. Marsha Quinlan and Mark Flinn for constant collegial support. This research was funded in part by NSF Cultural Anthropology grant BCS-0650317.
Copyright information
© Springer Science + Business Media, LLC 2010