Abstract
Metastasis of head and neck squamous cell carcinoma (SCC) to the skin of this region is extremely rare and reported in 1–2% of cases. The cutaneous metastases of head and neck cancers often present as multiple papulonodular lesions; however, sporadic cases of solitary or multiple keratoacanthoma-like lesions are reported. We describe a rare case of cutaneous metastases of laryngeal SCC presenting as multiple eruptive keratoacanthoma-like lesions with concomitant scrofuloderma in an area of previous radiotherapy.
This is a preview of subscription content, log in to check access.
Access options
Buy single article
Instant access to the full article PDF.
US$ 39.95
Price includes VAT for USA
Subscribe to journal
Immediate online access to all issues from 2019. Subscription will auto renew annually.
US$ 99
This is the net price. Taxes to be calculated in checkout.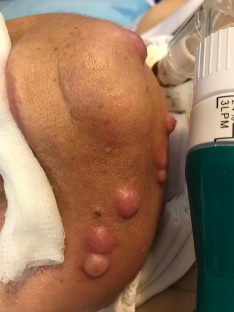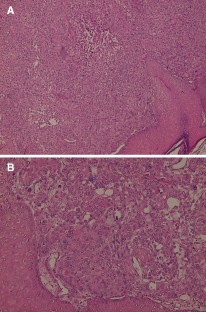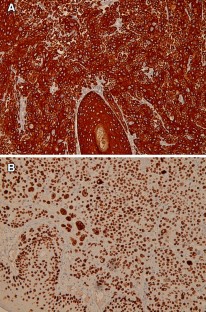 References
1.

Ellis DL, Riahi RR, Murina AT, Cohen PR. Metastatic laryngeal carcinoma mimicking eruptive keratoacanthomas: report of keratoacanthoma-like cutaneous metastases in a radiation port. Dermatol Online J. 2014;20(9).

2.

Krathen RA, Orengo IF, Rosen T. Cutaneous metastasis: a meta-analysis of data. South Med J. 2003;96(2):164–7.

3.

Riahi RR, Cohen PR. Malignancies with skin lesions mimicking keratoacanthoma. Dermatol Online J. 2013;19(11):20397.

4.

Kovacs K, Kenessey I, Tímár J. Skin metastasis of internal cancers: a single institution experience. Pathol Oncol Res. 2013;19(3):515–20.

5.

Handa U, Kundu R, Dimri K. Cutaneous metastasis: a study of 138 cases diagnosed by fine-needle aspiration cytology. Acta Cytol. 2017;61(1):47–544.

6.

Pitman KT, Johnson JT. Skin metastases from head and neck squamous cell carcinoma: incidence and impact. J Sci Spec Head Neck. 1999;21(6):560–5.

7.

Alcaraz I, Cerroni L, Ruetten A, Kutzner H, Requena L. Cutaneous metastases from internal malignancies: a clinicopathologic and immunohistochemical review. Am J Dermatopathol. 2012;34(4):347–93.

8.

Veraldi S, Cantu A II, Sala F, Schianchi R, Gasparini G. Cutaneous metastases from laryngeal carcinoma. J Dermatol Surg Oncol. 1988;14(5):562–4.

9.

Trehan R, Pandey AK, Khosla D, Dimri K, Punia RS. Apropos of a case of cutaneous metastasis from laryngeal cancer with review of literature. J Cancer Res Ther. 2015;11(3):655.

10.

Bottoni U, Innocenzi D, Mannooranparampil TJ, Richetta A, Del Giudice M, Calvieri S. Inflammatory cutaneous metastasis from laryngeal carcinoma. Eur J Dermatol. 2001;11(2):124–6.

11.

Brownstein MH, Helwig EB. Metastatic tumors of the skin. Cancer. 1972;29(5):1298–307.

12.

Ruocco V, Brunetti G, Puca RV, Ruocco E. The immunocompromised district: a unifying concept for lymphoedematous, herpes-infected and otherwise damaged sites. J Eur Acad Dermatol Venereol. 2009;23(12):1364–73.

13.

Ruocco E, Di Maio R, Caccavale S, Siano M, Lo SA. Radiation dermatitis, burns, and recall phenomena: meaningful instances of immunocompromised district. Clin Dermatol. 2014;32(5):660–9.

14.

Ruocco V, Ruocco E, Brunetti G, Sangiuliano S, Wolf R. Opportunistic localization of skin lesions on vulnerable areas. Clin Dermatol. 2011;29(5):483–8.

15.

Trosman SJ, Koyfman SA, Ward MC, et al. Effect of human papillomavirus on patterns of distant metastatic failure in oropharyngeal squamous cell carcinoma treated with chemoradiotherapy. JAMA Otolaryngol Head Neck Surg. 2015;141(5):457–62.

16.

Niharika D, Sunder S, Narayanan GS, Nandennavar M. Unusual metastatic presentation of carcinoma hypopharynx. J Cancer Res Ther. 2015;11(3):666.

17.

Shindo M, Yoshida Y, Tominaga K, Yamamoto O. Skin metastasis of hypopharyngeal carcinoma to the nasal tip. Yonago Acta Med. 2013;56(2):57.
Ethics declarations
Conflict of interest
The authors report no conflict of interest.
Additional information
Publisher's Note
Springer Nature remains neutral with regard to jurisdictional claims in published maps and institutional affiliations.
About this article
Cite this article
Araghi, F., Fatemi, A., Rakhshan, A. et al. Skin Metastasis of Laryngeal Carcinoma Presenting as Multiple Eruptive Nodules. Head and Neck Pathol (2020). https://doi.org/10.1007/s12105-020-01143-1
Received:

Accepted:

Published:
Keywords
Laryngeal neoplasms

Neoplasm metastasis

Scrofuloderma