Abstract
Choristomas and hamartomas within the oral cavity are relatively uncommon lesions and may present with diverse clinical and histopathological appearances. In this report, we describe two infant patients with hamartoma with ectopic meningothelial elements involving tongue and maxillary alveolar ridge. To the best of our knowledge, these are the first two cases in which a meningothelial proliferation has been identified in the oral cavity. Hamartoma with ectopic meningothelial elements is a rare condition that has been classically described occurring in the scalp. These lesions are characterized by bland round to spindle-shape cells that interdigitate through collagen bundles and express progesterone receptor and epithelial membrane antigen by immunohistochemistry supporting a meningothelial origin.
This is a preview of subscription content, log in to check access.
Access options
Buy single article
Instant access to the full article PDF.
US$ 39.95
Price includes VAT for USA
Subscribe to journal
Immediate online access to all issues from 2019. Subscription will auto renew annually.
US$ 99
This is the net price. Taxes to be calculated in checkout.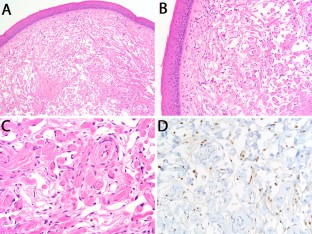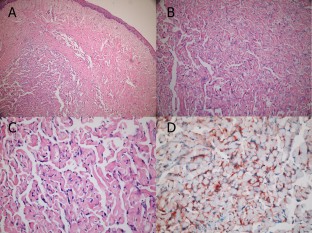 References
1.

Patil S, Rao RS, Majumdar B. Hamartomas of the oral cavity. J Int Soc Prev Community Dent. 2015;5:347–53.

2.

Allon I, Allon DM, Hirshberg A, Shlomi B, Lifschitz-Mercer B, Kaplan I. Oral neurovascular hamartoma: a lesion searching for a name. J Oral Pathol Med. 2012;41:348–53.

3.

Halfpenny W, Odell EW, Robinson PD. Cystic and glial mixed hamartoma of the tongue. J Oral Pathol Med. 2001;30:368–71.

4.

Dal Vechio A, Nakajima E, Pinto D Jr, Azevedo LH, Migliari DA. Rhabdomyomatous (mesenchymal) hamartoma presenting as haemangioma on the upper lip: a case report with immunohistochemical analysis and treatment with high-power lasers. Case Rep Dent. 2013;2013:943953.

5.

Qannam DAL. A. Oral leiomyomatous hamartoma of the median maxillary gingiva: a case report and review of the literature. Int J Surg Pathol. 2013;21:413–6.

6.

Iida S, Kishino M, Senoo H, Okura M, Morisaki I, Kogo M. Multiple leiomyomatous hamartoma in the oral cavity. J Oral Pathol Med. 2007;36:241–4.

7.

Gillett D, Fahmy F, Eveson JW, Shotton JC. Intramuscular capillary hamartoma of the tongue. J Laryngol Otol. 2003;117:734–5.

8.

Ide F, Shimoyama T, Horie N. Angiomyolipomatous hamartoma of the tongue. Oral Surg Oral Med Oral Pathol Oral Radiol Endod. 1998;85:581–4.

9.

Ide F, Obara K, Mishima K, Saito I. Ganglioneuromatous hamartoma of the tongue. J Clin Pathol. 2006;59:887.

10.

Kreiger PA, Ernst LM, Elden LM, Kazahaya K, Alawi F, Russo PA. Hamartomatous tongue lesions in children. Am J Surg Pathol. 2007;31:1186–90.

11.

Suster S, Rosai J. Hamartoma of the scalp with ectopic meningothelial elements. A distinctive benign soft tissue lesion that may simulate angiosarcoma. Am J Surg Pathol. 1990;14:1–11.

12.

Marrogi AJ, Swanson PE, Kyriakos M, Wick MR. Rudimentary meningocele of the skin. Clinicopathologic features and differential diagnosis. J Cutan Pathol. 1991;18:178–88.

13.

Curran-Melendez SM, Dasher DA, Groben P, Stahr B, Burkhart CN, Morrell DS. Case report: Meningothelial hamartoma of the scalp in a 9-year-old child. Pediatr Dermatol. 2011;28:677–80.

14.

Michal M. Meningeal nodules in teratoma of the testis. Virchows Arch. 2001;438:198–200.

15.

Chen E, Fletcher CD, Nucci MR. Meningothelial proliferations in mature cystic teratoma of the ovary: evidence for the common presence of cranially derived tissues paralleling anterior embryonic plate development. An analysis of 25 consecutive cases. Am J Surg Pathol. 2010;34:1014–8.

16.

Olofson A, Marotti J, Tafe LJ, Linos K. Intranodal meningothelial proliferation in a patient with Cowden syndrome: a case report. Hum Pathol. 2017;66:183–7.

17.

Olivares-Pakzad BA, Tazelaar HD, Dehner LP, Kasperbauer JL, Bite U. Oropharyngeal hairy polyp with meningothelial elements. Oral Surg Oral Med Oral Pathol Oral Radiol Endod. 1995;79(4):462–8.

18.

Chai Y, Maxson RE. Jr. Recent advances in craniofacial morphogenesis. Dev Dyn. 2006;235:2353–75.

19.

Agaimy A, Buslei R, Coras R, Rubin BP, Mentzel T. Comparative study of soft tissue perineurioma and meningioma using a five-marker immunohistochemical panel. Histopathology. 2014 Jul;65(1):60–70.

20.

Ma C, Li X, Li Y, Qu X. Primary Ectopic Meningioma of the Tongue: Case Report and Review of the Literature. J Oral Maxillofac Surg. 2016;74(11):2216–28. https://doi.org/10.1016/j.joms.2016.04.023.

21.

Rommel N, Bissinger O, Rau A, Muecke T. Ectopic meningioma of the mandible in a 20-year-old woman: a case report and literature review. J Surg Case Rep. 2017;2017(3):rjx047.

22.

Gonzalez MG, Castro MP, Nieto DV, Bouzan JC. Oral-facial-digital syndrome type I: surgical approach and a case report. J Plast Reconstr Aesthet Surg. 2014;67:396–8.
Ethics declarations
Conflict of interest
The authors declare that there is no conflict of interest.
Additional information
Publisher's Note
Springer Nature remains neutral with regard to jurisdictional claims in published maps and institutional affiliations.
About this article
Cite this article
Tekkeşin, M.S., Chiosea, S.I. & Ozolek, J.A. Hamartoma of the Oral Cavity with Ectopic Meningothelial Elements in Infants: A Rare Entity with Report of Two Cases. Head and Neck Pathol 14, 268–271 (2020). https://doi.org/10.1007/s12105-019-01024-2
Received:

Accepted:

Published:

Issue Date:
Keywords
Meningothelial

Hamartoma

Choristoma

Hemangioma