Abstract
A case of non-keratinizing, EBV-positive (EBER-in situ hybridization), carcinoma with adenomatous differentiation is presented. The patient is a 40 year old male with T2N2M0 disease who received standard combined chemo- and radiotherapy with complete resolution of all tumor. The tumor cells were strongly positive for low-molecular weight cytokeratins (AE1–3) and scattered cells expressed cytokeratin 20. No expression of cytokeratin 5/6, 7, p63, TTF-1, CDX2 or androgen receptor was detected. There was no evidence of recurrence or disease progression on follow-up after 19 months, which included post treatment MRI and PET–CT scans.
This is a preview of subscription content, log in to check access.
Access options
Buy single article
Instant access to the full article PDF.
US$ 39.95
Price includes VAT for USA
Subscribe to journal
Immediate online access to all issues from 2019. Subscription will auto renew annually.
US$ 99
This is the net price. Taxes to be calculated in checkout.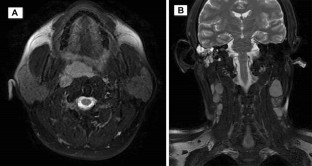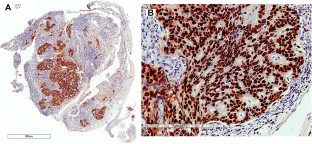 References
1.

Petersson F. Nasopharyngeal carcinoma: a review. Semin Diagn Pathol. 2015;32(1):54–73. https://doi.org/10.1053/j.semdp.2015.02.021.

2.

Petersson F, Vijayadwaja D, Loh KS, Tan KB. Reticular and myxoid non-keratinizing nasopharyngeal carcinoma: an unusual case mimicking a salivary gland carcinoma. Head Neck Pathol. 2014;8(3):364–8. https://doi.org/10.1007/s12105-013-0512-6.

3.

Jain D, Parkash V, Li M, Gill J, Crouch J, Howe G et al. Epstein-Barr virus RNA detection and glandular differentiation in nasopharyngeal carcinoma: report of 2 cases. Arch Pathol Lab Med. 2000;124(9):1369–72. https://doi.org/10.1043/0003-9985(2000)124%3C1369:EBVRDA%3E2.0.CO;2.

4.

El-Naggar AK, Chan JKC, Grandis JR, Takata T, Slootweg PJ. WHO classification of head and neck tumours. Lyon: IARC Press; 2017.

5.

Shanmugaratnam K, Muir C. Cancer of the nasopharynx, UICC monograph series. Copenhagen: Munksgaard; 1967.

6.

Yeh S. A histological classification of carcinomas of the nasopharynx with a critical review as to the existence of lymphoepitheliomas. Cancer. 1962;15:895–920.

7.

Liang P, Chen C, Chu C, Hu Y, Chu H, Tsung Y. The histopathologic classification, biologic characteristics and histogenesis of nasopharyngeal carcinomas. Chin Med J. 1962;81:629–58.

8.

Kuo T, Tsang NM. Salivary gland type nasopharyngeal carcinoma: a histologic, immunohistochemical, and Epstein-Barr virus study of 15 cases including a psammomatous mucoepidermoid carcinoma. Am J Surg Pathol. 2001;25(1):80–6.
Ethics declarations
Conflict of interest
The author has no conflict of interest.
About this article
Cite this article
Petersson, F. Non-Keratinizing Nasopharyngeal Carcinoma with Adenomatous Differentiation. Head and Neck Pathol 14, 195–198 (2020). https://doi.org/10.1007/s12105-018-0991-6
Received:

Accepted:

Published:

Issue Date:
Keywords
Nasopharynx

Carcinoma

Adenocarcinoma

Epstein–Barr virus