Abstract
An 11 month old Caucasian male presented with swelling of the right side of the nose and buccal vestibule of unknown duration. Radiographic images revealed a well-circumscribed, hypodense soft tissue mass with a peripheral hyperdense circumference involving the anterior aspect of the right maxilla. The lesion extended from the inferior aspect of the orbital rim superiorly to the maxillary bone inferiorly without invading any nearby structures. The lesion was completely resected via combined extraoral and intraoral approach. The clinical, radiographic, histologic and immunohistochemical features of a sinonasal myxoma in an infant are discussed.
This is a preview of subscription content, log in to check access.
Access options
Buy single article
Instant access to the full article PDF.
US$ 39.95
Price includes VAT for USA
Subscribe to journal
Immediate online access to all issues from 2019. Subscription will auto renew annually.
US$ 99
This is the net price. Taxes to be calculated in checkout.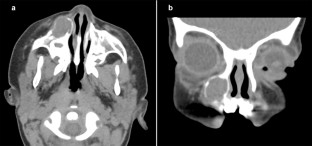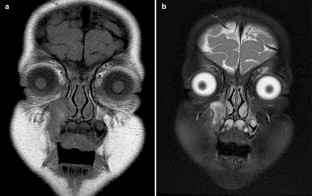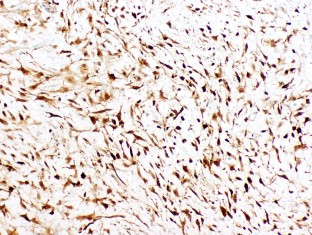 References
1.

Moore B, Wine T, Burkey B, et al. Sphenoid sinus myxoma: case report and literature review. Ochsner J. 2008;8(4):166–71.

2.

Odell EW, Adebiyi K. Odontogenic myxoma/myxofibroma. In: El-Naggar AK, Chan JKC, Grandis JR, et al., editors. World Health Organization Classification of head and neck tumors. 4th ed. Lyon: International Agency for Research on Cancer; 2017. pp. 229–30.

3.

McClure DK, Dahlin DC. Myxoma of bone. Report of three cases. Mayo Clin Proc. 1977;52(4):249–53.

4.

Wenig B. Sinonasal myxoma and fibromyxoma. Atlas of head and neck pathology. 3rd ed. Philadelphia: Elsevier; 2016. pp. 118–22.

5.

Martinez-Mata G, Mosqueda-Taylor A, Carlos-Bregni R, et al. Odontogenic myxoma: clinico-pathological, immunohistochemical and ultrastructural findings of a multicentric series. Oral Oncol. 2008;44:601–7.

6.

Noffke CE, Raubenheimer EJ, Chabikuli NJ, et al. Odontogenic myxoma: review of the literature and report of 30 cases from South Africa. Oral Surg Oral Med Oral Pathol Oral Radiol Endod. 2007;104:101–9.

7.

Kaffe I, Naor H, Buchner A. Clinical and radiological features of odontogenic myxoma of the jaws. Dentomaxillofac Radiol. 1997;26:299–303.

8.

Simon ENM, Merkx MAW, Vuhahula E, et al. Odontogenic myxoma: a clinicopathological study of 33 cases. Int J Oral Maxillofac Surg. 2004;33:333–7.

9.

Safadi A, Fliss D, Issakov J, et al. Infantile sinonasal myxoma: a unique variant of maxillofacial myxoma. J Oral Maxillofac Surg. 2011;69:553–8.

10.

Iatrou I, Lygidakis N, Leventis M, et al. Sinonasal myxoma in an infant. J Craniofac Surg. 2010;21(5):1649–51.

11.

Slater LJ. Letter to the editor: infantile lateral nasal myxomas—is it odontogenic?. J Oral Maxillofac Surg. 2004;62:391.

12.

Prassanan L, Warren L, Herzog CE, et al. Sinonasal myxoma: a pediatric case. J Pediatr Hematol Oncol. 2005;27(2):90–2.

13.

Greenfield SS, Friedman O. Myxoma of maxillary sinus. NY State J Med. 1951;51:1319–20.

14.

Fu YS, Perzin KH. Non-Epithelial tumors of the nasal cavity, paranasal sinuses and nasopharynx: a clinicopathologic study. Cancer 1977;39:195–203.

15.

Harris RJ, Garrow E, Spinnato G. Myxoma of the maxilla: report of case. J Oral Surg. 1977;35:70–3.

16.

Smith GA, Konrad HR, Canalis RF. Chilhood myxomas of the head and neck. J Otolaryngol. 1977;6(5):423–30.

17.

James DR, Lucas VS. Maxillary myxoma in a child of 11 months: a case report. J Craniofac Maxillofac Surg. 1987;15:42–4.

18.

Hayes DK, Madsen JM, Simpson R, Jarchow RC. Myxomas of the maxilla in infants and children. Otolaryngol Head Neck Surg. 1991;105:464–8.

19.

Ang HK, Ramani P, Michaels L. Myxoma of the maxillary antrum in children. Histopathology 1993;23:361–5.

20.

Heffner DK. Sinonasal myxomas and fibromyxomas in children. Ear Nose Throat J. 1993;72(5):365–9.

21.

Caleffi E, Toshi S, Bocchi A. Myxoma of the maxilla: surgical treatment of an unusual case in a child. Plast Reconstr Surg. 1994;93:1272–4.

22.

Brewis C, Roberts DN, Malone M, et al. Maxillary myxoma: a rare midfacial mass in a child. Int J Pediatr Otorhinolaryngol. 2000;56:207–9.

23.

Fenton S, Slootweg P, Dunnebier E, et al. Odontogenic myxoma in a 17-month-old child: a case report. J Oral Maxillofac Surg. 2003;61:734–6.

24.

Wachter BJ, Steinberg MJ, Darrow DH, et al. Odontogenic myxoma of the maxilla: a report of two pediatric cases. Int J Pediatr Otorhinolaryngol. 2003;67:389–93.

25.

Rotenberg BW, Daniel SJ, Nish IA, et al. Myxomatous lesions of the maxilla in children: a case series and review of management. Int J Pediatr Otorhinolaryngol. 2004;68:1251–6.

26.

Boussault P, Boralevi F, Raux-Rakotomalala F, et al. Odontogenic myxoma: a diagnosis to add to the list of facial tumours in infants. J Eur Acad Dermatol Venereol. 2006;20:864.

27.

King TJ, Lewis J, Orvidas L, et al. Pediatric maxillary odontogenic myxoma: a report of 2 cases and review of management. J Oral Maxillofac Surg. 2008;66:1057–62.

28.

Ríos y Valles-Valles D, Vera-Torres AM, Rodríguez-Martínez HA, et al. Case report: periocular myxoma in a child. Case Rep Ophthalmol Med. 2012;2012:1–4.

29.

Kansy K, Juergens P, Krol Z, et al. Odontogenic myxoma: diagnostic and therapeutic challenges in paediatric and adult patients—a case series and review of the literature. J Craniomaxillofac Surg. 2012;40:271–6.

30.

Chen HH, Streubel S-O, Durarairaj VD. Odontogenic myxoma with orbital involvement. Opthal Plast Reconstr Surg. 2013;29(2):e47–9.

31.

Kadlub N, Mbou VB, Leboulanger N, et al. Infant odontogenic myxoma: a specific entity. J Craniomaxillofac Surg. 2014;42:2082–6.

32.

Zainine R, Mizouni H, El Korbi A, et al. Case report: maxillary bone myxoma. Eur Ann Otorhinolaryngol. 2014;131:257–9.

33.

Kelly TG, Hong S, Jarzembowski J, et al. Infant with nasolacrimal sinonasal myxoma: diffusion with MR features. Radiol Case Rep. 2015;10(2):1–4.

34.

Hansen TS, Danielsson LI, Fast S, et al. Odontogenic myxoma involving the orbit in a 3-year-old-boy: removal, reconstruction and review of the literature. BMJ Case Rep. 2016. https://doi.org/10.1136/bcr-2015-212465.

35.

Lombardi T, Lock C, Samson J, et al. S100, α-smooth muscle actin and cytokeratin 19 immunohistochemistry in odontogenic and soft tissue myxomas. J Clin Pathol. 1995;48:759–62.

36.

Kouhsoltani M, Halimi M, Jabbari G. Immunohistochemical evaluation of myofibroblast density in odontogenic cysts and tumors. J Dent Res Dent Clin Dent Prospects. 2016;10(1):37–42.
Ethics declarations
Conflict of interest
The authors have no conflicts of interest to disclose.
Ethical Approval
All procedures performed in studies involving human participants were in accordance with the ethical standards of the institution and/or national research committee and with the 1964 Helsinki declaration and its later amendments or comparable ethical standards. For this type of retrospective case report, formal consent is not required. The tumor tissue included in the manuscript was obtained as part of the standard of care for the patient and retrospectively collected for the case report.
Additional information
Disclaimer
The views expressed in this manuscript are those of the author and do not reflect the official policy of the Department of Army/Navy/Air Force, Department of Defense, or U.S. Government. I certify that all individuals who qualify as authors have been listed; each has participated in the conception and design of this work, the writing of the document, and the approval of the submission of this version; that the document represents valid work; that if we used information derived from another source, we obtained all necessary approvals to use it and made appropriate acknowledgements in the document; and that each takes public responsibility for it. We are military Service Members. This work was prepared as part of our official duties. Title 17 U.S.C. 105 provides that 'Copyright protection under this title is not available for any work of the United States Government.' Title 17 U.S.C. 101 defines a United States Government work as a work prepared by a military Service Member or employee of the United States Government as part of that person's official duties.
About this article
Cite this article
Mewar, P., González-Torres, K.E., Jacks, T.M. et al. Sinonasal Myxoma: A Distinct Lesion of Infants. Head and Neck Pathol 14, 212–219 (2020). https://doi.org/10.1007/s12105-018-0989-0
Received:

Accepted:

Published:

Issue Date:
Keywords
Myxoma

Sinonasal

Infant

Pediatric

Beta-catenin

Radiology