Langerhans Cell Histiocytosis of the Temporal Bone
Sine qua none Radiology-Pathology
History
A 14-month-old male presented with spontaneous left ear bleeding. The lesion was clinically thought to be, and was treated as, otitis media. When the condition failed to respond to antibiotics, a biopsy was performed. After biopsy, further clinical and radiographic work failed to disclose any additional lesions.
Radiographic Features
Computerized tomography of the skull at the time of diagnosis showed an osteolytic defect in the left temporal bone, creating a soft tissue density. The mass resulted in left mastoid bone destruction, including the ossicular bone chain in the middle ear (Fig.
1
).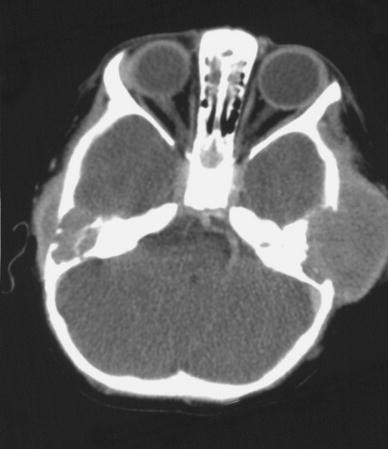 Keywords
Temporal Bone 
Eosinophilic Granuloma 
Soft Tissue Density 
Birbeck Granule 
Mastoid Bone 
These keywords were added by machine and not by the authors. This process is experimental and the keywords may be updated as the learning algorithm improves.
Notes
Acknowledgements
The author wishes to thank Dr. Kelly Koeller for contributing this case.
Disclaimer
The opinions and assertions expressed herein are those of the author and are not to be construed as official or representing the views of the Department of the Navy or the Department of Defense.